When Jo Wright arrived at Arup four years ago her brief was to change the negative culture. Now even the engineers are treating architecture with more respect
One of my earliest memories of architecture is of a cascade of dark offices, roughed up by green roof gardens, a childhood landmark on a roundabout in Basingstoke. Gateway House was one of the many muscular buildings designed in the great days of Arup Associates. With its brooding layers Gun Wharf at Chatham was another. Perhaps the most famous are those of Broadgate in the City of London, where Arup Associates recently reworked the central Circus.
These seem to have little to do with the energetic, convicted, networked Jo Wright whom I meet down at Blackfriars Pier on the Thames. But she runs what has now been rebranded as Arup (you know them, you've worked with them, on every sort of engineering and more). Or Arup architecture if you want to locate them within the 15,000 staff. The name change is a signal of a culture shift in the practice – which is what Wright was hired to achieve when she jumped ship from Feilden Clegg Bradley Studios in 2014 and became Arup's group leader for architecture in the UKIMEA. And it is an excuse to talk about expansion: the plan is to double the size of the 250-architect practice in the next two years.
In the shade of the pier, the acid yellow of Wright's glass necklace radiates the sort of sharp optimism that enabled her to take on such a brief. Since the days of Philip Dowson in the sixties (he is said to have safeguarded Arup Associates' reputation by ditching drawings of its less good designs), and great buildings stamped with the skills of Peter Foggo, Rab Bennetts and Steve Tompkins, Arup Associates struggled with clear leadership. In more recent years young practice FLAQC was flown in to boost the director level and Nille Juul-Sørensen appointed as global leader of architecture. Now just two of four FLACQ directors remain, along with the eye-catching Nine Elms 'sky pool' spanning between two buildings which they brought with them to Arup Associates.
'Arup Associates' recent history has been of interference and neglect by engineers,' says Wright candidly. We have known each other since 2005 when I visited her crafted, considered, highly disciplined and sustainable offices for the National Trust in Swindon, the Heelis Building. She advised for many years on what went into the intelligence section of the RIBA Journal and been a sounding board on many subjects, pairing clarity and analysis with a wry laugh at difficulties. But she would speak as plainly to others.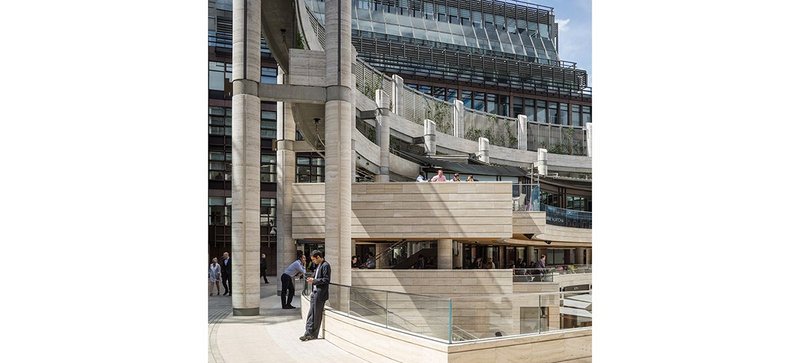 Broadgate Circus, designed as part of the wider Broadgate in the 1980s. The travertine centrepiece and spaces were reworked in 2015.

Credit: Simon Kennedy
Over the last few years she has been investigating what works and doesn't in the practice. 'The leadership was tortured,' she says. 'There was no sense of common purpose. It was endless internecine battles for power, competing, including for projects and talking each other down.'
Why take it on? At times it has looked like an impossible task. 'I have asked myself why do they think I can sort this out? Why do I think I can sort it out? It's a complete dog's dinner.' But when she accepted the job she needed to get out of FCB Studios where she had been for two decades. And working at the project of Arup Associates, without let up, has proved to her that it was not just in that relatively small world that she can make practice work better.
A year into the job she was deep into the complexity of characters and the structure. Back in 2015 an internal staff survey came back saying that only a third of Arup Associates staff thought there was trust and respect amongst the leadership. Now the architect-directors sit together, a visible symbol of unity, and when the three-year survey comes round again in 2019 Wright has high hopes for significantly improved figures. 'I think it is telling that the last three senior promotees hugged me on hearing their news,' she confides warmly.
You won't be surprised that the directors running those factional studios and the four who now come together at Arup's offices in Fitzrovia are a different bunch. Some of the previous generation are gone. And Wright has grasped the opportunity to recruit. Conversations come easily with seconds in command who can feel limited by the name heading the practices. Wright won't paint a rosy picture of Arup but likes to show that here will be space to stretch your own capabilities. This summer Nick Jackson joins her from Eric Parry Architects as director, which has caused its own ripples. Now when she loses senior staff, they are likely to be off to seed architecture teams in Arup offices such as Melbourne and Madrid.
The number of architects in Arup's international offices signals a change in attitude across the wider world of Arup. When Wright arrived there was - unsurprisingly - resistance among Arup colleagues to cosying up to their own architects, particularly among structural engineers. They feared that any favouritism could derail other practice collaborations. Her own internal advocacy will no doubt have played a part in turning the tide. Growth for architecture is, in large part, predicated on working with the wider Arup organisation and now other professions heading international offices are asking for architects to be part of the mix.
The newly defined scope of Arup Architecture has also played a part. It is not trying to muscle in on collaborations but is focusing on transport, sport and science and industry (technical buildings such manufacturing, labs, data centres). 'We are good at complicated bits,' Wright says, citing a model modular nuclear reactor they collaborated on with others in Arup and Rolls Royce. If the architecture team don't know then they will know someone who does. 'You have the relationships when you want to make things work.' In this multidisciplinary environment she sees architects as having a particularly important role. In the Middle East the multidisciplinary Arup team is designing more than 10 stations, all led by a super project architect. 'He is pulling it altogether, for the end user client and the contractor client.'
Europe and America have their own directors but Wright's London office establishes the culture across the globe. In her other areas beyond the UK and Middle East – Africa and India – the local cost base means fewer opportunities but Arup is architect for a promisingly dramatic building for the Hindu Heritage Experience in Mangarh, Uttar Pradesh. In the UK possibilities for expansion are being considered – it might make sense to have architects in the Solihull office given involvement in the HS2 Interchange Station.
Could Arup's architecture return to the classic Arup Associates form? Or even start to reflect Wright's own design strengths? The project sizes are significant ('£140 million lumps') so change of any sort, but especially in design, will show only very slowly; and there are limited chances to hit the design jackpot. 'There are times when I have thought I will never win an award again,' says Wright – she can seem a long way from projects. 'I do miss the intimate knowledge of projects where I can see the finely articulated detail.' This is something that still matters to her, as attested by her stint as a regional RIBA chair of judges this year. She wants to get things right and that means involvement at all levels, including a Sunday at her drawing board at home with a felt tip sketching out typologies for a new city in China. She feels the practice is now on the right path and perhaps with some of the right sort of projects, including interventions on a campus for a blue chip client in West London, will soon be back to winning design awards. 'It will be about five years from now,' she hopefully predicts.
---