Having founded a practice that is characterised by creativity, experimentation and craft, where does Asif Khan now land on the future of the automation of construction and AI?
'What should we do with the final 25 years of our profession?' asks Asif Khan. For the past 15 years Khan has been building up his own practice, and things are looking good. During his part 2 at the Architectural Association he was talent spotted to follow Thomas Heatherwick in building a seaside structure at Littlehampton; in 2010 there was a Design Museum fellowship, and at the London 2012 Olympics the exploding red and white planes of the Coca-Cola Beatbox Pavilion. Then there was a slew of lively temporary projects. But now Asif Khan as a practice is competing and winning projects for cultural giants where curation and deep thought are just as much part of the design as drawing up plans and programmes.
The practice's reworking of Smithfield Market for the Museum of London is due to complete in 2026 and it won the competition for the renewal of the Barbican Arts Centre last year. It designed the 21m-high carbon fibre gates for Dubai Expo 2020 and the 650ha of public realm that has become a new quarter. And it has a museum and space centre in the Middle East and projects in the Republic of Kazakhstan.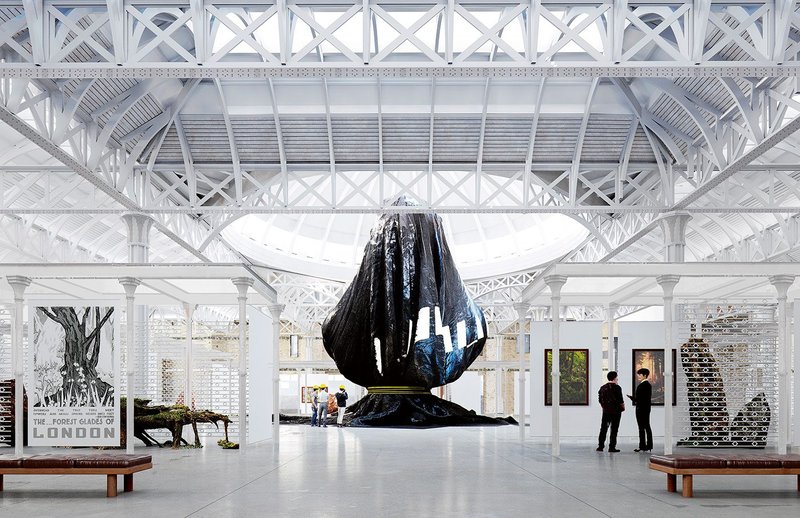 Inside the Museum of London, a visualisation of the building that will open in 2024. Appointed with Stanton Williams, Asif Khan took on one of the two market halls.

Credit: Asif Khan/MIR
So why the dire warnings for the architecture profession? In Khan's analysis, technology, financial greed and our depletion of natural resources – from ecosystems to materials we extract – combine in the form of artificial intelligence and robotics to create a seamless, architect-free process from design through to construction. Which is, in effect, a money making, resource gobbling machine with few limits that can tear through the biosphere. Quietly, with energy and deep, gentle pauses to draw out what he really means to say, Khan makes a case that speaks to your heart. I ask him if this is about extinction. He is more optimistic than that in person, but his recent short film, Kalpa (the Sanskrit word for birth and destruction at a cosmic level), takes us through two billion years of the earth's history and the near future, from microscopic organisms through industrialisation to humanity's self destruction.
He was in early on AI, beta-testing DALL-E pre-launch, and saw what it could do. And he knows how far things have moved even in his 43 years. 'Even Vectorworks or Revit can work out a staircase for you,' he says. 'All professions in construction can be automated.' But that is not all bad. 'The worst architecture will get better when it is automated,' he says lightly, as we discuss poor quality housing estates and awkward offices.
That still leaves some big questions for the last 25 years of the profession as he sees it. 'Should we design with panels and prefabs to be assembled by robots? Or do things that are a brilliant celebration of ingenuity?' He has an urgent call to action for humanity: 'We must learn to value human creativity.'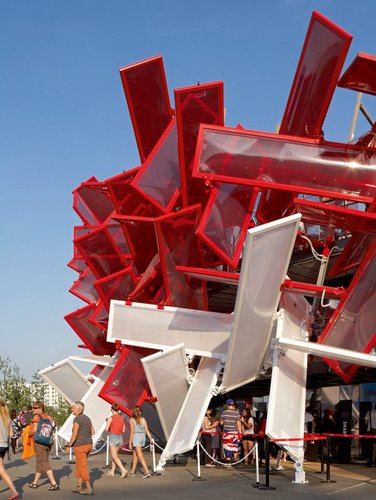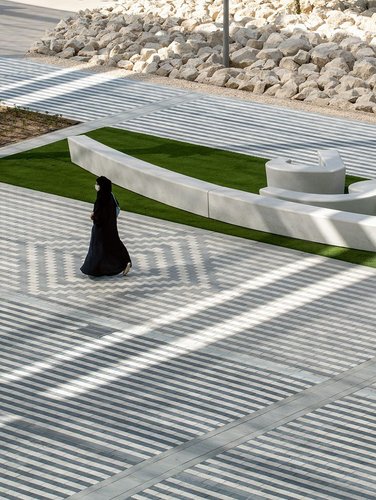 He sees the possibility of a fightback following the model of the slow food movement that emerged as fast food was recognised as a problem – which brought a focus on home cooking, great alternative chefs, farmers using permaculture and the explosion in sourdough and artisan bakers. Does that reach the whole of society? Probably not. 'It may be more challenging and less affordable,' he concedes. He is planning something of a research project on this, ahead of his RIBA + VitrA talk in September, which will take it as its theme.
As we tour his east London studio it feels like creativity is already being valued. The light industrial unit is inhabited by fantastical original models and mock ups and a dense library that leaps from social justice to magazines. Some magazines were collected before his Bartlett Part 1, when Khan discovered a deep love of craft and making at the Prince's Foundation which rivalled his teenage interests in computing and film. There is a cluster of desks with the team at work. And then there is more, we walk through the climbing wall, cut and installed between lockdowns in a test for a new CNC Smart Bench: 'a few of us like climbing'. We edge around a newly laid brick wall in the centre of the workshop, ready to test renders, and stop at a bench for trying out fabrics – starting with market sacks – for the Museum of London. Then there is the messy workshop. 'Everyone is encouraged to be in the workshop for their projects and to understand materials,' says Khan. A structural model of a self-supporting wall of stone and glass is for an installation with Theaster Gates, in a dock on Liverpool's waterfront. 'We work it through then test it with engineers,' explains Khan.
There are similar riches in the archive. Here are the slim black A4 boxes in which Khan gathers his inspirations and sketches for projects, a column light unused from a project that will make it in one day, a droplet of plaster, a series of droplets that they now know how to produce to perfection – perhaps the method could be used for making chocolate? The 5000 pages for the public realm at the Dubai 2020 Expo, 500 from the practice figuring out junctions and locations of plants, 1000 from collaborator Aecom – each marked up by the practice.
Its latest project, the Museum of the Incense Road in Saudi Arabia, avoids the monolithic approach of many museums in favour of pavilions creating an extension of the public spaces of its host village. With this Khan estimates the office has enough work for 100 architects. They will be recruiting but he wants to keep the practice small and work out a model to multiply its work, perhaps as with Aecom, perhaps using the model of film production, where people are brought together project by project. Khan is puzzling this out, he has never had a blueprint of practice to work from having skipped that stage in his career. It might not be easy though. 'Clients are now asking us to do everything, from programme to logo,' he explains.
Some of the projects will take many years to realise, like the work on the Barbican with Allies and Morrison. This is one Khan is particularly attached to – he was taken there as a child, playing in the public spaces. He might be a London boy but his geographical hinterland is rich and complex, with his father coming from Pakistan and his mother growing up in Tanzania. Through his Japanese ex-wife and their children he has a strong attachment to Japan, where he has taught, and he looks to Kenya Hara – Muji art director, a mentor and collaborator – for advice and inspiration. His current wife is Kazakh: 'A revelation to me, Kazakhstan connects the world together,' says Khan.
But in recent years he has found himself in his work in Dubai. There is a shared Islamic heritage and many more connections. They enabled Khan to connect with deep parts of his identity. 'There were things that I hadn't allowed to be present in my work creatively. It is something a lot of diaspora people feel. You want to be assessed by the measure of the society, on your ability to assimilate. I had put away things I had learnt as a child, as I have grown older I am ready to go back to them… The funny part that is our individual identities are fundamental to our personal happiness, purpose, dialogue with peers and what contribution we make to society. It has to come from within, from your heart.'
Throughout our interview Khan paints a picture of a dynamic studio, with colleagues (each warmly named) jumping up to make models and sharing stories of trips. He talks about it as a teaching practice – always investigating, often in new territory – and it is obvious that it's a personal one, pursuing his ideas. When long-time fellow director Peter Vaughan joins us we move into more material detail. But even then Khan values the less tangible: 'He asks all the questions that stretch the narrative,' he says of Vaughan. I am interested in the tension between big thinking, experimentation, investigation and the exciting process of design versus gruelling long projects and Khan's commitment to serving demanding clients, often jumping on a plane to do so. I want to see Khan's own experimentation and whether he is being sucked into management, so I ask about the last model he made. And there they are, little squiggles of plasticine, an acrylic grid, coloured Jenga style blocks. In each sequence of models his is the first, the roughest, the one most likely to get thrown away, but holding the seed of an idea.
This hive of industry and creativity seems a long way from Khan's dystopian vision of the future. Long may it stay that way.
Details of Asif Khan RIBA + VitrA talk: architecture.com