Shanghai practice navigates haphazard local site processes with an open-ended approach to design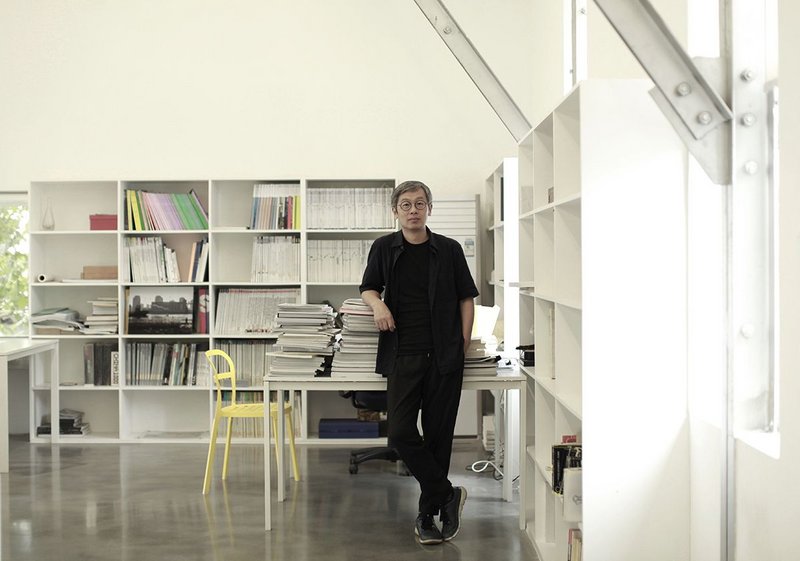 Liu Yichun, principal of Atelier Deshaus, in his studio in the West Bund of Shanghai.

Credit: Atelier Deshaus
In just five years the West Bund of Shanghai has been transformed from a rundown industrial area into a world-class art and cultural district, comparable to New York's Chelsea or London's South Bank. With the backing of the municipal government, this previously dilapidated bank of the Huangpu River has become the home of prominent art museums and the international West Bund Art and Design Fair.
As one of China's best-known architects, renowned for designing the West Bund's Long Museum, Liu Yichun of Atelier Deshaus was invited to create a masterplan for the art precinct. Liu explains that the government wanted to develop a quarter dedicated to public museums, private galleries and an art centre as well as artists' and designers' studios. The government approved a five-year lease of a small plot of land to Atelier Deshaus for its own offices; the generously low rent has allowed the practice to afford the construction cost of this new accommodation.
Set back from a lane of other small studios and galleries, the atelier sits behind a handmade brick wall within a shaded, tranquil courtyard. Its peaceful atmosphere renders it bucolic in this most urban of settings, detached from the nearby hubbub of the West Bund's latest art destinations. The upper storey of the main two-storey studio building is given over to a 20-strong staff, while part of the ground floor is occupied by structural engineer Zhang Zhun and his team. To the left of the courtyard is a single-storey building which Liu designed to contain a large meeting room and offices for himself and his partner Chen Yifeng.
Nearby, Liu hopes to establish a new centre for architecture that will host lectures, seminars and other activities. His ambition is to create a venue that will bring together fellow designers, supporting a younger generation of architects forming their own independent practices in Shanghai.
Atelier Deshaus landed the deal with the municipal government only after the practice had completed a string of successful public sector and commercial projects. As the studio approaches its 20th anniversary next year, Liu and Chen recognise two distinct periods in its development: the first decade from 2000 to 2009 and the subsequent phase from 2010 onwards. The first period was a time of rapid development on the urban fringes of Shanghai. Atelier Deshaus emerged as a leading local practice with a series of kindergartens; these buildings turned emphatically inwards, away from a potentially unattractive context. In common with many Chinese architects of their generation, Atelier Deshaus would emphasise the plan in projects. In the Xiayu Kindergarten and the Jiading Kindergarten, the practice considered various ways in which the programme could be translated into a series of volumes, developing an overall design strategy that prioritised the character of circulation spaces. Many Chinese architects at this time were interested in the articulation of the building's skin, but most projects were plagued by poor quality construction. Atelier Deshaus was widely admired for exploring the use of perforated aluminum panels on external walls as a low-budget way to achieve clean edges.
This initial interest in architectural surface meant that structural expression was not a major point of interest for Atelier Deshaus for the first 10 years of practice. Concrete column-and-slab construction usually relied on some form of cladding to hide problems of quality. For many Chinese architects born in the 1960s and 1970s, structure was purely a matter of practical application. Around 2009, though, this changed through Liu's personal contact with Japanese architect Kazunari Sakamoto and others. Liu also visited buildings by Sakamoto's teacher Kazuo Shinohara and came to think much more about kakao, or structure, especially how structure can be customised for specific parts of a building without losing the sense that parts of a structure belong to a whole. This exposure to Japanese ideas was a turning point for the trajectory of Atelier Deshaus. Since 2009, the relationship between structure and architectural effects has become a prominent concern in its work.
Atelier Deshaus's former interest in architectural surface had been part of an approach that imagined a correspondence between the fixed look of a building conceived at the beginning of the design process and a specific way of achieving it. This is a tricky matter in China, because many forces conspire to derail the architect's original design intention from being realised. Compromises and embarrassing construction errors mean that many buildings are photographed from a distance of 30m or more in order to retain the intended appearance. As a consequence of low interior design budgets, or clients assigning interior design to a party other than the architect, interior photographs are often kept out of magazines. In recent years, Atelier Deshaus has been pursuing an open-ended approach that does not decide in advance the desired look of a building but allows an aesthetic to emerge from the resistance between several factors in the design process. The concern for clean, precise lines and edges in the kindergartens, for instance, gave way to a focus on apparent precision, while an interplay of relatively fine and rough elements absorbs the consequences of dimensional imprecision in construction.
Atelier Deshaus's collaboration with the engineer Zhang Zhun in the design of the Long Museum and the Tea House of the Li Garden has been crucial to Liu's approach. The proposals and counterproposals between architect and engineer avoid the common and linear manner of working in China where architects make a schematic design and then an engineer from a large design institute will propose a structural solution. In the case of the Long Museum, two basement levels had already been built by the time Atelier Deshaus was commissioned to design this home for the clients' private collection. The practice proposed a structural module made up of a wall with a cavity so that the basement would fit into it. At the top of the module, two cantilevered elements create an 'umbrella'. The aggregation of the modules, some rotated 90° in plan, creates internal spaces with spans of 16.8m to accommodate large works of art. Even as recently as 2012, when schematic design was complete, the range of professional consultants needed for a project of this kind was not readily at hand, and Atelier Deshaus took on a much more direct role in the design's delivery than would typically be handled by specialist consultants elsewhere in the world. Overall, the Long Museum demonstrates how site-specific constraints of a project can provide a starting point for a highly creative approach to structure, services, detailing and atmosphere.
The widescale recognition that the Long Museum has received from government and curators and artists worldwide has brought other clients to Atelier Deshaus. The practice has also broadened its scope of services by providing advice for facilities planning and for the ongoing use and curation of institutional spaces. Among recent clients is a neighbour leasing an adjacent plot in the West Bund. The Tea House of the Li Garden is a pavilion in a small courtyard, an informal structure that incorporates a bookshelf and door frame that are loadbearing. Once again, as in the Long Museum, we see Liu Yichun and Zhang Zhun going beyond the pursuit of precise geometric construction to experiment with the possibilities of structure and atmosphere.
---
Stanislaus Fung is associate professor of architecture and director of the MPhil-PhD programme at the Chinese University of Hong Kong. Some of his writings, including a bibliography on Atelier Deshaus, are available on academia.edu
---
Join RIBA & VitrA for a live stream lecture from Liu Yichun from 1 pm to 2:15 pm 29th June - register here. Registrations close BST 11 pm Sunday 28th June