'Challenger bank' Triodos uses its money with conscious thought about its environmental, social and cultural impact says its CEO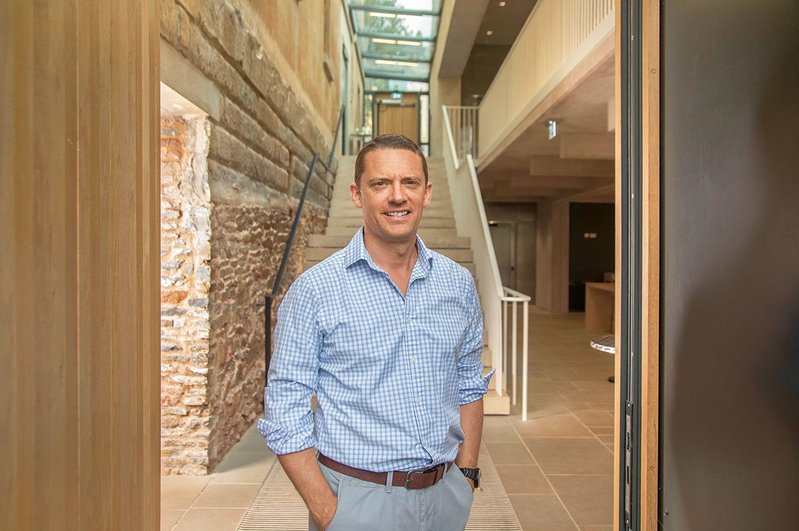 Bevis Watts at St George's, Bristol – Regency church turned concert hall with extension by Patel Taylor. It's an important loan customer for Triodos.

Credit: Paul Box
Bevis Watts makes an unusual bank boss – his background includes running a wildlife trust and working in waste management, and he's a young looking, casual dress type. 'I think it's important not to be wedded to the current paradigm for banking,' he observes drily, while pointing out he's got all the necessary business experience. True enough, what have central casting bank bosses done for us in recent years? Brought the world to its knees, that's what. 'Fred the Shred' springs to mind. So perhaps we might consider something different. Watts, as UK CEO of Triodos Bank, presents that something: sustainable banking.
And what might that mean, exactly? Watts can recite his firm's definition easily enough: 'Sustainable banking means using money with conscious thought about its environmental, cultural and social impacts, and with the support of savers and investors who want to make a difference, by meeting present day needs without compromising those of future generations.'
You might not have heard of Triodos – it's still small, a 'challenger bank', though growing steadily with some €18 billion of assets under its management, now operating in five European countries including the UK. Not that the idea is ever to go head to head with a big conventional bank. 'Growth for growth's sake is not why we're here,' says Watts. 'We try to be a reference point for change.' Founded in the Netherlands in 1980 and with its British subsidiary in Bristol since 1995, it has recently built itself an energy positive, supergreen kit-of-parts timber group headquarters in woodland near Zeist east of Utrecht in the Netherlands by architect and circular economy guru Thomas Rau.
It's a building that could if necessary be dismantled, moved and erected elsewhere like a Shakespearian theatre, its curvi­linear form perhaps echoing the firm's original adherence to the anthroposophical principles of philosopher-architect Rudolf Steiner. It locks up more than 1.6 million kilos of CO2 in its 2,623m3 of structure but then, as Rau calculates, in the enormous managed German forests that produced it, that amount of timber grows back in just 11 minutes and 36 seconds. This really is a regenerative way to go about things.
Watts turns out to be not just a sustainable banker, but one who thinks, talks and writes on the subject, recently critiquing the Bank of England for its stance on the economy as it emerges from the pandemic. The BoE is not taking the lead it should on climate change, he argues. 'The central bank must be bold and go beyond stress testing and reporting to strong asset steering, incentivising or penalising banks based on their behaviours related to climate change and potentially other environmental issues that are creating similar global systemic risks.'
In an issue of this magazine devoted to sustainability concerns, and given that all buildings need financing, the source of that money becomes a topic of interest. Where is the money you borrow originally invested, for instance? It's not a question you may normally think to ask, but perhaps you don't want to find that it stems from unethical investments, Big Oil, or whatever.
So I ask Watts where Triodos gets its money from, expecting some complicated web of international finance and further, doubtless carefully vetted, borrowing extending to a vanishing point on the horizon. But no.
'We don't borrow from other banks – it all comes from deposits,' he says. 'That's something that used to be true of any bank, and it stood us in very good stead in the banking crisis. We were isolated from the contagion.' So there was no buying of bundles of sub-prime loans for them. Some 82% of the bank deposits they receive are then lent out, and – as this is a bank that makes a great deal of its transparency policy – you can find details of every organisation it has lent to.
The UK operation is, as you'd expect, based in a BREEAM 'Excellent' building: it is in Bristol's central Deanery Street mixed-use redevelopment (building by Alec French Partnership with thoroughly informal and rigorously sustainably sourced interiors by White Design). Bristol was originally chosen, says Watts, because a lot of businesses in the South-west were already well attuned to the philosophy of the bank, from organic farmers and the Soil Association to wildlife trusts and clean-energy companies.1995 was also when Triodos merged with the UK's first ethical bank, the East Sussex based Mercury Provident. These days they operate nationally, with regional branches in London and Edinburgh.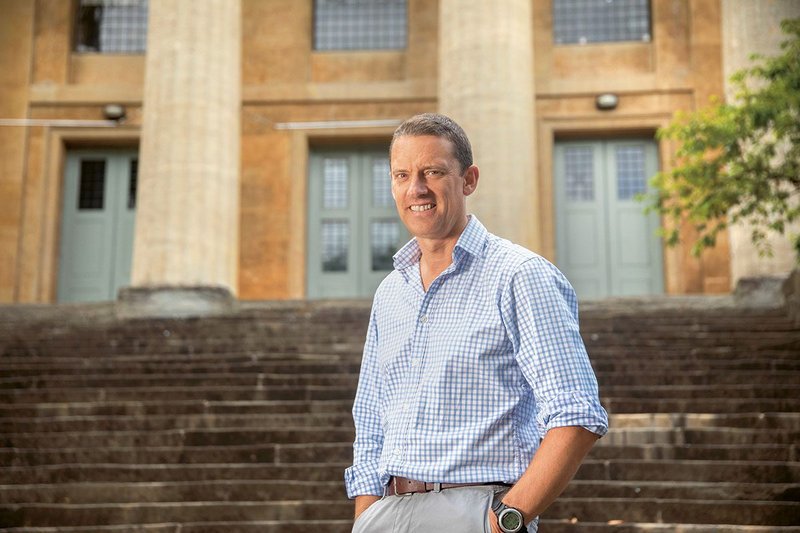 Watts on his home ground at St George's Bristol.

Credit: Paul Box
You can open a current account with them, and the accompanying card won't be the usual laminated plastic but (microchip aside) a biodegradable corn-starch material. Obviously they don't just lend to anybody: you have to be aligned with their values and be doing something that they regard as improving the lot of humankind far into the future. So charities, organic farms, educational initiatives and, yes, buildings. An early client was the Bristol Architecture Centre.
Social housing built to Passivhaus standards and zero-energy custom-build housing projects are their British staples, Germany is big on sustainable buildings of all kinds, while in Spain there are a lot of solar energy projects, Watts says. Two customer examples: first the all-timber Vitsoe factory in Royal Leamington Spa which, like Triodos's new group HQ, can be dismantled and re-erected elsewhere, ticks all the boxes. Vitsoe's shelving and other products, designed by Dieter Rams, are made for longevity and reconfiguration: even their packaging is reused. There Triodos did a refinancing deal in the project's later stages. Second, Winchester University's just completed green West Downs campus by Design Engine: this was Triodos's first venture into UK higher education, a £30m loan towards the BREEAM 'excellent' building complex which also carries WELL certification for human health and wellbeing. Winchester's ambition is to become the most sustainable university in the UK. As Watts points out, that's not just the carbon footprint of the place, but also the values that are inculcated there – a broader, planet-aware education.
Triodos is not alone. It founded a 'global alliance for banking on values' with 63 other like-minded financial organisations around the world. Together they have more than 70m customers and $210 billion of assets. Still small in international finance terms. But this comes back to the business of being a reference point for change. 'If we can shift the needle just a little bit', as Watts puts it, 'we can have massive impact.'