The Office Group believes profits depend on happy clients. Working closely with architects to make well designed spaces is a critical part of that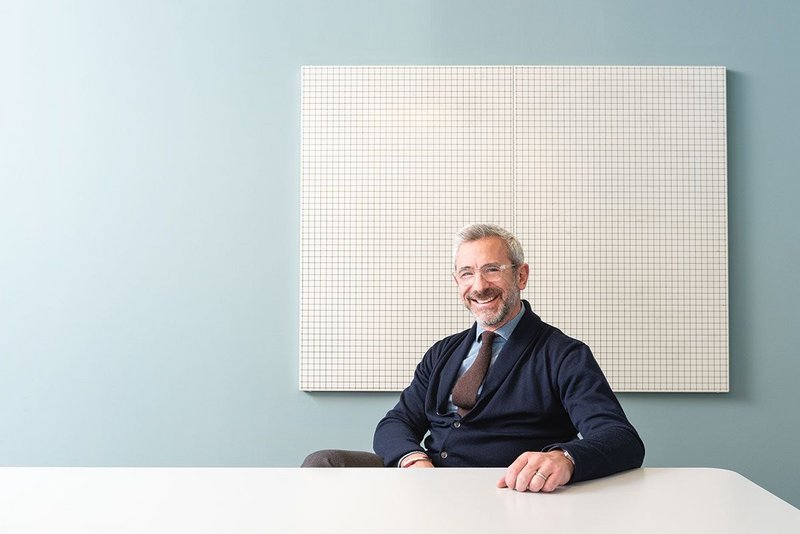 Bucking the trend of conventional office space: Charlie Green at TOG's Smiths Building HQ.

Credit: Ivan Jones
The Office Group's Charlie Green and co-CEO Olly Olsen are in the business of changing the way we work. Since 2003 – when, with just £100,000, they set up and fitted out their first 'designer' 510m2 co-working space in Islington – the developer has experienced an exponential trajectory, with a management buyout in 2010 by Travelex founder Lloyd Dorfman when they had seven buildings in their portfolio. A massive injection of capital in 2017 from the Real Estate arm of investor Blackstone means TOG now owns or leases 35 co-working properties in London and is worth in excess of £500million. Nearly 18,000 users, from one-man band entrepreneurs to medium-size tech companies, all miners in the digital economy, bustle around TOG's 160,000m2 of prime, architect-designed, commercial real estate; spaces that, with breakout lounges, cafés and bars, are more like boutique hotels and private clubs than offices.
But then, as a youthful-looking 49-year-old Charlie Green explains from the firm's Smiths Building HQ in Fitzrovia, changing the services office market in a fundamental way was always the intention. Though stylishly attired for a 'big meeting' today, he's usually as dressed down as his offices' co-workers.
That's the thing about TOG. From the old-school English boiled sweets in glass jars in the reception via its carefully selected designer furniture here and in the tastefully fitted-out cafés; to, in this case, the chronometer-like manifestation on partition glass to intimate the building's original provenance, it's about using architects to push the firm's brand values in the market. This is no coincidence – Green graduated in estate management at Oxford Polytechnic in 1992 during a recession.
Irked by how badly real estate seemed to be marketed generally, things changed for him only after a lucky break, aged 27, at fledgling serviced office company MWB Group, which set itself up intending to rival (and be bought out by) Regus group.
The industry was modelled on 'getting people to sign up to spaces for nine months and then making money at every opportunity after that…but I couldn't get my head around the idea of copying a business model that was already deeply flawed – a place people only wanted to be in the short-term,' he recalls. And that's when the penny dropped. 'We wanted to flip the philosophy on the head. We thought: "Let's get someone signed up for nine months and then work out how to make them stay".'
For Green, that involved three key elements: 'providing value rather than ripping off, having a level of service in the building that proves you care about the tenant, and thirdly, but most obviously, addressing the design of the building'. And, he explains, it was MWB Group's acquisition of the designer Malmaison hotel chain that he and Olsen looked to in directing the future path of Office Group's own identity: 'We realised the design was something we could hang our hat on – an expression of our ethos to the market.' And to add to that, TOG came into being just as technology was changing the world of work, from Google 'break out spaces' and 'hot desking' to facilitating the go-getter Hoxton tech-head with a laptop. It's been the role of TOG's architects ever since to embody this new flexibility and informality
And they've used a roll-call of architects: Buckley Gray Yeoman, dMFK, SODA, Stiff+Trevillion, Morrow & Lorraine, Stanton Williams, Metropolitan Workshop, AHMM, Archer Humphryes, Shed Architects. TOG was first influenced by design-led developer Derwent London, but with major players like British Land, Grosvenor, Land Sec and even the Crown Estate now looking for their share of the co-working pie, the architects are, says Green, all charged with the same, demanding brief: How to help us move forward with a distinct offering to the market. It's an aspect we've never lost sight of since we started.'
The approach starts with the buildings they choose to occupy. 'We know every building is different, and as a firm we love a story,' Green adds. That resulted in the chronometer manifestation in their own offices, and is reflected throughout the firm's portfolio: in Stanton Williams' retention of the doors and ironmongery from the former police station that is Tintagel House at Vauxhall, the woody, gentleman's club feel of Archer Architects' 22 Manchester Square and the symbolism of the timber butterfly-wing ceiling in the first-class lounge on the 24th and 25th floors of the Shard by Archer Humphryes. Green says they do their homework when choosing architects, ' knowing who is fresh, exciting and creative, having a sense for a project and who would be suited to it.' Some of the larger firms are appointed based on the ability to take the job on and see it through; others, like dMFK, were personal friends. Some just come to their attention. At Stockholm Design Fair the firm met Note Design Studio, who didn't get commissioned until nearly a year later for the Art Deco Summit House in London's Red Lion Square with its faeiance façade – 'it's going to be different to anything we've done before'. They're also commissioning Norm, which revamped Arne Jacobsen's SAS Hotel in Copenhagen, in what seems a shoo-in for TOG's slightly retro-chic aesthetic.
TOG came into being just as technology was changing the world of work. TOG's architects embody this flexibility and informality
Green says they enjoy appointing younger, smaller firms who are keen and prepared to work with a client that is fully involved. Its noticeable that TOG has shirked highly aestheticised practices who may have their own design agendas. 'Malleability is key. We need architects who know where we're coming from, with a commercial viewpoint, design intelligence and a grasp of tenant needs,' Green tells me. 'Alarm bells ring for me when an architect tries to convince me an element it's specified is 'cheap' or 'cost-effective'; we know what things cost as we've been so long in the business.' But they also look for intuitive nous. At Tintagel House, fitout architect Universal Design Studio proposed a £30,000 pink terrazzo reception desk that was far above TOG's usual budget. 'But we came to accept the view that its specification had to take account of what would draw people to work in this location and the kind of quality they should expect throughout. Our instinct would have been to spend less on a desk in Vauxhall than we would in Soho – but in the end we decided to spend three times that.' But TOG also appreciates gutsy players. 'The best architects for us are the ones who can tell me when I have a bad idea but are able to embrace and take on board a good one,' he adds.
Is it all about the architecture? It's true that Green has a 'deep interest' in design, but make no mistake – TOG is first and foremost a property company with its eye very much on the bottom line. Green's at home talking about the options inherent in newbuild, Shell & Core, Cat A and Cat B fitout ('If it's Cat B it's around £50-£60/ft2, then you have FFE on top') but what he doesn't let go of is ultimate control on those all-important finishes; in that regard, D&B is out of the question. 'As a firm, we'd rather take the cost risk and have the certainty that we are delivering something really beautiful; some of the intent and feel is lost when you hand it over to someone else to carry out.' Green mentions a fifth floor they had entrusted to a D&B contractor above the four they had carried out themselves on one of their central London properties: '"Shame" might be too strong a word…
But in developing TOG's bespoke aesthetic identity, Green is clear that its offering is more mainstream than some of its competitors', that the 'element of neutrality' makes good business sense. He sees TOG's style as quite distinct from Rohan Silva's Second Home with its niche brand identity. 'The type and nature of their members is key to them; we are more agnostic. If you push design too far and it all comes out pink and orange you end up alienating a lot of people, so we're always looking for a balance,' he tells me. 'That said, we encourage the architects we work with to start with their dream for the space and pull it back from there. In our time as a business we've become good editors – we don't embellish, we reduce down.' Green is also keen to distance himself from Second Home's elite community and WeWork's youthful demographic: 'We're not creating a community per se but an environment that's agile and flexible and which challenges the traditional lease. Any sense of community is a consequence of the original lease offer, not a pre-requisite.'
So where are they going? Green says that despite their aim to keep expanding the London co-working market, they have no global plans just yet. He feels the New York market is attractive but complex, the only iron in that fire being the Flatiron Building, which they are still in the running to redevelop. Otherwise they are sitting pretty here. I ask, maybe facetiously, if he thinks you can overdesign an environment so much that it reduces rather then improves productivity. 'I've never been asked that question before,' he replies and pauses before answering. 'The thrust of our bars, roof gardens and social spaces is about having fun, but also giving our tenants choices about where and how to work, because I'm convinced everyone is at TOG to seriously build their business.' And it's in the interstitial spaces, the liminal zones, that perhaps genius is sparked. 'Guidance tells us a corridor should be 1.2m but in our buildings it's 1.6-2.2m. We do that because we want people to feel like they can breathe and if they are happier because of that, they just might do business better.'