The Portuguese practice combines colourful distinctive projects with an efficient but frenzied workflow and a constantly evolving set of tropes
Look at Portuguese studio Fala Atelier's work and it is hard to believe its three founding directors' claim that 48 out of 50 of their clients are not interested in architecture and most don't even know the practice's name. The firm's mostly residential work is so colourful, graphical and different to most architecture in the public domain it seems implausible their clients aren't commissioning them specifically. 'That,' says co-founder Filipe Magalhães, 'is the main martial art we have to deal with … Clients are not hiring a designer, they are hiring a lawyer to oversee the project.'
The construction industry is different in Portugal to the UK. To build, drawings must be signed off by an architect. 'The vast amount of clients come out of need, not design,' explains Magalhães, 'and they bring an image of a white box villa with them as a reference.'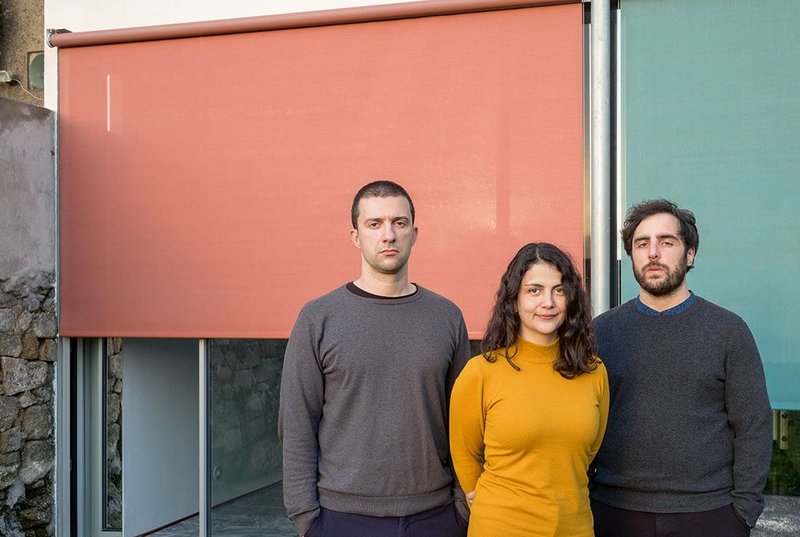 Fala's directors (left to right) Filipe Magalhães, Ana Luisa Soares and Ahmed Belkhodja. The practice started young and now comprises 10 people. Magalhães is the oldest at 33.

Credit: Paulo Catrica
The practice's other co-founders are Ana Luisa Soares and Ahmed Belkhodja. The trio met working at Harry Gugger Studio in Basel in 2011 (Gugger having been central to Herzog & de Meuron's success). Magalhães is from Porto and Soares from just outside, while Belkhodja is Swiss. Between them they have studied in Porto, Lausanne, Zurich, Ljubljana, Tokyo, Gothenburg and Singapore. They each worked in Japan too; Magalhães at SANAA, Soares at Toyo Ito, and Balkhodja at Atelier Bow-Wow. Like many young southern EU citizens, Magalhães and Soares left their country of origin because of the 2007/8 financial crisis, but they threw in their nice, safe, well-salaried jobs in Switzerland to return home at what was the bottom of the recession curve, and they invited Belkhodja to join them. They won work by being in the right place at the right time when there wasn't competition from other architects of their generation.
The first stage for any project is therefore 'pedagogical' – to explain what Fala Atelier is and what it does. The second stage is to explain how, as well as providing signatures, it can also add value. Like many young practices, Fala started out with a trail of lost competitions. But gradually the team began accumulating crumbs – bathroom renovations, kitchen redesigns – which it used to attract attention. In 2013 it was shortlisted as one of two Portuguese firms for the Lisbon Triennale Debut Award. It has become known for a good care-to-price ratio and because it will look after the whole process, including finding construction companies and an engineer. 'We can't be artists that only provoke,' says Belkhodja, while Magalhães adds: 'Three years ago, this was a daily discussion and we were sad about it.'
What the directors have come to realise, however, is that winning work from uninterested clients provides them with a buffer that allows them 'to do things'. The limbo is the playground.
Portuguese practice Fala Atelier combines colourful distinctive projects with an efficient but frenzied workflow and a constantly evolving set of tropes
How does Fala do it? Budgets are often tight; the business model is high volume, done very efficiently. The team appropriates the banal in the gaps between what the client wants and possibility. Each project evolves that way with a growing network of experiments and tropes. The first project was restrained and sharp; the second project introduced a curved wall and patterned floor, then marble, then a non-structural element. Each has grown in scale too; from a small apartment to a slightly bigger one, to a garage that could be an apartment, to a cluster of apartments, then a house renovation and a new-build house. Complexity has grown each time and they are constantly quoting their own work; one weird thing added at a time. Ideas migrate and they never need to put them all into one project as there is always another to test on instead. Yet paradoxically, they have an ambition to never repeat themselves or get too close to precedents.
'We are like hyperactive kids; we get bored easily,' explains Soares. 'We get faster and more efficient doing similar projects. We have to find the joy in what we do otherwise the boring parts wouldn't pay off … You can feel the first and last project are part of the same family, like a genealogical tree.'
The team's toolkit is doors, walls, windows, columns – normal elements organised in different way. Colours are used to highlight and inhabit spaces, materials too. Objects are made proud. Drawing, models, collages and lots of talking are the means. If there is no budget for concrete, use brick, if none for that, use gypsum. Marble is cheaper than wood as well as local and appropriate. There is always a budget for paint – but the cultural connotations of colours can be subverted in the process. Never call it pink; call it 'pastel', 'salmon' or 'a summer kitchen'.
'Clients care about bathroom tiles, the kitchen, underfloor heating,' says Magalhães. 'They don't usually want anything on our website. Our job is to go between and produce architecture in the parts not asked for by creating an alter ego for the project – as long as that process doesn't kill it.'
This is where the founders' experiences in Japan and Switzerland come in. Belkhodja says the most interesting aspect at Atelier Bow-Wow was the content of its bookshelves and the most important thing they took back from Japan was a lifetime of stuff, references, obsessions to research and learn about – in particular the metabolists who built their careers on radical small projects that bigger practices didn't care about. Soares expands: 'Our experiences in Switzerland and Japan were really different but they showed how two opposite systems can work amazingly well. From Switzerland we learned how to organise and build … Japan on the other hand is chaos.'
For Fala, Portugal sits in between the Swiss 'square-headed, heavy, precious context and Japan which is almost unhealthy with its long hours'. The trick for the practice is finding the overlap between architecture and the client's ideas. They call it 'architecture of the Venn diagram' and think many architects would consider this approach compromised and tepid. The difference is the hope that Fala puts into its projects. It invests the same energy of ideas into each project and publishes them all – despite the tiny all-in construction, VAT and fee budgets of €10,000, €20,000 and €30,000 that would barely get architects to open their initial Teams meeting chats here.
You'll notice not a single named project has been mentioned yet. This is deliberate. Fala's theory is that all its work is the same. It is about tropes. The projects pictured here are just its recent ones. Its website embodies this thinking too. There is no hierarchy, no order. Click on a photograph of one project and it will lead you to an image of a different one. Its goal is to emphasise a network and that the project is not the only way in – it could be a type of drawing, structure, roof colour, handle, knob or other attribute. You experience everything at once – a world of collections and obsessions. The practice is not defined by one project, but lots of small ones – to the extent that the directors think it would be possible to franchise it.
There are, however, two other crucial ingredients to Fala's work. The first is Porto where the firm is based. In the nearly 10 years since the three set up here, the city has undergone a spectacular speculative property boom. Prices have been driven up 800 per cent, in part by money brought back by Portuguese people who fled the economic catastrophe to make money elsewhere and think it is better to put it in real estate than the bank. Comparatively cheap prices have made small developers out of ordinary people, young and old, all wanting a piece of the mania. Fala's identifiable, fun, photogenic architecture has been helpful in this scene – when someone visits 20 schemes, they remember Fala's. AirBnB and a proliferation of tourism in the city also plays its part. Half of its clients aim to live in their projects, but some have been flipped and sold three times before anyone moves in. Porto has given the practice an unrivalled opportunity to be a tiny actor in this process with chances to build young that would be virtually impossible in much of western Europe. The first-time amateur nature of these investors has given it the space to play around with its architecture – contacts with bigger professional developers never go anywhere. 'This limits our growth,' says Belkhodja. 'We must be marginal. I wish we could just do larger marginal projects.' The work, however, is following a natural shift to the suburbs as prices in the centre rise.
The crucial second aspect to Fala's work is that they own the building that houses its office. This is actually its second office – the directors bought the first with the money they earned abroad too as it was cheaper than renting (about the cost of a car). After five years its value had increased ten-fold so they sold it to buy a larger building, which combines the studio with two apartments where the founders live. Undoubtedly this has brought a security and freedom that allowed them to develop and concentrate on the theoretical and expressive nature of Fala's work.
Regardless, all its projects are effectively low-cost housing and that could be seen as a social statement. 'We want to give good architecture to people who would never ask for it,' says Soares. And they do.
---
See Ahmed Belkhodja's talk from the RIBA x Modern House series