Forensic Architecture investigates crime scenes and war zones to help those fighting the cause of justice. Founder Eyal Weizman explains its mission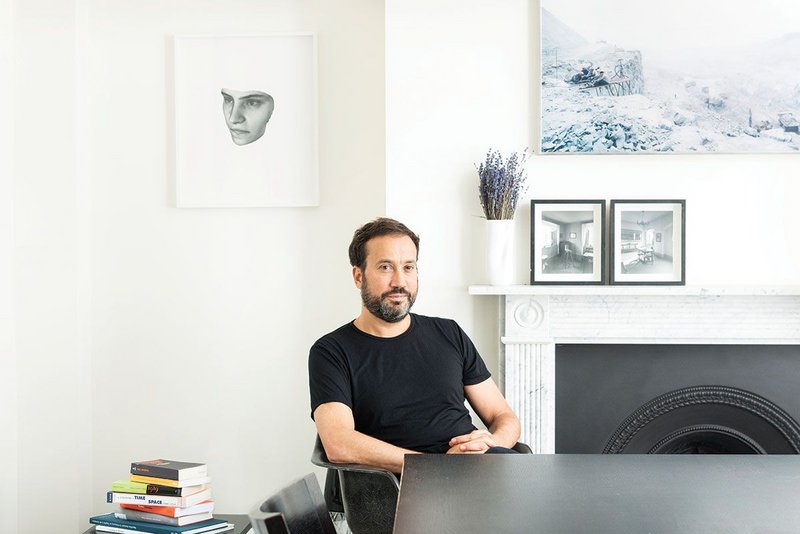 Forensic Architecture's Eyal Weizman occupying his own home.

Credit: Ivan Jones
'Do you mind never mentioning the word 'aesthetics' on the witness stand?' Forensic Architecture's Eyal Weizman was given this advice by leading human rights QC Ben Emmerson.
You can see Emmerson's point; aesthetics means subjectivity and the whole thrust of Forensic Architecture has been to uncover injustice by analysing in forensic detail the marks of violence on the world, establishing the objective factual evidence. An independent research agency rather than an architecture practice, the team of architects, journalists and lawyers that Weizman has assembled at Goldsmiths, University of London, deconstructs places and events before reassembling constituent parts through 3D digital models, physical models and photogrammetry to piece together a true picture of what has occurred at a site. It challenges the state and other actors in the name of the ordinary citizen's human rights, and clients include Human Rights Watch, Amnesty International, the Israeli rights NGO B'Tselem, the Red Cross and the United Nations.
Speaking at the opening of the ICA retrospective of the Goldsmiths unit's work in the spring, Weizman declared bluntly: 'If you want to see art go to the Tate'. The ICA considered making T-shirts with the slogan, but has the phrase – and the question of aesthetics versus evidence – come back to haunt him now FA's work is on screen and wall as part of Tate Britain's Turner Prize show?
Forensic Architecture's entry concerns the case of a shooting during an Israeli police operation to demolish Al-Araqeeb, a Bedouin village in the Negev desert and a village that the Israelis refuse to recognise as existing despite its long history. FA's small study in terrifying nocturnal chaos is one of four film-based works on the Turner shortlist. The movie is supplemented by a wall display explaining the evidence and methods FA used, including 'citizen satellites' – cameras mounted on kites – to demonstrate the longevity of the settlement by revealing features such as ancient house walls and old wells invisible from ground level.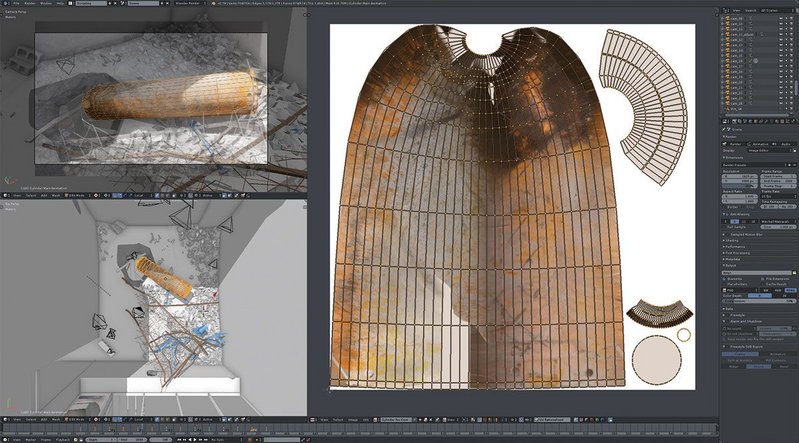 Douma Still: Screenshot from Blender software showing the unwrapped surface of a chlorine canister with various markings such as black discoloration on the nose and grid markings at its base.

Credit: Forensic Architecture
Previous work by FA has analysed video, photographs, the physical impact on buildings and reverse-engineering of blast clouds from missiles to determine who is responsible for drone strikes, attacks on Palestinian civilians in Gaza, the genocide of the Yazidis in Iraq or the execution of a man in Kassel, Germany, by a Neo Nazi terror group in the presence of an undercover secret services officer.
'Our aim is to win cases not art prizes,' acknowledges Weizman, 'it's not art, we don't consider ourselves artists'. That said, the answer he gave Emmerson was more complicated: He recalled the Ancient Greek definition of the word aesthetics – roughly, the senses exposed to perception. 'Aesthetics is an essential category in our work. It is not only humans that perceive but matter; walls, roofs, different parts of buildings.' Buildings continuously record the environment, he explains. They are like sensors, a recording device. The beam and wall will record if you only know how to read it. He says FA tries to 'hyper-aestheticise material surfaces', to understand in minute detail what the building says about the scene of the crime. 'Buildings can be both the target and the evidence for it.'
Weizman also suggests that all evidence is, in a way, a creative act and every barrister knows both that the presentation of evidence needs a certain theatricality and that rhetoric is a form of aesthetic: 'There is a secret pact but we all know we need to hide it because [the commonplace view] is that truth shouldn't require labour.' He also places FA's work within the context of activist art – indeed all this year's Turner Prize entries could fall into this category.
In an era of so-called 'fake news', Forensic Architecture's work is both compelling and essential
'Traditional notions of art are antithetical to evidence but there are socially-engaged strains in the art world of investigative aesthetics and research based practice. It opens up a possibility where, rather than being illusory trickery, art can help us analyse the present and that has a truth-value to it.'
Weizman grew up in the relatively mixed Haifa in Israel, but the country's inequities bothered him even as a child. He became an architect, and also read philosophers such as Michel Foucault and Gilles Deleuze, who examined how states exercise power spatially, and Paul Virilio. Being interested in these things means being interested in oppression, he says. He also had a great interest in tactility and materiality and later trained at the AA where he saw that the digital tools of parametrics ('not my religion') could be repurposed to analyse sites of conflict.
After graduating Weizman worked with B'Tselem, exposing how architects were complicit in expanding Israeli control and restricting the ability of Palestinians to build housing ('ethnic cleansing through architecture'). 'Crimes can be done on the drawing board,' he says.
A beam and wall will record if you only know how to read it
In 2007 he helped set up the architectural collective Decolonizing Architecture and published his influential book Hollow Land, examining how architecture was used as a weapon of war in Israel. He describes himself as an historical materialist but the book also used post modernist tropes as a method of analysis and he defends post modern theory against its critics: 'Its been abused but it has a kernel that's fundamentally distrustful of the normative. Hollow Land revealed how the Israeli Defence Force read Deleuze to inform spatial tactics that included blasting paths through wall after wall.
This intellectual apparatus has been capture by the Right, he argues: 'In the US, the Right talks about deconstructing the state. Power has captured post modernism but we don't need to abandon it. However, we don't just deconstruct – we need to construct facts that hold the truth, that is made, that has an architecture to it. The evidence is spatial.'
Weizman moved to London and set up Forensic Architecture in 2011, realising that he needed investigative reporters and lawyers as well as architects to make their approach to 'citizen forensics' work. Unlike the police, who have access to a crime scene cordon, civilians have to find other approaches to evidence gathering – although the crime scene, he says, is always bigger than the cordon area and includes board rooms and government ministries: 'We replaced the lab with the studio. We need to understand the medium – the film, the resolution, the movement of the character – the archaeology of recording the recording.'
In one case, thousands of crowd-sourced photographs and mobile phone footage of the bomb clouds from rocket attacks on Rafah, Gaza, were successfully used to create a 3D model of the city (a typical FA tool) to prove that the Israeli army's destruction of the area was part of the 'Hannibal Directive' where the army would kill one of their own soldiers rather than have them captured by Hamas militants. Forensic Architecture's work successfully changed Israeli government policy on the issue. Using architecture to investigate rights abuses has moved the human rights movement on from focusing solely on testimony – which was used to give victims a voice as much as evidence. FA uses technology 'not to replace the human voice with cold science but to supplement it'. These tools are like bones in an autopsy, and make great witnesses, he adds.
In an era of so-called 'fake news', Forensic Architecture's work is both compelling and essential: 'The populist Right, Trump, Putin, Erdogan, Brexit, not only contest facts but claim that facts are not themselves verifiable, that 'our narrative is as good as yours'. Whether climate change, evolution versus creationism, the Holocaust or Holocaust deniers – lack of evidence for a case is ignored and they are presented as being equally valid.'
Ultimately, Weizman's argument for agreeing to the Turner Prize nomination is that it is a chance to draw attention to cold or failed cases. The Negev display at the Tate is a case in point and a set-back in that investigation was one of the reasons he agreed to be put forward. The Turner Prize, he acknowledges, is an opportunity 'to reach people not normally ready to read a human rights report.'
The publicity surrounding an exhibition has been useful before: it was a show at Documenta that pressured a German parliamentary commission to examine the previously-sidelined Kassell case. But it's not just the art world that is a useful publicity vehicle. FA has been nominated for human rights and design awards as well as the Gabriel García Márquez Journalism Award for its work investigating the 2014 kidnapping and murder of teachers in Iguala, Mexico, that tracked the movements of key vehicles involved.
Weizman calls on architects to be public intellectuals and to engage with a troubled world more directly: 'There is a way of becoming activists using the powerful analytical tools of our trade.'