Conviction, optimism and enthusiasm keep Jonathan Smales going despite setbacks. Can his latest development, the Phoenix Project in East Sussex, take sustainability to the next level?
Walk away from the historic centre of most towns and villages and you are brought short by the tense negotiation of the edge. Chicken sheds, breweries and fields are being turned into smooth curves of tarmac leading to brick boxes, from starter to executive homes with more or less space for the second car. Could an ex managing director of Greenpeace and founder of Doncaster's Earth Centre be one of those to help edge developments buck the boring and start building community – working with a fascinating selection of interesting architectural practices?
Brick boxes were what was facing the handsome town of Lewes in the South Downs when the old ironworks site went up for redevelopment. A group, Phoenix Rising, got together to resist, asking a new resident with generations of borrowed family history in the town to help: Jonathan Smales. The contested project didn't get off the ground – even though the original developer secured planning it couldn't make it stack up. By then Smales was hooked on the opportunity. He set up Human Nature and with the help of investments from local family funds bought the site, now named The Phoenix Project and being submitted for planning this month. 'Human Nature is a movement rather than a developer,' he says.
Since he was managing director of Greenpeace he has been interested in, and doing, development; and making it more sustainable. In 1989 at Greenpeace he brought the strands of the campaign group's expertise together under a new roof in a former animal testing laboratory working with the young Feilden Clegg Bradley Studios.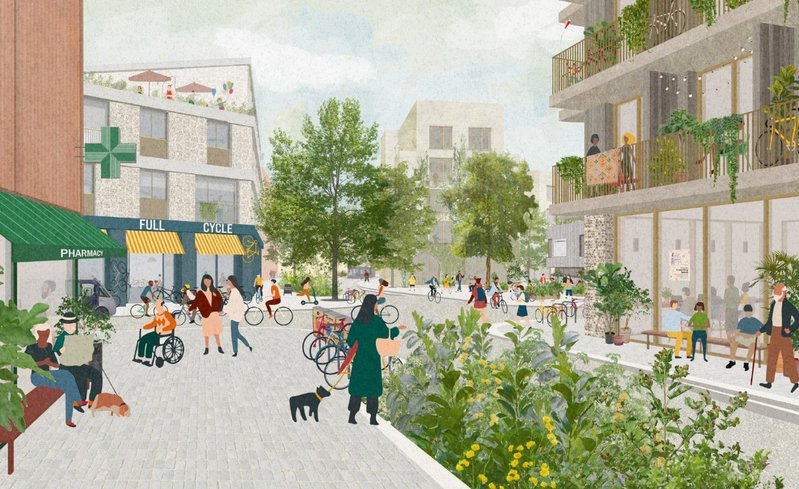 Greened, car-free roads link apartments and health hub in a concept for Phoenix Square.

Credit: Human Nature with Periscope
After Greenpeace he founded the Earth Centre, urged on by a neighbour and a desire to give the green movement 'some glamour'. He looked at but rejected Bankside Power Station, later Tate Modern, wanting buildings and landscape. Instead he went for the beautiful, damaged 'moon landscape' of Doncaster's coalfields. 'I fell in love with it,' he says. The Earth Centre was imbued with optimism and buoyed by a grant from the Millennium Fund. It would be a new national institution. He recruited sustainable designers and out-there architects: Bill Dunster, Future Systems, Will Alsop.
First there were the old coal mining lands to remediate. Then a whole ecology to build. You maybe remember the ending, into receivership, half finished. It was a huge project; Smales estimated it at £200 million. But in the end he only got £70 million. He found from the newspaper that the Earth Centre had lost out on its next tranche of the Millennium Fund to the Dome in London. Local council support was also a missing factor, he says, one that the Eden Project managed to secure in Cornwall only a few years later. Smales consoles himself, believing it left a better place. There is now a field studies centre, in 80ha of forest with 120,000 trees, and Alsop's Waterworks is still operating.
He is not shy about the Earth Centre, but he likes to put it in perspective. 'I have 30 years more experience now,' he says. After this, as executive chair of the Beyond Green Group he worked on sustainability strategies and stakeholder consultations for around 100,000 new homes. I ask for a few project names, but he doesn't want to go there. 'I can't because it is depressing. They were the volume housebuilder model.' There was a bid for North West Cambridge with a scheme he and the architects saw as really top notch, but it didn't win. He worked on the London 2012 Olympic project on community engagement and as sustainability advisor on the legacy development. A recent Buckinghamshire project looked like it could produce great housing and place. But once planning permission was obtained partner Aviva sold the site to Taylor Wimpey.
Just as you think you are getting Smales riffing on his success you are brought up short by how he is treating the Phoenix Project in Lewes as a riposte to the many others that went before. His principal critique is about place making, the woeful lack of it, which he hopes to remedy (Jan Gehl and Jane Jacobs are regular references). It is quite unlike most edge of town developments, with sustainability at its core, reflected in structures, energy generation and the way water will be dealt with generously and elegantly. It sets itself the task of making a new locus for Lewes with access to the tidal River Ouse, a café and community hub. And it shunts the car to one side – parking is siphoned off alongside the A road that speeds into the town giving car clubs and electric bikes a privileged position. Even the white vans that tear around many a suburban street will be sidelined and asked to deliver to a hub for a gentler form of last mile distribution.
The mix of homes will be primarily apartments; this and the reduction of affordable housing from 50% to 30% are based on calculations with CBRE. The viability assessment has already been done. Smales reports a question from the local planning authority, the South Downs National Park, about the demountable CLT structures: they wanted to run the viability with different structural options. Smales was gobsmacked: 'It is not a question!' For him timber is the only option for reducing embodied carbon on much-needed homes. And the viability is on a knife edge, as the consultation website spells out baldly (and a little threateningly).
Human Nature already has a small team of architects, including Smales' son Xavier. He expects that to rise to 10. And he has gathered a team of interesting practices: Ash Sakula, Mole Architects on the health hub, Archio on co-housing, and Adam Richards designing a landmark housing building as you enter Lewes on the A2029, plus Mae, Material Cultures, Al-Jawad Pike and Rabble. It is being masterplanned by Arup and Periscope.
'We need to change so many things, how to clad our buildings, how to get planning permission… why do people make it so hard?' The list of things he is trying to change – from planning to using hemp in timber cassettes, ways of working with a whole band of architectural practices and auditing existing site material for re-use, re-using steel for a new bridge, micro-grids for the houses, a 'raw' housing offer where residents just buy a shell – all seems a little overwhelming. And, frankly, hard to pull off. Some of the rethought methods have been tried before without being a resounding success: using an efficient build system with 'architecture' on top turned into depressing window dressing on dull blocks on the London 2012 Athletes' Village. Is the Phoenix Project taking on too many challenges?
Smales has had many disappointments and perhaps they are more public than those that confront many architects. But he has boundless optimism and alongside the Phoenix is working on piecing together a new settlement of 6000 homes in Norfolk. In Lewes he sees the conditions for success. He already has the land, there is no controlling interest of big banks or pension funds that could sell off the project, he doesn't have to deliver for a house builder and he isn't waiting for government funds that may never come. He believes in the project, its sustainability and its placemaking – and this is, after all, his adopted home town.
Lead portrait Ivan Jones