South Africa's housing crisis puts the UK's in the shade. Joseph Noero takes a practical approach to his mission to change that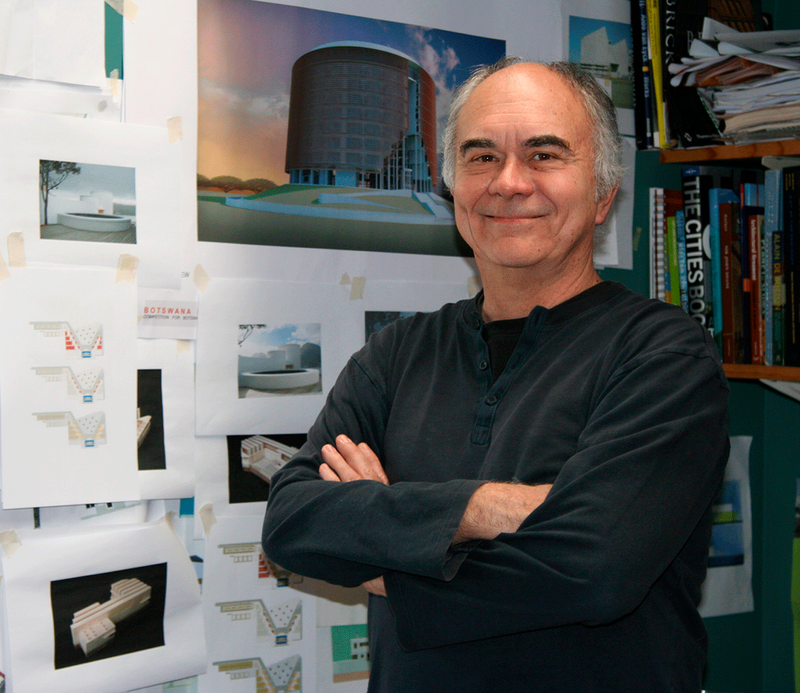 Joseph Noero in his studio in Cape Town, South Africa.

Credit: Maya Sapieka
'In southern African languages there is no disinterested version of beauty, things are only beautiful if they are functional,' explains Cape Town architect, Joseph Noero.
Noero thinks of his work as a riposte to mainstream architecture, at least when he is presenting in the UK – as when I caught him at the University of Bath. The architecture he reads of in journals around the world seems devoid of purpose – a quality he sees as ­essential to his work. His Table House design, which gives a solid structure to South Africa's ubiquitous shacks, and work on social housing and a cultural centre at Port Elizabeth township Red Location, both show how purpose – beyond that of the brief – can drive ­architecture. If the principles of RIBA Journal's MacEwen Award ever needed expression, these schemes do it. They also respond to the spatial and economic deprivations of apartheid, which consigned black South Africans to live in townships, away from the cities.
How do we practice ethically as architects? Noero quotes Ludwig Wittgenstein: 'The enquiry into what is valuable…into what makes life worth living.' In the still divided society of South Africa, with its big cities 'completely out of control', Noero watches shacks multiplying apace. Although he studied in the UK and teaches in the US, his hero is the Mozambique arquitecto at a table in the street, drawing up housing plans for people to take away – rather than getting lost in the specialisations of a large practice. He sees architects worrying about and designing every single door knob. 'Engagement with the everyday helps us find our way,' he says.
Table House is his least obviously 'designed' project. It took six months to design the simple columns and slab. Noero started with a conundrum he observes regularly: when shanty towns are redeveloped people are displaced either during the decant or as density is reduced ('You can lose up to 40% of the shacks,' he says). The only way to go was up, but the shacks weren't strong enough. So he recalled the homes he made as a child – hiding under tables and making dens. Table House might be the minimum improvement but its simplicity gives it huge potential reach.
Table House has been prototyped as a quick build platform to put over a shack, which is then moved on top. Then the 3.6m by 3.6m by 3.2m space below becomes habitable, with a decent structure. It is done on an extremely small budget: PVC drainpipes make shuttering for concrete columns. It costs the equivalent of £350, which he says is within occupants' reach, and allows shacks to be upgraded to permanent homes. And Table House can be built in a week – two days of labour and the rest concrete curing time. Rehabilitated prisoners have helped build a number of units – mostly demonstration sites but one is in use, occupied by a family. Now Noero is working on combining modules and adding cladding panels, and stairs, the demo site making his own sort of Ideal Home Show.
Impassioned by the country's desperate housing need, he has a rule in his other work never to build a house of over 150m2. 'Any more is a waste of space,' he says bullishly. 'We have lost quite a bit of work because of that.' A recent project by the sea, that scraped in under his area limit, was made of white concrete with an almost invisible interior. 'For the cost of that I could have built the government 100 social housing units and 1000 Table Houses. There is such poverty, alongside something like that. I want us all to live in houses like that.'
The limits on what his small practice will design also cut the other way. On a 30m by 30m site in Johannesburg he was commissioned for housing aimed at families. Under developer pressure the design for the 12-storey tower first lost its canted roof to make for more accommodation, then apartments got smaller, down to 14m2 – for units selling at the equivalent of £15,000. Then the bank funders wanted flats to shrink to 12m2. Noero refused: 'It proved that you can't build decent social housing if you rely on the marketplace.'
A more satisfying project has been designing the government's housing for those in need, which transfers ownership to the occupier after nine years. Three and a half million have been built and Noero's contribution at Red Location replace existing shacks. They are tight at 4.5m by 20m, but Noero is confident they will make a good place to live and will grow with their inhabitants. The story of how they will develop as their inhabitants adapt them is all in Noero's drawing. 'I personally drew it myself – no two houses are the same,' he says. Some people have urban allotments, others have back yard shacks. His drawings have had up to 61 sheets of A1, one on top of another. When you lift them you get the whole process of drawing – and how it works subconsciously, he says, adding: 'though people in the office laugh at me'.
The housing at Red Location is part of a wider remaking of the area that Noero has been working on for over 20 years. In this old township with its red corrugated shacks, his practice built a museum to commemorate apartheid, a library and art gallery. Set on a crossroads, it is illustrated with another of Noero's amazing drawings, this time 9m long, showing layer upon layer of building, of landscape, of the ebbs and flows of street life, the furniture and energy of occupation. ­ Noero Wolff Architects, as they were then, won the inaugural RIBA Lubetkin (now International) Prize for the museum with its corrugated memory boxes dividing the spaces. But sadly the cultural buildings have been closed since 2013 after protests about poor build quality on a number of houses (unrelated to Noero) and the municipality's handling of the problem which included offering to replace the 48m2 houses with 40m2 ones.
Noero's Red Location housing has been awaiting housing subsidy for much of that time, and the practice revives the project every year when it is told money is available. Six months ago the drawings were resubmitted, with a new foundation system for its clay site. 'They are ready to go,' says Noero. There are reports to that the dilapidated cultural centre is scheduled to be repaired. It seems fitting that Noero's symbolic anti-apartheid Red Location might be finally getting reborn alongside a new homes that will bring a more comfortable life to some in the precinct. For Noero this is good news. 'I am sick and tired of the separation between the architecture of form and architecture that does good. Our work, depending on budgets, makes really worthwhile pieces of architecture. And that is what we should all be doing.'
RELIGIOUS THREAD
In the 80s Noero designed a chapel for Bishop Desmond Tutu in his back yard in Soweto. Appointed diocesan architect, Noero continued working designing churches, around 30 or 40 of them, becoming closer to the deprived black communities where these were needed. This strand of work continues with a circular church for an ex-student of Noero's turned priest. Christchurch Somerset West, to the south east of Cape Town, draws on the language of the Cape's wine buildings and is built with angled bricks to improve the acoustics.