Kay Hughes is HS2's guardian of the design vision. It sounds flamboyant, but it's her wide experience of big projects and down to earth style that gets things done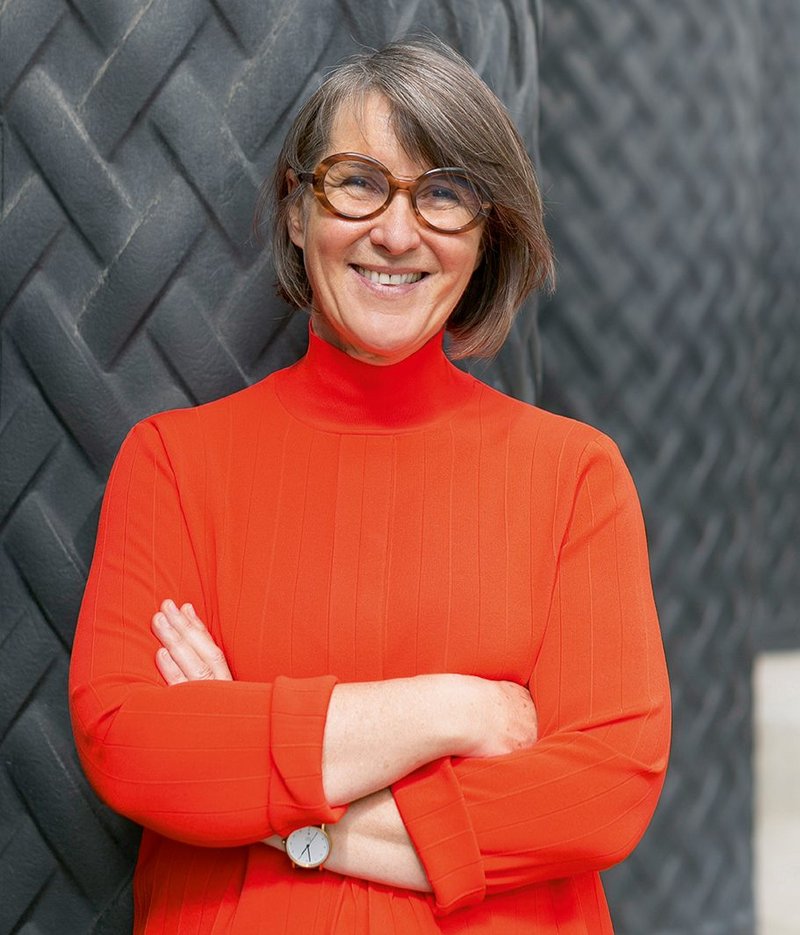 Kay Hughes, HS2 design director.

Credit: Agnese Sanito, courtesy of HS2
While the newspapers speculated about the ditching of High Speed 2's London leg, the project's design director, architect Kay Hughes, is deep into thinking about a seamless customer experience from train to station, and looking at how to take lessons onto the later phases starting with Crewe to Manchester.
You can't talk about HS2 without running into controversy, the fundamental failure to address connectivity between regions outside of London, the destructive construction driving right through landscapes, the splitting of communities, the spiralling costs. But once you are in it, as Hughes is, you have to work with it. Written into her official job title is her raison d'être at HS2: 'Guardian of the design vision'. We laugh at how grand that sounds as I shallowly admire her silver shoes.
But it is a lot to ask on a project this size, even with a core team of 32 to help. Official figures put HS2 phases 1 and 2a at £42.5 billion. It is record-breaking – take the length of the Colne Valley Viaduct, at two miles the UK's longest, even if it isn't quite a match for France's Millau Viaduct in drama. On phase 1 most of the design is done, the whole trace of the track from London to Birmingham is pretty much in place and Old Oak Common in West London is on site and preparing to be the UK's largest train station. At London's Euston the demolitions are done and, with the hoardings up, the site is ready for a complex future shared by Lendlease's over-site development, Network Rail's existing station, Transport for London's below ground expansion and Camden Council – the last of the partners. At Curzon Street in Birmingham, work on the Grimshaw design is under way with the first piece of the viaduct that will run into the station installed in January.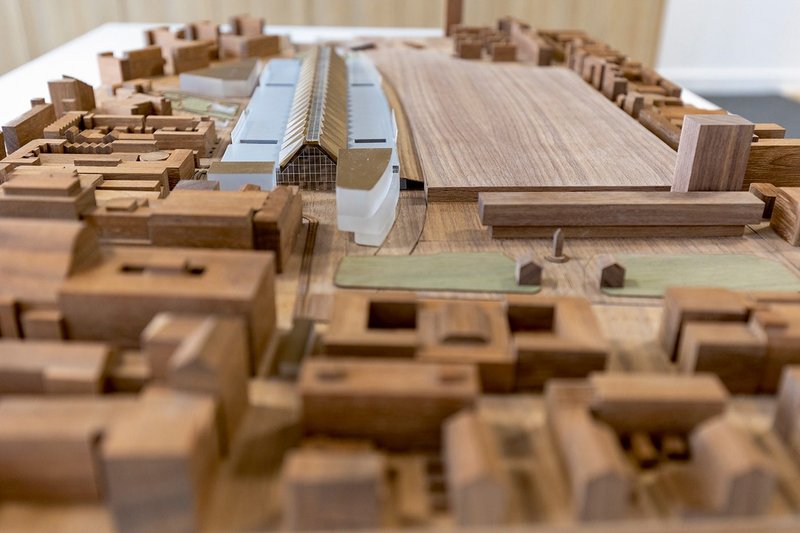 Model of Euston's HS2 station.

Credit: HS2
Much of that was in the process of passing onto the delivery partners and their design teams by the time Hughes joined HS2 in 2019. The design vision was written into the contracts. Hughes can't be in every project meeting but has stayed alongside to give design a voice and is able to pick up on some things. 'There is no "of course", with design,' she says. Her focus has been on urban design and the integration of this new infrastructure – and the structures that will mark its route through the country.
Sitting with the attentive press officer in the room there is no back story of the battles fought, but there is a genuine appreciation of the 'absolutely exceptional' work of LDA Design on the landscape restoration in the Colne Valley using 300 million tonnes of excavated chalk, as well as Grimshaw's Colne Valley Viaduct and headhouses. Hughes can get excited about reducing the underground culverts; she singles out the way small practice Moxon Architects 'changed the dynamic about the way work is done and presented'. She loves the way Small Dean Viaduct is designed 'so you get the excitement as the trains come out of the portal'. Into that comes how it is sited in the landscape, how you bring in the landscape on either side, where you see it from and setbacks reducing the impact of a big block on the landscape, she explains.
Although the design focus is on officially designated 'key elements' like stations, vents and viaducts, Hughes is aware that it is far more. 'It is effectively a huge strategic landscape project,' she says. 'Without design it would just be a corridor.
'I am not here to design but to know where the key levers are and to be a voice in the room, to champion designers so they can help people see ideas and thinking. Design has a major role in delivering social value.' So she has set up an active travel programme to encourage connectivity from one side of the track to the other, creating links in the best places, sometimes re-using construction haul roads and maintenance routes. And she has initiated the HS2 Inspiration Awards, drawing out the best of the project so far.
I am not here to design but to know where the key levers are and be a voice in the room, to champion designers
Much work is on processes, a lesson Hughes learnt at Sport England where her architect's expectations of good design were confounded as those 'that would make people's lives more comfortable' failed to get funding while poor designs with good business cases were given the green light. 'That is when I got interested in processes,' she says. And so she shifted Sport England to require a business case first, up to outline design (relatively sketchy at that time) with full design to follow to give the best chance of design success.
The emphasis on sport and infrastructure that has become her bread and butter, from the London 2012 Olympics and HS2, gradually emerged through her career. She started on Denys Lasdun's European Investment Bank in Kirchberg, Luxembourg. But perhaps the seeds were sown when she landed in Barcelona in the run-up to the city's 1992 Olympic Games. She got an idea of how much you could achieve with limited resources: 'We did a sixth of the Olympic Village, smoking Ducados as we drew with little pens at 1:10.' In 2002 she moved to the Foreign and Commonwealth Office, working on its embassy programme and delivering Tony Fretton's Warsaw Embassy and a number of other significant schemes as senior project sponsor – directly appointing architects and bearing responsibility for the budget. 'Multi-million not multi-billion,' she cautions, comparing it to HS2. Then it was on to the Olympic Development Authority (ODA) as design director, six years seeing projects through from masterplanning to design development and delivery.
She feels she caught the last days of the professional design client. 'There is a real lack of understanding of expertise and knowledge that is needed for masterplan, landscape, building and delivery. People often don't understand what the route to good delivery is; to functional, integrated and really enjoyable delivery. Ultimately the public is our client and how you serve it is really important.' Though the role of public sector design client has waned, throughout our interview she is giving credit to those she learnt from, who set up the conditions for success – from Alison Nimmo and Joanna Averley at the ODA to Sadie Morgan as HS2's design chair and Mark Bertram at the FCO. In the same way she likes to pay it forward with mentoring and collaboration – she was one of the founders of VeloCity, a village-based interconnected strategy for growth by a group of women cyclists and design professionals.
She knows that her work has to take a long term view and she may well have retired by the time phase 2b gets delivered. With the current debate around 'tough decisions' on HS2, it is perhaps Hughes' part in the scheme's intelligent replication project on lessons learnt and her enthusiasm for Weston Williamson's designs of better standard objects – like the footbridge detailed to reduce carbon and build time – that will be her most significant legacy.