Home-grown practice Lacol are shaking things up in Sants, Barcelona, with a community-led approach to social housing design that empowers the residents who will live there
While the 2022 Mies Award for the EU's best building went to Grafton Architects, who received it at Mies' iconic 1929 pavilion in Barcelona, there was something of an affirmation for the city itself when the EUmies Award for Emerging Architecture this year went to its own citizens, with young practice Lacol stepping up to receive the award and €20,000 prize for their La Borda co-operative housing.
Completed 2018, La Borda is a 28 unit, 3000m² social housing project in the city's Sants district, of self-contained apartments built in and around shared kitchen, dining and laundry spaces and multi-level, multi-purpose covered exterior patios and terraces. While being a novel six-storey CLT construction for Spain, it wasn't this that drew the jury's attention to it but the innovative way that it was procured. Built on city land in a world where housing is driven by macroeconomic interest and private speculation, La Borda is proof that another way is possible; where disempowered communities can be galvanised, that land deemed out of reach can be secured, and that co-operation by all at the most fundamental levels can – when guided by architects – realise great design. It was for these reasons that the Mies jury's citation pointedly referred to La Borda as 'transgressive'. It is.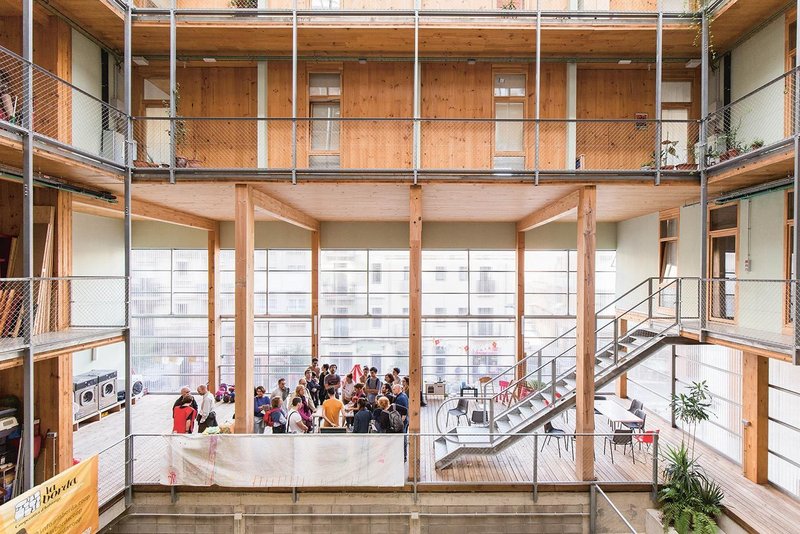 La Borda's street-facing communal area, which allows residents to do their laundry while dining together. The CLT structure is Spain's tallest.

Credit: IMHAB
Speaking to Lacol's Cristina Gamboa and Eliseu Arrufat, two members of the fresh-faced, 13-strong, architecture collective, the day before their win was announced, both were 'super-happy' and unphased by the career-changing potential of the award. Working since 2010 at the coalface of their community, this Iberian Assemble, while grateful for the recognition, views its place in a wider world with a degree of abstraction. When the economic downturn of 2008 forced architects everywhere to confront their fragility in the free market economy, Lacol was the answer – at least here, where the challenges have been so personal as well as local.
'We're the sons and daughters of the Great Spanish Recession,' Eliseu Arrufat tells me, speaking of their final year at Barcelona University in 2009. 'We graduated at a time when the Spanish economy was broken and finding a job here was almost impossible – and one with dignity even harder. Faced with the prospect of becoming migrants if we wanted careers, we decided to see how we could come together as a group to meet our need to work and to be able to establish roots in our own city.' As 25-year-old students just out of college, he recalls, 'with one architect for every 800 citizens', the scale of challenge seemed enormous.
In 2008, after a massive property boom in Spain, the bust was spectacular, with up to 40% wiped off property values in Catalunya – and more elsewhere. The sense of construction falling off a cliff is curiously intimated in Spain's own EUmies Award's stats, with three big-money projects winning in the 30 years before 2007 and none thereafter; and three 'Emerging Architecture' wins in the last 10 years by young firms doing small-scale work focused on material efficiency or re-use. Between 2008 and 2012 there was a ground shift when new architects, working through a recession, began thinking in contingent and ingenious ways. Lacol's win – the fourth – brings a holistic layer to that thinking.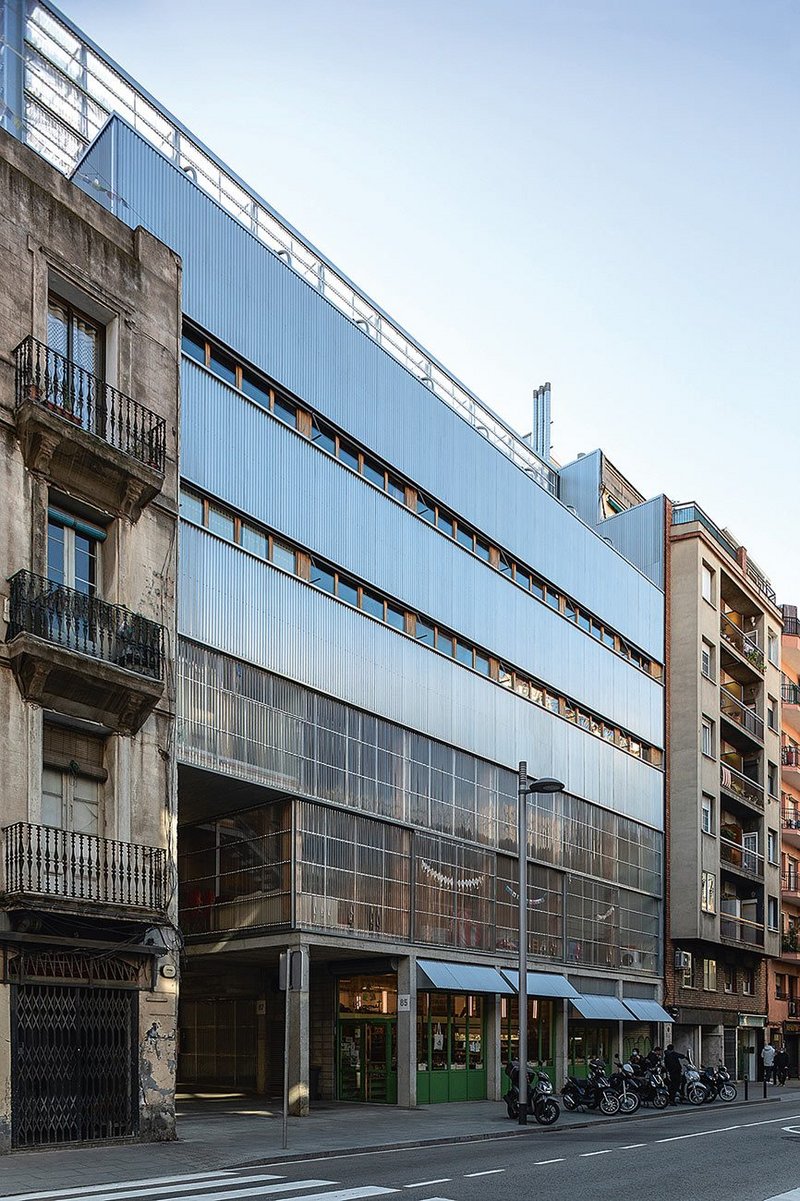 The sheer glazed north face of La Borda is counter-pointed on the south by deep balconies and orange blinds, part of its bioclimatic cooling strategy.

Credit: Baku Akazawa
Cristina Gamboa explains that, at the outset, the collective had to think on its feet. Their school had taught them about 'architecture with a capital 'A', and that ideas of 'bottom-up city transformation' remained in the realms of theory. Faced with 'the city's socio-economic crisis, we wanted to look at other ways of understanding the discipline and of engaging with our locality in a real way,' she tells me. Needing a supportive environment in which to come together, the group settled on the Sants district on Barcelona's southwest fringe to hire a space – and not without reason. Rents were cheaper here and, being a former industrial district, the workers' movements and organisations born of it still held sway. Back then, its residents and political groups were organising to resist strain on the local economy through tourism with occupy events and strikes. 'The co-operative movement emerged here and as we didn't know anything about it, over time they passed their networks and collective politics on to us.' Arrufat contends that although its recent embracing of market capitalism has marginalised that spirit, the militancy has a long history: 'During the Civil War, Barcelona was controlled by a revolutionary government for two years (of anarchists, communists and trade unions) – the only one to be so'. That's why Lacol (whether it be a diminutive of 'La Colectiva', 'local' in reverse or the Spanish for 'cabbage') 'as it is, could not exist in another city – in fact I don't think it could have come out of any other neighbourhood'.
Lacol was embedded in its district before 2014, and small interventions – which as a loose group, they were already involved with – came their way; mostly upgrading spaces that local organisations had appropriated, to make them fit for purpose. There were domestic residential or community engagement projects, gauging resident need, notably with the nearby Can Battló neighbourhood community. But in working with clients on a daily basis, not only was a relationship of trust being built up but Arrufat says they were honing their participatory craft – 'learning skills from people who weren't architects'
Between 2008 and 2012 new architects, working in a recession, began thinking in contingent and ingenious ways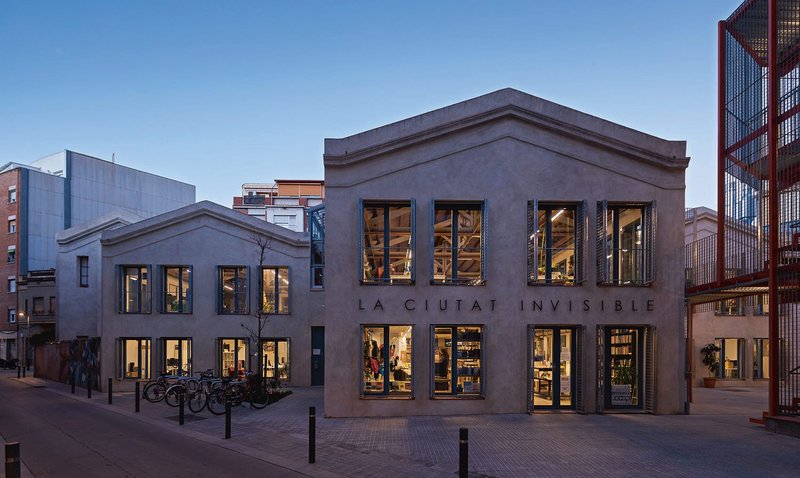 Lacol's 1400m² La Comunal co-operative hub in Sants. It is the home not only of Lacol but of a number of other grassroots organisations.

Credit: Álvaro Valdecantos
As one of the many participants of the 'Spanish Spring' 15-M Movement – protests, demonstrations and occupations in 2011 against Spain's austerity policies – Lacol's fortunes changed in 2014. Political party 'Barcelona en Comú' became the city's minority government, with an agenda of social justice, community rights and participatory democracy – and led from 2016 by activist mayor Ada Colau. By then, Lacol had a firm grasp of the neighbourhood's housing need, having earned the trust of local co-operatives and learned to argue land rights or build business cases for development. They were at the genesis of La Borda and the later, 20-unit La Balma development. Gamboa , who is a La Borda resident, says these jobs were as much about Lacol as their clients. 'We were a practice situated in unique conditions; it wasn't just about us as architects, but how we treated each other in the studio and how we engaged with our neighbourhood. Something in Stavros Stavrides' Common Space really resonated for me – that you can't do something different if you are not organising differently.'
It also meant changing the mindsets of residents wedded to the aspiration of private ownership and concrete as the go-to material to build with. How did they convince them? 'What if I said La Borda, our first big project, is occupied by people who are fearless?' states Arrufat. 'We had no experience of public co-op housing, let alone the technologies we were proposing. Over seven years, residents just listened, thought and decided, knowing it could all be a failure.' Over time they were won around to the building's 'common' zones, its CLT structure and passive strategies – despite the expense. They taught residents how to climate manage their homes so the development is almost zero energy – solving energy poverty for them.
And, as with all their projects, it's a reciprocal process, Gamboa continues. 'We are empowering people to understand why we propose things.
Something I'd read really resonated for me – you can't do something different if you are not organising differently
They participate actively in it – but it's their decision in the end. As architects, we share in the project and accept that the final outcome might be different to what we wanted.' The gains were enormous at La Borda. It is the country's tallest CLT structure and Lacol not only helped negotiate the land lease with the city but won a landmark decision for no underground parking provision – a first for the city . This made the project viable and brought massive carbon savings.
Quite how success will change Lacol remains to be seen. But housing projects from other co-ops are coming in thick and fast and the golden cage of Sants, where its new offices are in the La Comunal refurbishment project that it helped instigate, no longer seems able to hold them. Will future growth change its 'flat' hierarchy or modify how they work in other places? Each person in the tight-knit group has specialist skills, but Arrufat thinks collective decision-making will stay much as it is, with some concentrating on participatory process, some on technical aspects, some on politics or pedagogy. Arrufat sees their model as equipping other practices with the tools they have acquired. 'Experience has taught us about humility,' he says. 'We'd never do something where we know neither the geography nor politics of the place. We'd collaborate with local partners and work with their knowledge.'
Gamboa concurs: 'We don't see ourselves growing a lot bigger, but rather networking and working in contexts where our way of procuring can be replicated. There would still be self-management but at a bigger scale – from neighbourhood level to a co-op city perhaps.' If success means anything to them, says Arrufat, it's not about getting rich (the prize money will be shared) but creating credibility in activism and community empowerment and dignity for citizens. 'Who knows? It might help us make a scale jump. To work where we can help generate an active climate, social and economic lobby together with our co-operativism. Part of a common fight against capitalism's assault on our cities.'