With offices in Hong Kong and Shanghai, the practice's founders revel in Asia's openness to new ideas, poetic narratives and whimsy – and what effect the coronavirus will have on design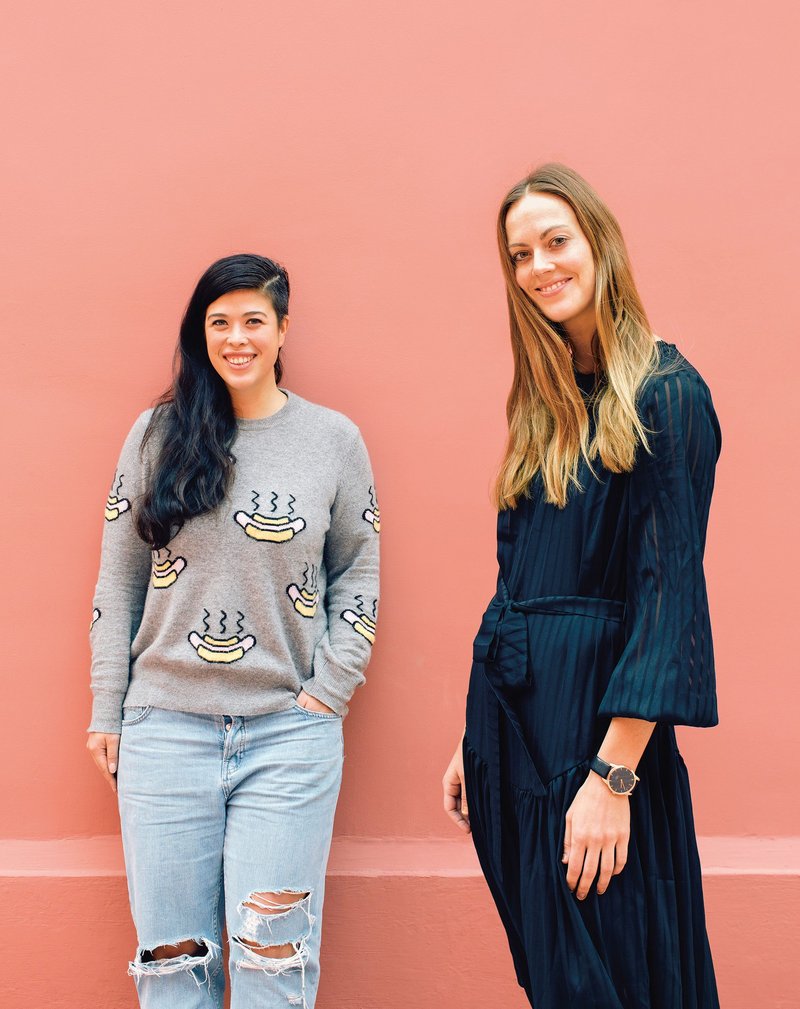 Alex Mok (left) and Briar Hickling of Linehouse.

Credit: Jonathan Leijonhufvud
Tell us about you.
Briar Hickling (BH): I grew up in a rural community in Gisborne, a coastal town known for its good waves in New Zealand. I studied interior design at Massey University.
Alex Mok (AM): I am half Swedish, half Chinese. After a childhood split between Asia and Europe, I studied architecture at Newcastle University then at the Bartlett in Niall McLaughlin and Yeoryia Manolopoulou's unit. I went on to work for Niall before shifting from the safeness of London to the unknown in Shanghai in 2009.
What took you to Shanghai for your first office?
BH: At that time the city was evolving and I found Asia progressive, with more opportunities, not so limited by boundaries. Clients are willing to take risks and there's a sense of momentum. Asian cities are open to new, exciting ideas. In New Zealand and the UK, there is often a lot of compliance to have ideas realised, which can make the process drawn out.
AM: My motivation was to learn Chinese, but I was also curious about the speed and ambition of architecture.
Why did you set up a practice together? What's behind the name?
BH: We started Linehouse in 2014 after meeting while working as senior associates at Neri&Hu. We found we had a similar synergy and approach to work and life. The word 'Line' came from working between different disciplines; interiors, architecture, product and graphic design. Design is collaborative so we didn't want the name to be a representation of our own, but a framework for like-minded individuals. 'House' represented this.
Where had you worked previously and what projects had you worked on?
BH: At Neri&Hu I worked on projects in Asia, Australia and the UK for acclaimed chefs such as Jean-Georges and Jason Atherton, including the Westin Hotel Xi'an. Before, in New Zealand, I worked for hospitality design firm Allistar Cox.
AM: Like Briar, at Neri&Hu I worked on hospitality, food and beverage (F&B) and retail, such as the Bow Street Boutique Hotel in London and a Camper showroom in Shanghai. I was also lead architect on Le Meridien Hotel, Zhengzhou. At Niall Mclaughlin Architects, I worked on very bespoke, crafted buildings, like St James' Church in Peckham, the Somerville Student Accommodation in Oxford and Alzheimer's Respite Centre, Dublin.
Why did you start the office in Hong Kong?
BH: I had done a few projects there and saw a gap in industry. Most of the city's developments are led by a handful of developers, so there was an opportunity to offer a fresh perspective. Our first big project was the restaurant John Anthony. We are now working with some of the leading developers across a variety of jobs, including an office redevelopment in Macau and an upmarket food hall in central HK. We also work on projects elsewhere in Asia and Europe.
Explain your office set-ups.
BH: I lead the Hong Kong studio, which is located in a renovated industrial building on the south of Hong Kong Island. There are 10 of us (and 10 in the Shanghai office too), we're a team of like-minded individuals from various backgrounds who want to tackle design from a holistic approach, whether graphic, interior or architectural design.
AM: The Shanghai studio is in an old paint factory to the north of the city. It's a warren of spaces used for offices, but also has a boxing gym, climbing wall and crossfit. Our neighbours are very diverse and international, which makes an interesting backdrop.
What kind of projects did you want when you set out?
BH: In the beginning we just wanted to get things built and our ideas realised; construction happens so fast in Asia you have to be hands-on. It can be a fluid process, but we embraced this mentality from the outset and I think that's why we have created such an extensive body of projects in such a short time.

What guides your practice?
BH: Linehouse operates as a platform to investigate the rituals of inhabitation and how daily moments can be celebrated through design, transforming the mundane into performative acts. When we start a project, we do a lot of research into the site, history, context and product/brand to find a strong narrative and establish a concept. This informs how we go about everything, from light fittings to spatial strategy. We want our work to be contextual and meaningful, and believe it enriches experience. We don't see a distinction between roles, architecture informs interior and interior informs architecture. It's about shifting scale and always applying the same thinking. One thing we love in Asia is working with local craftsman and localising our projects in the sourcing of materials and workmanship. There is a huge history of craft and we are constantly inspired by it.

What happened to your offices during the coronavirus crisis?
BH: With the protests as well Hong Kong has been challenged a lot in the last 12 months. The reaction to the virus has been evolving in Hong Kong. Rather than a total shutdown, measures have been incremental so our lives don't feel so suddenly changed.
AM: Coronavirus hit China at the start of Chinese New Year, the biggest annual migration of people in the world. By the end of the holiday week the situation had spiralled to the point that the government extended it to phase movements of people. Many colleagues were unable to get back to China.
Extremely tight restrictions were put in place and it took a long time for the government to allow our office to reopen, which it did on 2 March. We decided everyone should work at home until people felt comfortable returning. Even though architecture is not so 'work from home'-friendly due to the amount of software and its collaborative nature, we made sure everyone could collect their computers and files. We are back together now and realise you take it for granted.
How is business now things are reopening?
BH: Hong Kong, China and Asia are fairly resilient. Recently Shanghai has seen a real uptick in enquiries and projects restarting. Hong Kong remains in a holding pattern, which is particularly tough on F&B operators. Larger clients and those with greater financial backing are pressing on, which means our team remains very busy.
AM: In Shanghai, a few projects under construction took a while to restart, but it has allowed us to push on with others that are in early design phases.
How might the pandemic change architecture and design?
BH: We are conscious of how challenging this is for some. Perhaps it will remind businesses to be nimble, adaptable, diversified and strategic to mitigate some industry risks that are highlighted in stressed times. Perhaps elements of the 'social distancing' will become part of local building code, and we will have to reflect such parameters in design across F&B, offices and public spaces. Dinner for one anyone? Or perhaps we will need to design more home offices…
How does your work respond to the climate emergency?
BH: I have always been connected to textures, textiles and artisanal crafts. My background draws me to the land and I am conscious of introducing these forms into my work. However, clients must be ready to implement materials which support the planet; this is not easy. John Anthony was good example where the client was keen to adopt appropriate materials, from reclaimed terracotta floor tiles to hand-dyed indigo fabrics.
AM: Without ignoring the fact that construction is one of the biggest polluters and creators of waste, we try to use local materials and work with clients that have long-term vision so projects are lasting and meaningful.
What's next in the pipeline?
BH: A food market for the Booking.com campus in Amsterdam, a restaurant in Osaka for W Hotel, a residential project with amazing views of the Hong Kong coast, and big projects in Bangkok and the Philippines.
AM: We are also working on the rollout stores for Hangzhou-based brand JNBY, and the food hall in Thomas Heatherwick's 1000 Trees development.