After 19 years in Paris, this ex-RPBW man has set up his own practice in the shadow of the Shard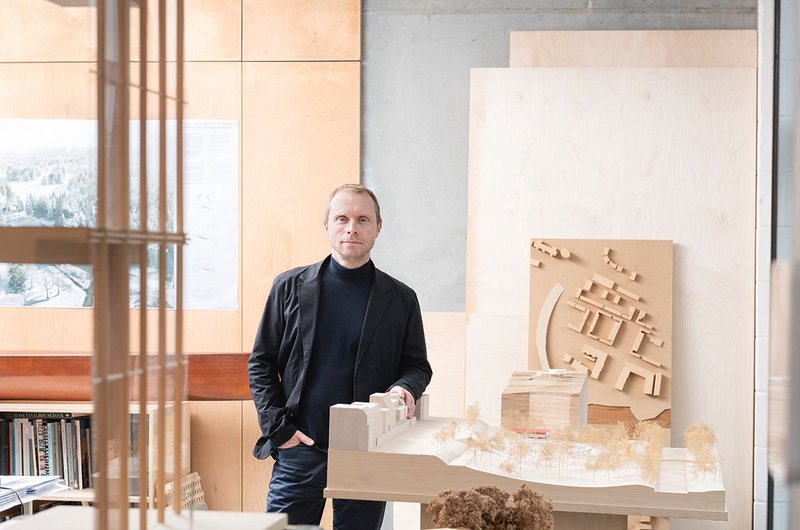 Matthews in his Bermondsey studio.

Credit: Ivan Jones
'I come here,' says William Matthews, 'because I can pretend I'm in Paris.' 'Here' is a French brasserie named Pique-Nique improbably sited in a large half-timbered former public lavatory block in the corner of a local park in Bermondsey. He's right: it's the kind of seemingly effortless place where you hardly need to consult the menu, just ask for whatever the plat du jour is, and you'll be fine. And so we were, with a fuss-free magret de canard.
As for Paris, that's where Matthews went to work for Renzo Piano not long after Sheffield School of Architecture, and ended up spending 19 years there, a dozen of them delivering the Shard at London Bridge, completed in 2012. That's a building that literally looms over us in Bermondsey, where Matthews' eight-strong office is also based. 'You never quite leave the Renzo Piano Building Workshop,' he muses, revealing that – five years after signing off the Shard and setting up his own practice in London – he still freelances for his old boss as and when. There's a mini-masterplan on the wall of his office, for instance, for St Thomas Street near London Bridge. Client and designers for his part of this are the same as for the Shard – Sellar Group and RPBW, helped out in London by William Matthews.
Such referrals have helped steady the volatile early years of a young practice. Matthews is totally open about the challenges of starting up on your own after such a background with a large world-famous firm. Like many others in a similar position, he says that with hindsight he'd have left sooner, but the Shard turned out to be a long-term project. Then again, in such a firm you are spared the worries that afflict small practice. 'We never had to go looking for work – in fact we turned down around nine projects out of 10,' he says. 'And I used to like the salary arriving at the end of the month.' Now of course he very much has to go out looking for work, and the end of the month is more about paying his own staff. But 'I like doing new things, having a bit of a challenge'.
He had to be realistic, at first taking a desk space with his friends from Sheffield days, Mikhail Riches. 'After the Shard I was the best-qualified person on the planet to design a mixed-use 300m skyscraper,' he says, 'So of course I did a private house. How can a two-bed house be harder than a skyscraper? But that's the way it was. I thought small projects would be quicker but they're not.' The house in question, for a private client on a plot of land on the White Cliffs of Dover, has yet to be built for various reasons but he's confident it will. To date the only completed built work by the practice is a café pavilion on Canada Square in Canary Wharf, a commission that arrived in 2014. In its utterly different form it performs much the same task as Pique-Nique, acting as an extension to this park among the financial towers. Only done in modules of 3.4m by 3.4m, entirely in cross-laminated timber or CLT.
Matthews' profile is about to rise considerably with the opening soon of his Tintagel Castle footbridge in Cornwall for English Heritage. We'll have to wait a little longer than planned for this – the sections are all made and ready, he explains, but there's been a change of contractor for machining some of the duplex stainless steel connectors. This was an important competition win for Matthews because he was a newcomer in a world dominated by bridge specialists, always paired with engineering colleagues. To break through, he teamed up not with the usual UK engineers – they were all working for several rival architects anyway – but with the Belgian civil engineering firm Ney & Partners which also fancied a foothold in the UK market.
He and Laurent Ney won out of 135 international entries with their delicate twin-cantilever design, each half nearly – but not quite – touching. In fact they are connected by two relatively unobtrusive pins. You can just imagine the health and safety conversations. Obviously the gap couldn't be too wide, plus without a connection you'd have a differential loading headache – if there's a crowd of people on one side and few on the other then the slight sag on the loaded cantilever would turn the gap into a step, which would be counter-productive. But he reckons he's kept the visual intent: there will be a slight gap to walk or roll across, a touch wider than at Tower Bridge.
That win was key for the practice but nonetheless 'If I've got a hobby horse, it's UK competitions,' he says, pointing out that the real cost of entering even relatively basic competitions requiring, say six A1 boards, is far higher than the honoraria offered, if there are any. And don't get him started on framework agreements. 'I see no advantage to them except to the purchaser.' Understandably, he favours a freer system, and one where previous experience in a given typology is not necessary. After all, he points out, when Renzo did his famous scribble of the Shard and won over his client the late Irvine Sellar, RPBW had never previously done anything so tall.
Nor, he says drily, was there a single officially UK-registered architect on the Shard design team, Piano included. Matthews himself has yet to do his part 3 so despite his obvious top-drawer experience cannot call himself 'architect' in the UK ('It's on my to-do list') though he could in France. Since there are other registered architects in his practice, this is not a problem.
He's going to continue his unconventional course, often hooking up with others: he got to do a feasibility study for Victoria Station having met a Network Rail contact for a tiny site in New Cross, south east London; he's designing a four-storey perforated cream ceramic vent shaft/substation at Euston for HS2 having forged a bond with Chris Williamson of Weston Williamson, one of the main architects there; he's hit a streak of competition wins in Bulgaria; and he's teamed up with an old Sheffield mate and teacher, Satwinder Samra, to do a 21-bedroom hotel in Bedfordshire.
But, he's planning more strategically too and this involves Africa. His wife is from Togo, his brother a long-term resident of Zambia. 'There's a huge opportunity for architects throughout Africa. The rate of urban expansion is extraordinary, and they cannot train enough people. At the moment it's being dictated by Chinese and Indian contractors.' He's interested not in the corporate end of things but the middle ground, he says: developing identities, improving quality by a vital few percentage points.
'In architecture you want to have some influence. What's the appropriate urban form in a given place? I think that's the future.'
---