Rossana Hu and Lyndon Neri welcome the 'time to rest' that Covid-19 has imposed on their busy lives in Shanghai and beyond, as they consider what life has become and how the pandemic will shape the future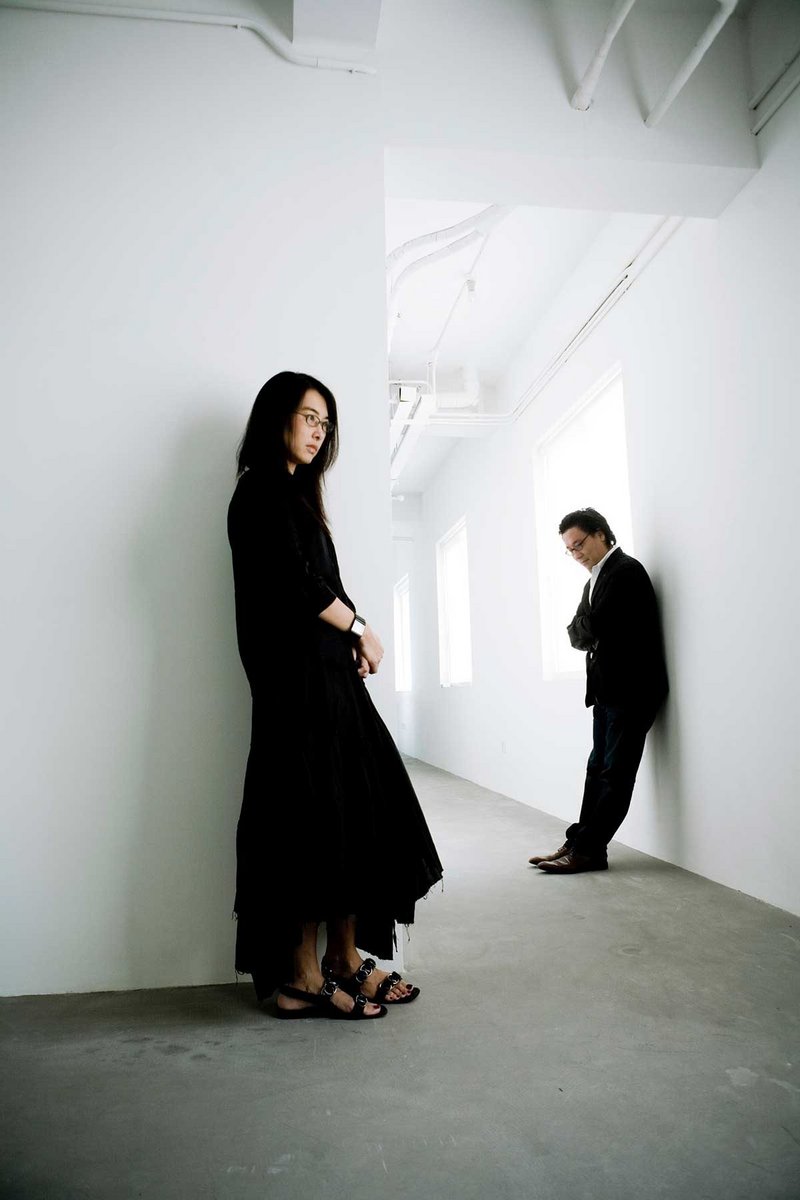 Lyndon Neri and Rossana Hu: founders of Neri&Hu.

Credit: Neri&Hu
Rossana Hu and Lyndon Neri, co-founders of architecture practice Neri&Hu Design and Research Office, have been hiding out from Covid-19 in their Shanghai lane house. 'Business partners, lovers, and married with three children', they are a multi-award winning, globe-trotting tour de force – but like the rest of the world, Covid-19 has forced them 'to be still'.
How have they coped? Well, the travel restrictions which meant they haven't left Shanghai since March are welcome as a rare opportunity to slow down. We talk over Zoom from the comfort of our respective homes with an intimacy which feels appropriate to the domestic present historic moment, about their never published house, what Covid might mean for towns and cities, and the balancing act between the global and the particular that spills from their personal histories into their work.
Neri&Hu is a buzzing, interdisciplinary practice. Based in Shanghai, it is international in every sense of the word with projects spanning the globe, an office staffed by individuals who speak 30 different languages and an ambition to bring 'a global worldview to a new paradigm in architecture'. Neri and Hu themselves co-hold the John C Portman Design Critic in Architecture post at Harvard Graduate School of Design, continuing a pattern they have established in recent years of travelling to the USA to teach. Their recent projects have included the remarkable hollowed out Aranya Arts Centre in Qinhuangdao, northern China and interweaved walls leading into a white volumed, timber-lined chapel in Suzhou, west of Shanghai as well as furniture design for Cassina among others.
As you might expect of architects confined to the domestic, they have used lockdown as a chance to work on their own house for a change. According to Neri, this is not something they would ordinarily have time for: 'As they say, doctors are usually not the most healthy individuals'. They have spent some of the past six months refining a scheme to tame their wild garden – a landscape containing trees taller than houses and scattered with renovated ruined out-buildings – inspired in part by Ian McEwan's Concrete Jungle.
Neri and Hu's residence is tantalisingly secret. Despite requests from the likes of Architecture Review and AD, their home has never been published and few have been lucky enough to visit. Not that that has stopped some keen followers trying to take a look. 'It's hard to find our house', Neri explains, 'but we have had encounters. A busload of Japanese students rang the doorbell one weekend. We had to say, sorry, I know you came from Tokyo but…'
Their house is set in a typical Shanghainese lane known as a 'lilong', in the once colonial French concession. Hu conjures an image of tightly packed masonry structures, built at the turn of the century, with thick built walls. Life is intimate here: 'We know if a wedding happens. Or if someone dies, as incense will be burned in front of their door. There is a constant flow of energy – of characters'.
Rather than retreat from this dense urban context, their house engages. An internal lightwell, which references their Waterhouse Project, creates a voyeuristic moment with too-close neighbours. Neri laughs: 'I open my curtain and accidently see my neighbour showering, naked – and vice versa'. In another intervention they recently changed their front door for a set piece, which includes a bench and concrete wall. 'The older ladies sit there and chat,' reports Neri, amused again. 'We have big mailbox with a hole – so you stand inside and hear everything they say!' Another neighbour has started to use the wall to advertise her flower arranging business. 'Unintentionally, the door has transformed into a community resource, which is fascinating.'
The house is a duplex – split across two symmetrical houses sharing a party wall. On the ground floor, they own both sides, giving them the luxuriously large yard (for Shanghai) which they are working on. As is typical to their practice, the architecture and interiors finely balance the existing and the new. They have remodelled the entire first floor, which now contains large modern teak framed windows, but on the second and third floors the original windows have been retained. They describe the house and the way they have worked with it as a 'series of fragments'.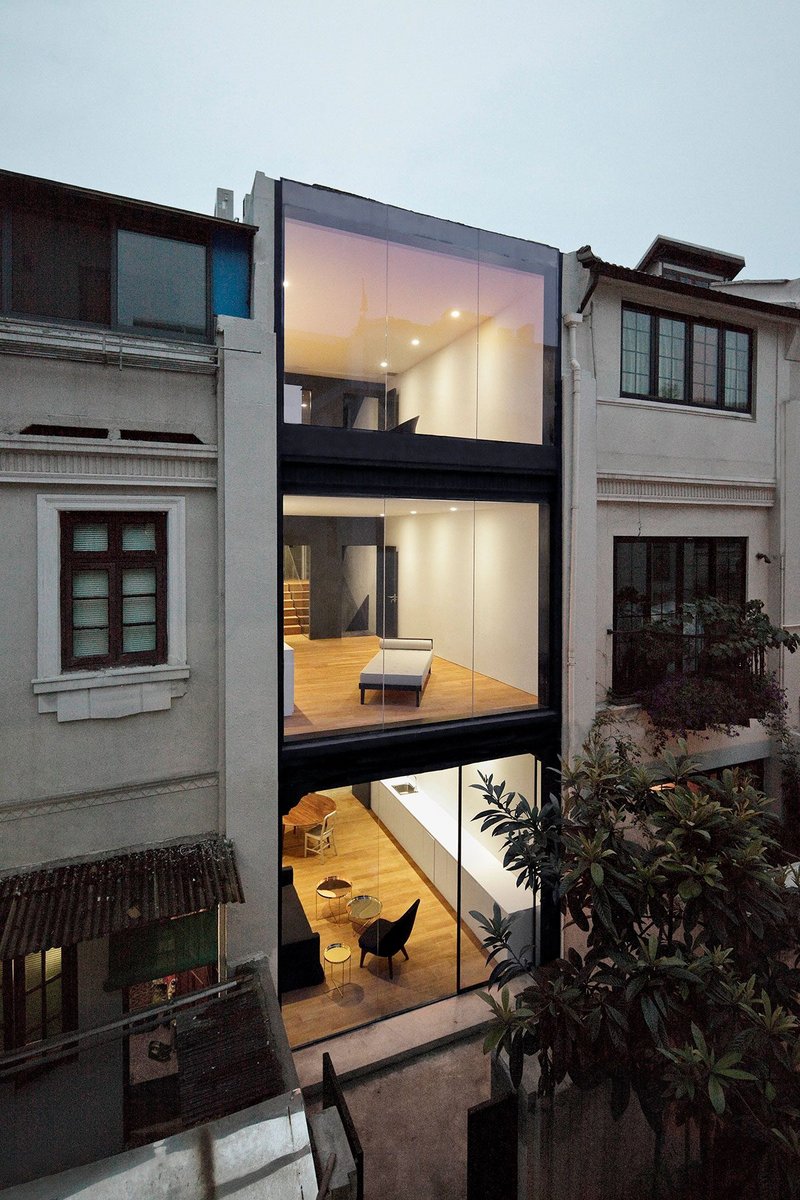 Dealing with the domestic: Rethinking the Split House.

Credit: Pedro Pegenaute
During the pandemic the domestic in general has proved surprisingly flexible. In a sense, 'houses have become cities,' says Neri. 'The dining room which was a restaurant is now a school. Two hours later, when someone wants to watch a movie, it becomes a theatre.' There may be important lessons for architects here, for long term design. 'As architects we are so engrossed with the idea of labelling and specification… having a bathroom, a living room, a bedroom is a modern invention. Maybe we should start thinking about spaces as opposed to their definitions.'
Cities may be faring less well, however. 'Covid has made people start to look to rural areas again', which is of interest to Hu and Neri who talk widely on the phenomenon of rural-urban migration in China. Around 80% of China's cultural relics are all in the rural areas, and yet a lot of them have been abandoned. '300 villages a day are vanishing, not because of demolition, but because they are not viable. Farmers move to the city to be drivers, brick layers become janitors – things they are not passionate or skilled at. Kids are left to be looked after by their grandparents. This is an unfortunate society.' Covid, they hypothesise, is changing that – 'people are going back home as cities are too claustrophobic. It's happening in China, but also places like New York. It's a healthy thing. There needs to be a time of rest'.
The pair talk passionately about the issues facing China and render Shanghai life vividly. Do they consider themselves Chinese architects? 'No matter what we do, we are Chinese. We love to cook Chinese food. When we are upset this is the language we think in, and inherently we bring our preconceptions and experiences to our practice. But we don't try to make our work Chinese.' Instead of being defined by their nationality, they simply 'try to be good architects' – an attitude they attribute to Michael Graves, whose practice they were working at when they met.
In a sense they are ultimate cosmopolitans. Not only does their teaching and practice span oceans but each grew up as part of the Chinese diaspora. Neri was born in the Philippines and Hu in Taiwan, and both studied and worked in the US before returning to bring up their children in China. 'Citizens of nowhere' however, they are not. Neri thinks this is what makes their work interesting. 'We have inherited Chinese discipline and the American conceptual mindset – and for me the Spanish/Filipeno, crazy artistic flair.'
It is this equilibrium between the universal and the particular that they try to bring to their work. Hu explains: 'A universal response regarding the state of humanity today can be very different from a regional response. But architects have to try to hold both things in their projects – the specificity of a particular site, programme, client and cultural context, with the universality of mankind building a building.'
These are useful times to be thinking in this way, when Covid has swept the world affecting nations both equally and differently. It will be interesting to follow their work in the coming months and years to see the what fruits this 'period of rest' bears for Neri and Hu, and how they respond to the inevitable social, economic and cultural changes afoot. Is it a good time to be an architect? 'As architects we have to be good in every circumstance,' they conclude.
---
Georgie Day is an architectural designer and Public Practice associate at Enfield Council
Lyndon Neri and Rossana Hu will be presenting as part of the RIBA + VitrA Talks on 20 October 2020, 1-2.30pm