A pragmatic 'we can do it' approach to clients with a tight budget has given the directors of Manchester practice Sixtwo Architects early and seemingly unstoppable success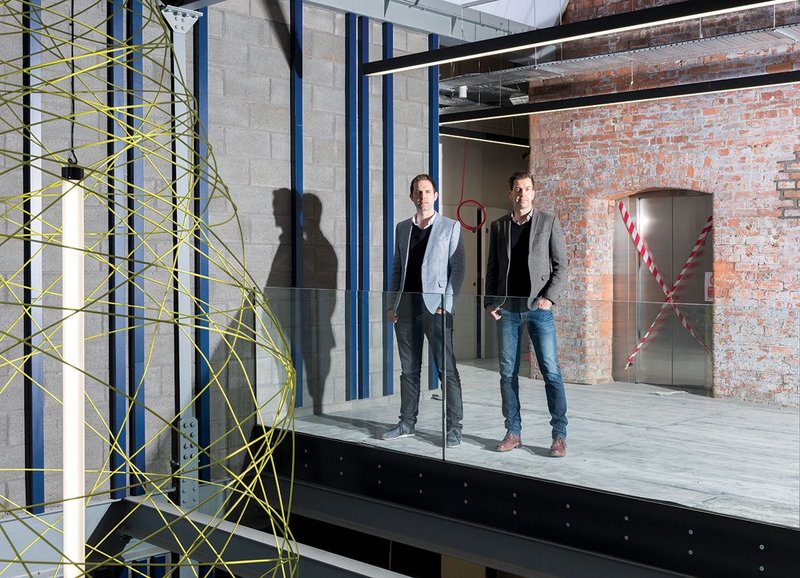 Nick Moss (left) and Andrew Edmunds on the atrium of their refurbishment project Stubbs Mills in New Islington, Manchester. The bobbin inspired lamp hangs to the left.

Credit: Ivan Jones
'Budget – we say that word a lot,' realises Nick Moss, one half of Sixtwo Architects with practice co-founder Andrew Edmunds.
We're a couple of hours into what turns out to be a five-hour meeting to get to know this relatively new practice, which although still mainly confined to Manchester and the North West, is rumbling long-established existing firms.
RIBAJ has come here more or less by necessity hearing the name Sixtwo Architects again and again. The recommendations came from respected peers who might sometimes offer up suggestions of other firms reluctantly. But with so many leads, we had to find out more.
The word 'budget' is persistent.
'It's hard for Manchester as a city compared with the South East,' says Moss, 'there just aren't the same values at the end. Even Ian Simpson might be on one-sixth of the budget for a facade here as he is in London. It's almost impossible not to cheapen buildings.'
Yet of course that isn't their aim. When Moss and Edmunds started out in 2012, Manchester was 'the only place they wanted to do it'. They felt there was room in the city for a new design-led firm and wanted to fill that gap – a move bolstered by the well-known practices that have just opened second offices there: Hawkins\Brown, Levitt Bernstein and Mecanoo.
'There's an optimism here compared to Leeds and Liverpool,' says Moss. 'The place seems forward-thinking and buoyant.'
In fact, though Moss and Edmunds seem so culturally and professionally embedded here, Manchester is their adopted city. They arrived 13 and 14 years ago, meeting later at Stephenson Bell where they worked for nine and eight years respectively.
We're greater together than the sum of our parts. And we've learned not to settle on the first draft as a result
The pair are spa town boys; from Harrogate and Cheltenham – something that you might not guess from their crisp, self-conscious jeans and blazers appearance, nor from their northern-ish but non-descript accents. Their similarities are uncanny. Both six foot two - hence the name of the practice - tick, both are disappointed by Le Corbusier's Unité d'Habitation – tick, both enjoyed ­MIPIM – tick, both completed their entire studies in one place - tick (Moss at Liverpool and Edmunds at Cardiff). You can imagine that in a hurry out of the office one of them might grab the other's jacket – and not notice.
These are identikit partners that, effortlessly and impressively, take their positions as the new kids on the block with the ease of teenage models posing for an ASOS lookbook. No shy awkwardness here. Both seem reluctant to discuss their lives before Sixtwo, and any attempt to pinpoint differences - what projects or tasks each favours, for example - gets the same answer from both: student accommodation, hotels, offices, and both do bits of everything. Yet most obviously, Edmunds is quiet, Moss is chatty, but clearly they complement each other in unknowing ways.
'We're greater together than the sum of our parts,' says Moss. 'And we've learned not to settle on the first draft as a result.'
So to discover what gets this practice going we come back to budgets – more specifically, tight, hyper commercial ones. This is epitomised by Sixtwo's nearly complete Stubbs Mills in New Islington, Manchester. It's the former machine-making factory of Joseph Stubbs, who pioneered the single-flanged bobbin that helped bring the North West its 19th century wealth. The project was born to reignite Urban Splash's redevelopment in the area after the company got severely burned by the 2008 financial crisis.
Consequently, the refurb is resourceful – a constraint under which Sixtwo Architects has flourished. Opting for a cool aesthetic on a budget, it has left brickwork partially revealed, SIPPS panels exposed, specified polycarbonate roofing over glazing, painted standard radiators black to smarten them up and left the galvanised raised floors uncovered. Put off by the price of pendant lights for the triple-storey entrance, Sixtwo commissioned its own bobbin-inspired design from a local metalworker instead for just £2,000 (a motorised wire drops to ground level to change the bulb). It's an accomplished refurbishment in a part of the city that needs it.
As the afternoon progresses, it's clear Moss and Edmunds are very pro-development guys. They are commercially minded, eager to be creative and to get things done. They're entrepreneurial too. It's an approach that feels practical and work hungry. At the Foundry, a new two-industrial-shed scheme on the edge of the river overlooking Manchester in Salford, you don't get the sense that taking an interest in light industrial warehouses is an intellectual position, say in the manner of Venturi, but a pragmatic one. They want projects with potential that 'carry on what they had been doing before' as salaried architects, and are prepared to rethink any type of building to get them.
It works though: for the Foundry they convinced Capital & Centric (a new developer 'like Urban Splash 25 years ago') that a shed could be made into architecture for not much more than the usual cost by wrapping it with brick and punching chamfered window reveals into it, at £3 million for 40,000ft2. Likewise, they are 'uplifting' the hostel opposite Manchester Town Hall, redeveloping the university's listed Hollings Campus known as the 'Toast Rack', and designing a 'more conservative' 800ft2 house in Hale, as well as numerous housing projects, including one for Trafford Housing Trust to venture into the private market. It is has the possibility of a 25-storey tower for an unnamed developer in central Manchester too.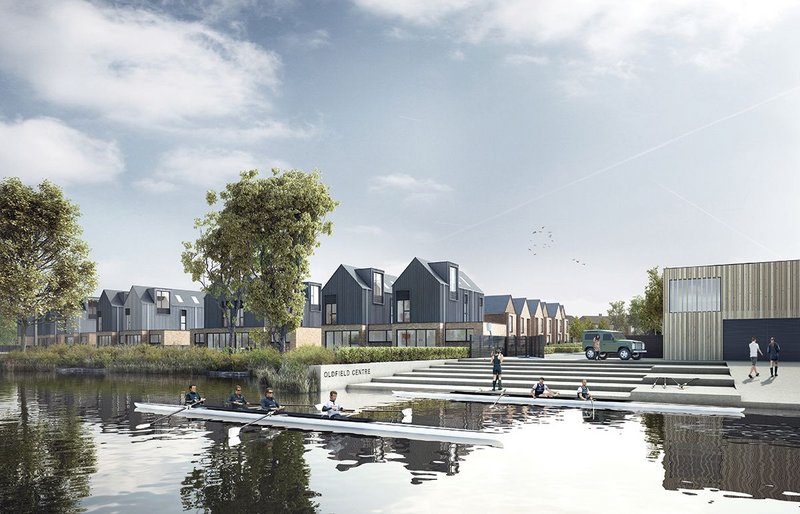 Stokoe Avenue in Altrincham is on site for Trafford Housing Trust.
'People are surprised we are only five people in the office. They expect more like 15 or 20,' says Moss.
So how has Sixtwo got this far this fast? Like many five-year-old practices, most of its projects exist as cleanly rendered drawings or behind contractor hoardings. One answer lies in the method of pursuing work which is determined, carried out with efficiency and smiles. It's meant having to work hard at getting out and stay true to original values; not compromising. The practice refused, for example, to do any domestic work in its first year for fear – like Acme (RIBAJ March 2017) – of being pigeonholed while it was 'striving for much more'. Another answer is Sixtwo's role in pushing the Manchester Architecture Awards by organising the parties and redesigning the trophies. It's only entered one open competition – for Preston Bus Station.
What Moss and Edmunds talk about is how strong architectural identity can be part of a developer's offer, as well as turning mundane briefs into exciting proposals: at their Tempest office refurb in Liverpool they persuaded the client to add beehives to the roof to produce 'office honey'.
'We do a lot of speculative work to generate leads,' says Moss. 'It has become more difficult as we get busier, but clients expect architects to do that now.'
'We worked hard. We fitted 10 years into four. Only now is it getting easier.'
You could argue that all this makes Sixtwo the perfect developer architect. What's more our spa town boys believe unconditionally in the power of the market – the 'jury's out' for example on how the new metro mayor might help Manchester. And when we discuss the lack of trees in the city, that seems totally fine, continuing the city's ever-known grittiness and commercial-ness: 'Civic pride is more the domain of Liverpool.'
Yet, at times, Moss and Edmunds' pro-development stance is rattling. They insist that Gary Neville's and Ryan Giggs' controversial towers 'only need a slight redesign at ground level', and say they don't imagine that the 1980s housing next door to Stubbs Mills that sells for £60,000 'will stay long' when new housing, also metres away, sells for £250,000 and more.
Our main aim is to make our clients money. So many architects seem to forget that
The pair admit to 'being in bed with developers' – and they meet developer client needs so successfully that others are now adversely calling them 'fancy architects', which misses the point.
'Everything is bottom-line commercialism,' repeats Moss. 'Our main aim is to make our clients money. So many architects seem to forget that. Architects can't be two-­dimensional anymore.'
The thing is, they do this work apparently uncritically. Building on green belt land in the area 'needs to happen', and even when pushed they don't see why any development could be considered wrong, whether pushing out the less wealthy from long-time homes, or not understanding historical buildings as part of a previous iteration of a city that they continue to culturally inhabit. Moss brushed off questioning about the demolition controversy surrounding the Neville-Giggs skyscrapers with: 'That's how Manchester has been redeveloping for 20 years'. Then again, Stubbs itself is only one quarter of its original size.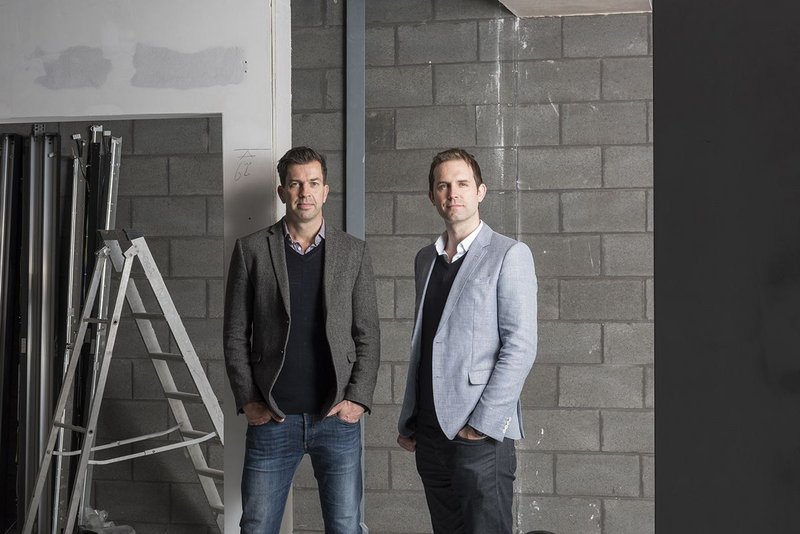 Andrew Edmunds (left) and Nick Moss, directors of Sixtwo Architects, inside Stubbs Mills.
Moss and Edmunds like shiny and new. Stubbs Mills is tokenistic to Manchester's interesting history in the circumstances. It's not Sixtwo's fault, but it is involved in dressing places up, adding hipster-esque quirks and passing it on for a small fortune; although to get the project, Moss and Edmunds apparently critiqued previous Urban Splash projects in the interview, so maybe there's more they're not letting on.
Nevertheless, as the images show, Sixtwo's individual buildings are robust and steely. They aren't ground-breaking – they say that – verging on trendy tweaks to an existing formula. The slightly brave parking space graphics and flaky paint brick walls they talk about at Stubbs are welcome variations, but not quite enough to warrant so much praise. The firm seems good at working within frameworks, so it's something else that's rumbling architects in town. It's Moss and Edmunds' attitude to make things work for what they are offered. Anyone willing to fit 10 years into four must be annoying others trying to compete.
And here we come back again to budgets. Moss and Edmunds talk of wanting bigger, London-sized ones – and it seems that would be the practice's real test. Used to their lean, work-hungry context, would Sixtwo's architecture sink or swim with more money?
---