It's refreshing to encounter an architectural exhibition that's not about the finished article. Prototyping Architecture, as its title suggests, is instead interested in the process behind the development of new ways of assembly and production, from ultra thin facades to formwork made of fabric.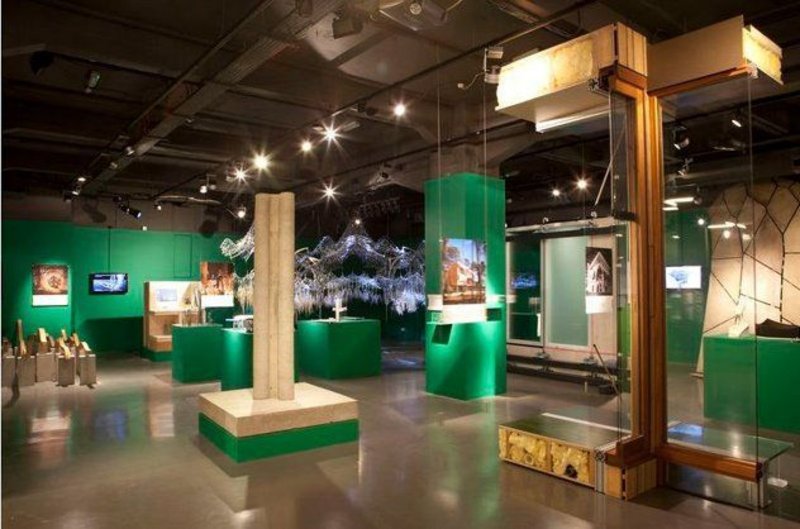 Visually the show, curated by University of Nottingham director of architecture Professor Michael Stacey, is rather dominated by Philip Beesley's Protocell Mesh, a strange and rather beautifully assemblage with passing connotations of Gaudi's famous hanging models of the Sagrada Familia.

Mysterious yellow liquid is suspended in phials within a curious aluminium diagrid web along with an array of dangly feathery elements.

Billed as a near living architectural system, this 'filter' takes carbon dioxide from the atmosphere and converts it into deposits of inert calcium carbonate. Devised in collaboration with chemical researchers from the University of Waterloo, this fascinating exhibit could have benefited from more expansive explanation. I wanted to know more about what direction this research was heading in, and its implication for architecture.

Continuing the Gaudi connection, another of the exhibits, coincidently, is an actual project for the Sagrada Familia's unfinished Passion Facade. Professor Mark Burry is using contemporary digital and rapid prototyping techniques at scale and 1:1 to interpret a drawing from 1917 and create the missing crown of columns on the west facade.
It's good to see the contribution of the makers behind the designs acknowledged as in Amanda Levete Architects' Timber Wave installation at the entrance to the Victoria & Albert Museum. This was realised by Cowley Timberworks in American red oak in combination with lamination techniques and digital technology. The resulting self-supporting asymmetric installation could support, we're told an entire rugby team, although sadly there is no photographic evidence of this!

I craved more detail, and more components, although scope for this was understandably limited by the small scale of the show.

KieranTimberlake's Loblolly House in particular merited a bigger showing. This is specifically designed for assembly and disassembly, using extruded aluminium as a frame for inserting and attaching a small number of off-site fabricated assemblies to create a wonderful looking structure raised on timber pilot in an idyllic island setting.

But sadly, we don't learn more about how the motivation for the concept, the process, and the potential for further development.

Another project for a folded aluminium stool asks when does a prototype become a product? There is no clear answer here to that either, only tantalising glimpses of what is a very rich seam, ripe for much more extensive mining again.
---
Prototyping Architecture, until March 20, The Building Centre, London
---