Kiss the sky at Jimi Hendrix's recreated London flat – united at last with his incongruous neighbour Handel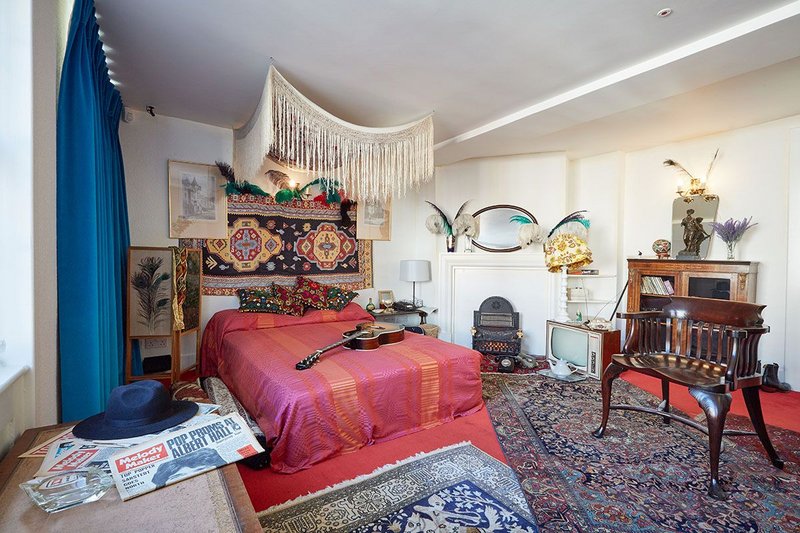 The main room of 23 Brook Street, now Handel & Hendrix in London.

Credit: Michael Bowles-Handel & Hendrix in London
Where would a maverick 60s rock star buy his curtains? John Lewis of course, where Jimi Hendrix and girlfriend Kathy Etchingham went to furnish their London pad in the then rather-less-swanky Mayfair. We learn this and other tit-bits, such as the time that Hendrix saw George Friderick Handel's ghost in the mirror, at the newly opened Handel & Hendrix heritage site in London in Brook Street.
The coincidence of Handel and Hendrix living in adjacent properties – albeit more than 200 years apart – was too good to pass up without celebration. Hendrix was aware of the juxtaposition at the time, not only because of the sign on the building, but because Handel fans often knocked on his door by mistake and asked to be allowed in to have a look around, prompting him to buy some Handel records of his own.
While Handel's former house has been open as the Handel House Museum since 2001, until this month there's been only a blue plaque on the next door property to mark the time between 1968-69 that the American rock star was based at Brook Street. Now a Heritage Lottery-funded rear extension by Haines Phillips gives access to both the Handel museum at the grade I listed No 25 and a recreation of Hendrix's bedsitting room at the grade II listed No 23 – along with an education room and a small exhibition about the rock star's time in the capital.
What is immediately apparent is how modest Hendrix's third floor flat was (although there was also a second room that hasn't been recreated). Outside Studios has had fun recreating the bedroom from archive photographs and films – only the oval mirror is an original – helped no end by eBay and other online sources. The most labour-intensive item to source was a batik wall hanging above the bed, which Outside Studios recreated by rebuilding the pattern digitally from a much faded remnant of the original that is on display in a Hard Rock Café in Vienna, and with reference to the colourways of similar fabrics of the time. They were only defeated by one of Jimi's wastepaper bins, which proved impossible to source or recreate. It's a nice snapshot of a laid-back and fairly unremarkable hippy-ish flat – lots of rugs and drapes, plenty of feathers, music magazines, shell ashtray, big bowl of fruit, a television and a couple of apparently constantly ringing phones. Hendrix gave Etchingham £1000 to fit it out – quite a sum at the time, as was the £30 per week rent.
Yet the results are decidedly homely rather than luxurious, and quite a contrast with Handel's more formal rooms.
Hendrix's time in the flat was happy and highly sociable but brief – he left to go on tour and by September the following year was dead. This installation is a fitting commemoration of those few months that he was a Londoner, and a pleasing counterpoint to the neighbouring Handel property.
Handel & Hendrix in London
, 25 Brook Street
, London W1K 4HB
---