ICA show celebrates Italian disco design in the psychedelic era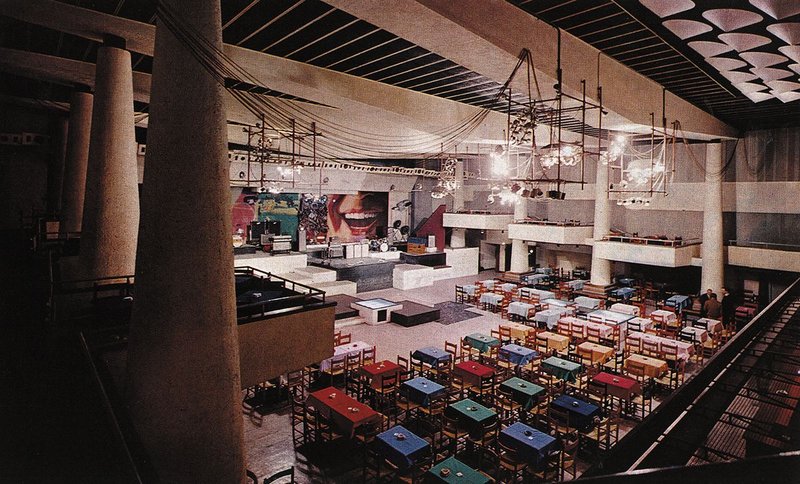 Pipers in Rome. 3c+t Fabrizio Capolei, Pino Abbrescia e Fabio Santinelli (face2face studio), Corrado Rizza

Credit: Corrado Rizza
For a brief time in late 1960s and early 1970s Italy, architecture and disco came together in a spirit of radical experimentation. Progressive young architects embraced the new phenomena of the disco and created ephemeral, fun and avant-garde venues for dancing and performance. It was even possible to study the disco as an architectural typology at Florence University. In the same city, the Space Electronic disco became the informal architectural school S-Space by day.
This colourful episode in Italian design is showcased in the ICA's small but fascinating display Radical Disco: Nightlife and Architecture in Italy, 1965-1975.
Many of the central figures were the architects of the Radical Design movement, including Superstudio, Gruppo 9999 and UFO. We learn how they explored new types of space in their designs for discos, creating unconventional, experimental venues deliberately designed for change and to embrace new technologies.
Discotheques were known as Pipers in Italy after the name of the country's first disco, Piper, designed with a reconfigurable stage and a backdrop of Pop Art influenced artworks by Manilo Cavalli and Francesco and Giancarlo Capolei. Full of colourful shiny plastic furniture, this however looks rather staid in comparison with Mach 2 disco, which opened in a cellar site in 1967. Designer Superstudio painted it black and used yellow handrails and pink strip lighting to help guide customers around what was conceived as a space of continuous performance ripe for 'happenings'.
I like the look of Bang Bang, designed by Ugo La Pietra in Milan in 1968 in the basement of a clothes shop. Here customers descended into the futuristic disco environment via a cylindrical glass lift. In Florence, Space Electronic opened in 1969 in a former engine repair shop. Gruppo 9999's design appropriated discarded washing drums and refrigerator casings and hosted installations such as a vegetable garden by Street Farm – an installation designed to unite nature and technology.
Often ephemeral by nature, discos were ideal test-beds for experimentation and multi-disciplinary collaboration. The results could be a little bizarre – at the first iteration of Bamba Issa (1969-72) Gruppo UFO's design was inspired by 1950s comic strip Donald Duck and the Magic Hourglass, complete with a flying carpet DJ booth and hourglass shaped furniture.
All too brief archive footage gives a glimpse of the atmosphere at some of the discos – a clip of a semi naked performance shows the let-it-all-hang-out vibe of the times while in another rather less groovy happening, the audience respectfully sits down quietly to appreciate an early Genesis performance.
Radical Disco's themes of appropriation, flexibility and design participation remain pertinent today, and the exhibition points out that 50 years on, today's club scene might too merit such scrutiny: 'At a time when nightclubs are closing across the UK, the need for a critical examination of the value of disco comes to the fore.'
---
Radical Disco: Nightlife and Architecture in Italy, 1965-1975, until 10 January 2016, ICA, The Mall, London
---