Architectural radicalism joins Essex's assets as Charles Holland claims the county is the birthplace of British modernism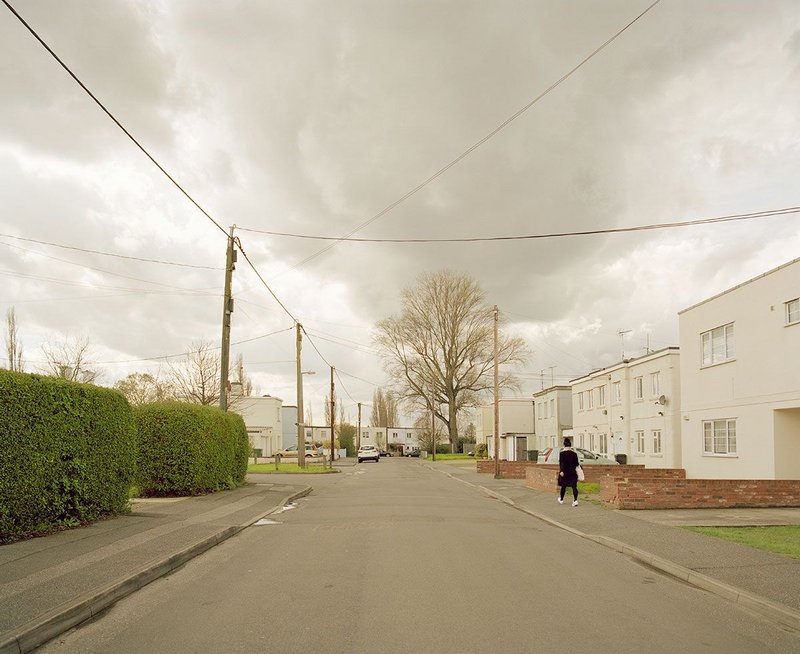 Clockhouse Way, Braintree, 2016 – the first modernist houses to be built in the UK, in 1919.

Credit: Catherine Hyland, Courtesy of Focal Point Gallery
Who knew that Essex was so exciting? As if nudist colonies, utopian communities and political radicals weren't enough, this oft-scorned county was also the birthplace of modern architecture in the UK. So Charles Holland asserts in his contribution to Radical ESSEX, a collection of essays exploring Essex radicalism in lifestyle, thought, politics and architecture.
Initiated by the Focal Point Gallery, the Radical ESSEX project considers the county's role as a testing ground for radical thought and experimental lifestyles. Did this come about through its location as neither part of East Anglia nor the Home Counties, and its proximity to London as a source of escape both to and from? In contributor Ken Worpole's view, 'it contains both radical and conservative elements, and is therefore open to all possibilities'. Gallery director Joe Hill's view is that Essex is at odds with its stereotypes: 'I believe the ultimate aspiration for Essex is to be self-guided in its desires – to seek, experiment and redefine.'
All sorts of figures make an appearance in this wide-ranging book, from composer Gustav Holst, radical thinker and designer William Morris and Russian novelist Leo Tolstsoy through to 80s pop group Yazoo. As far as architecture goes, the chapter by Holland is an exploration of what he describes as a genuinely home-grown modernism: 'Modernism left its mark on Essex, it's true. But Essex left its mark on modernism too.'
Holland identifies the first clearly modernist houses as those built on Clockhouse Way in Braintree in 1919, designed by HB Quennell for workers at the nearby (Crittall) Window Manufacturing Company. Built by the Unit Construction Company – an offshoot of the Crittall company – these were industrial in aesthetic and production, with pre-cast concrete floors, flat roofs and fair-faced blockwork walls.
Later modernist developments include nearby Silver End – another Crittall settlement – and the Frinton Park Estate, developed from 1934 onwards. The lead designer on the latter was Oliver Hill – the architect of the Midland Hotel at Morecambe – with plans for designs by a host of young architects including Serge Chermayeff, Wells Coates and Maxwell Fry. But the first, flat-roofed houses didn't sell easily and only a small fraction of Hill's grand vision for the area, which included a seafront hotel, was ever realised. We also learn about Bata-Ville, a Garden City-influenced town built by Czech industrialist Tomas Bata in 1932 on the Thames Estuary to house workers for one of his shoe factories. Another chapter by Rachel Lichtenstein explores the Bata town and the factory, which shut in 2005.
Holland draws our attention to many other modernist nuggets – a café designed by Ove Arup on Canvey Island, a yacht club at Burnham-on-Crouch designed by Joseph Emberton, the architect of Simpsons of Piccadilly, in 1931, and Romford Garden Suburb, which included houses designed by MH Baillie Scott, Richard Parker and Raymond Unwin, and Francis Skinner of the Tecton Group. Moving post-war, the chapter explores the civic modernism of new towns Harlow and Basildon. Architecturally ambitious one-off houses in this period however were rare – Holland puts this down to Essex not being a county of second home owners, or of the wealth bourgeoisie. An exception is a modest house for Humphrey Spender at Ulting, an early work by Richard and Su Rogers, which he describes as 'a techno-hymn to arcadianism'. Holland goes on to consider the role that the Essex Design Guide and the impact of Dedham-based classical architects Raymond Erith and Quinlan Terry may have had on the end of modernism in the county.
Gillian Darley considers New Towns in more detail and the development of plotland retreats while Jules Lubbock discusses the new brutalism-influenced design and planning of the University of Essex in Colchester from 1960-68. With its modern design and radical politics, this was widely considered to be the archetypal sixties university. The masterplanner and architect was Architects Co-Partnership, which envisaged a highly concentrated campus of five linked pedestrian squares with teaching courtyards behind and 28 residential towers each of 14 storeys. All departments were interlinked to encourage interaction and discourage empire-building. However as Lubbock explains, neither the founders' aim of creating a British MIT, nor the bold architectural vision, were fully realised. Following student protests and subsequent funding cuts, student numbers failed to rise above 3000 – a far cry from the 20,000 envisaged – for several decades. As a result, the squares were never animated by students in the way ACP had intended.
Over time, some of the original design was compromised and key buildings demolished. The university is today known for its social sciences and humanities, not the science and technology originally envisaged.
Rather than giving a comprehensive single account, Radical Essex's collection of essays offers insights into particular, often colourful aspects of the county's history, that pique the readers' interest. I don't know Essex well. But this book encourages me to get to know it better.
Radical ESSEX, edited by Hayley Dixon and Joe Hill with essays by Tim Burrows, Gillian Darley, Charles Holland, Rachel Lichtenstein, Jules Lubbock, Jess Twyman and Ken Worpole. Published by Focal Point Gallery, 2018.