An exhibition linked to a new wooden Belarusian church in north London commemorates the victims of Chernobyl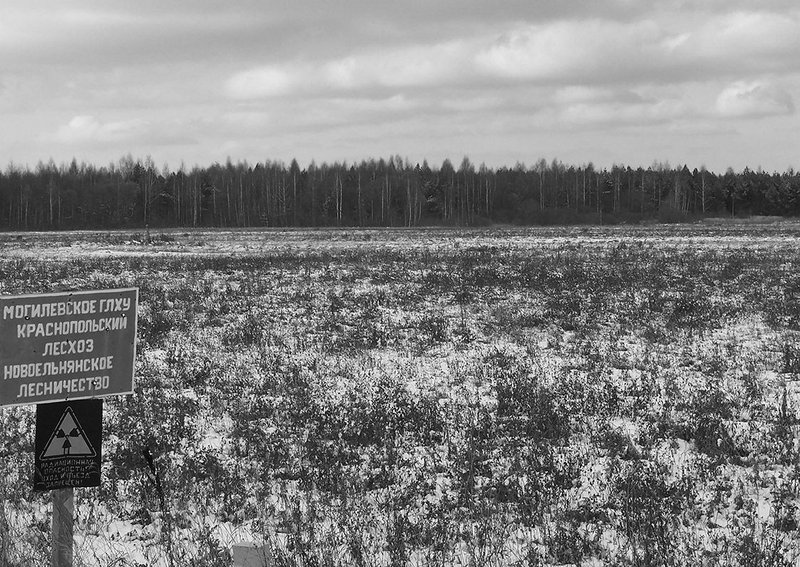 Patria by Alaxandr Trafimienka, shows the site of a destroyed village in Belarus
It's 30 years since the Chernobyl disaster – the worst civic nuclear accident in history. The small but evocative exhibition Remembering Chernobyl is a reminder of the disaster's devastating impact on Belarus – 70% of the radioactive fallout fell in the south of the country. It is organized by Spheron Architects, designer of a new church for the Belarusian community under construction opposite the exhibition in Woodside Park, north London.
Visitors enter the London Festival of Architecture exhibition through a pitch-black walkway that references the underground experience of the 30,000 operatives who worked to make the reactor safe. Inside is a one-room display that sets the design of the new church in its context, with photographs of both abandoned villages and historic wooden churches in Belarus as well as handsome drawings and a model for the new church – the first wooden church to be built in the capital since the Great Fire of London.
We learn that some 25% of Belarus's territory and 20% of its population were affected by the disaster. As 188 settlements were evacuated, 116,000 people were displaced. Yuriy Mikhed's photographs taken in 2008 are particularly poignant, including an abandoned fairground ferris wheel, and images of one contaminated town where some residents chose to remain.
On my visit I was lucky to get a sneak preview of the new church as it takes shape. Dedicated to the memory of the victims of Chernobyl, it will be the first dedicated place of worship for the Belarusian Dispora community in London. It promises to be a beautiful building. The prefabricated frame, made by Timberwright, went up in just a few days, infilled with CLT panels. Still to come are the cedar shingles and the cupola – designed in the distinctive Belarusian style rather than the Russian onion dome.
Spheron was determined not to create a meaningless copy.
'It is a very contemporary building. Although the inspiration comes from wooden churches in Belarus, it wouldn't have been appropriate to have a pastiche,' says Spheron director Tszwai So, who visited Belarus to research the project.
The modest, all-wood interior and careful use of light has the potential to create an austere yet tranquil space for worship and contemplation, as well as serving as a fitting memorial to the victims of Chernobyl. Light will flood in from the south end through slots of translucent glass between verticals in the wooden structure. More light is admitted along each side, through both upper clerestory windows and translucent panels at the bottom of the walls, with timber external ribs casting interesting shadows through these.
Spheron hopes to complete the church by the end of the year.
Remembering Chernobyl – Spheron Architects, until 26 June (weekends only), 39 Holden Road, Woodside Park, London N12 8HS
---