Eric Ravilious' detachment gives his paintings a compelling sense of expectation
Edward Bawden Working in his Studio, as painted by Ravilious
Now that the opening frenzy has died down – the gallery was packed in its first week and has been pulling in very respectable crowds since then – it could be a good time to take in Dulwich Picture Gallery's Ravilious exhibition, which runs right through until the end of August. This comprehensive display of the watercolours of Eric Ravilious (1903-42) comes at a time when his star is shining unexpectedly brightly. Plus, of course, who needs an excuse to visit Sir John Soane's masterly little gallery with its urbane Rick Mather additions?
For a long time, Ravilious was bracketed with his RCA tutor Paul Nash and his great friend Edward Bawden as the triumvirate of British soft modernism in the period from the First to the Second World Wars. Nash was a war artist in the first, Ravilious and Bawden in the second. Ravilious died in 1942 when out on RAF patrol off Iceland: his plane never returned to base. The three artists (Bawden was the longest-lived, dying in 1989) had differing but related styles: never as radical as their European counterparts, they became unfashionable, eclipsed by successive art movements. Ravilious in particular, with his oblique eye, visual wit and love of the everyday object, suffered posthumously from that very particular 1950s strand of whimsy in British commercial art that his pre-war paintings, etchings and commercial design work had to an extent stimulated.
Ravilious himself mostly (though not always) kept whimsy at bay: looking at this great run of watercolours, the overall impression is more of magical realism. There is a touch of the sinister. His larky depiction of Firework Night, on close inspection, turns out to be a Saturnalia.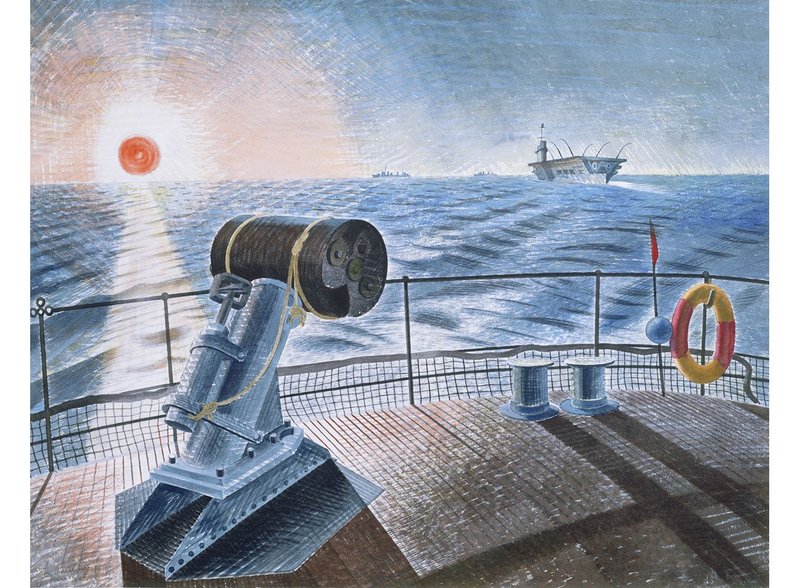 Ravilious Midnight Sun.
Time has passed, figuration is no longer a dirty word, Ravilious's reputation has been growing and growing in recent years until now, in 2015, he can pack out the Dulwich Picture Gallery with the kind of show that the empty, echoing halls of Tate Britain really ought to be staging.
Not that it is wholly satisfactory. In his admittedly short life, Ravilious showed relatively little artistic development. We can never know how he might have changed. He emerged from the RCA with a particular way of looking and painting. He became more adept in different techniques, more fluent, but these watercolours show a very consistent vision, remarkably little variation, from first to last. Objects in the landscape, human figures usually absent or pushed to the margins, the artist often looking straight into the sun which thus provides a bleaching effect. Occasionally he wrestled with something different, as with his wartime studies of submariners at work in ultra-confined spaces or his early affectionate portrait of his chum Bawden at work in his studio – but generally a sense of slightly amused detachment remains.
This might not sound like a recommendation, but in this case it is. Yes, Ravilious is ever so English, but in a particular way. It is a lost kind of Englishness, with a particular sense of yearning in it, the finding of beauty in odd, out of the way places. And just look at his technique. That famous painting of the chalk white horse on the South Downs as seen from a third-class railway compartment – I invite you look closely at exactly how he has painted that patterned, buttoned moquette seating. So deft, so convincing, but always with the sense that at any moment blinding light might burst through the fabric. In Ravilious, expectation is everything. Something is about to happen or has just happened or is actually happening, out of shot. A love affair, a war, it's all the same to him. His, in the end, is the eye of an alien.
Ravilious is at the Dulwich Picture Gallery, London, until August 31.
---