Perceptions of the hand-made and the machine-made, the old and the new – and so much more – burn through an exhibition reflecting on design and what it reveals about our changing values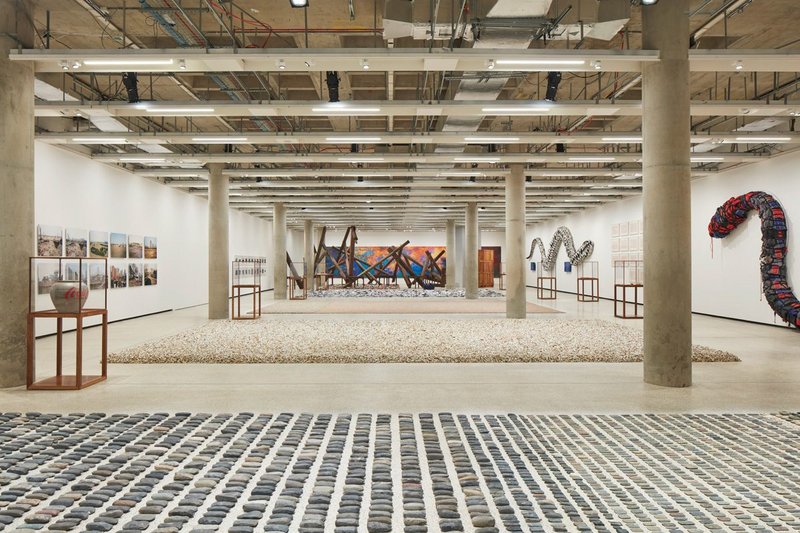 Installation view of Ai Weiwei: Making Sense at the Design Museum.

Credit: Ed Reeve
Outside the Design Museum visitors may notice what, at first sight, appear to be two squishy-looking armchairs, but turn out to be made of hard, cold marble, the opposite of comfort yet far more costly. Closer to the entrance, a giant roll of toilet paper incongruously made of marble sits resplendent by the fountains. What is going on?
These are the playful tasters for Making Sense, the museum's engrossing new exhibition of work by Chinese artist and activist Ai Weiwei. The obvious first question is why a design museum is showing work by someone who is best known as an artist rather than a designer, albeit one who has run his own architecture studio and collaborated with Herzog & de Meuron on the 'Bird's Nest' Beijing National Stadium.
Chief curator Justin McGuirk is clear that the museum is presenting Ai's work not as a designer 'but as an artist with a view on design'. This view turns out to offer a very powerful lens, raising questions about design values, in particular perceptions of the hand-made and the machine-made, the old and the new, use of materials and much more beside. And Ai being Ai, there is also plenty of hard-hitting comment, including references to repression of the individual and freedom of speech – like his poet father before him, Ai has frequently fallen foul of the Chinese authorities, and now lives in Portugal. He also challenges conventional Euro-centric cultural perspectives, literally giving the finger to the Mona Lisa, the Houses of Parliament, the Colosseum and many more in his Study of Perspective print series.
As is evident from the lobby exhibits, things are rarely what they may seem at first sight. The walls are covered in a colourful, kaleidoscopic pattern that is initially appealing. But, look closer, and the elements that make up the design are revealed as a clever concoction of surveillance cameras, handcuffs and Twitter logos, an altogether more sinister undercurrent to the surface jollity. Filling the lobby itself is Coloured House, a brightly coloured wooden installation resting on clear glass balls. This turns out to be the post-and-beam structure of a centuries' old house that has been rescued, repainted, reconfigured and celebrated as a rare survivor of demolition.
This appropriation of the historic is further explored in the stunningly presented main exhibition, which occupies one huge, rectangular gallery space.
The eye is drawn immediately to the exhibition's main focal point – five 'fields' of objects laid out en masse on the floor 'like a geological layer of a lost history', according to McGuirk. Spanning many thousands of years, each has a pertinent story to tell.
When Ai returned to Beijing in 1993 after many years away, he was struck by the hectic pace of change and sweeping away of the past that was underway. Frequenting antiques markets, he became a collector, snapping up historic but little-valued artefacts for next to nothing.
These include stone tools from the late Stone Age, here laid out in serried ranks on the floor, more than 250,000 porcelain spouts, presented in a jumble as a low pile, and porcelain cannon balls – things of both beauty and destruction. The spouts are derived from China's prodigious pottery industry, in which the spouts were broken off vessels perceived as less than perfect to render them useless - a reference to the lack of freedom of speech in China.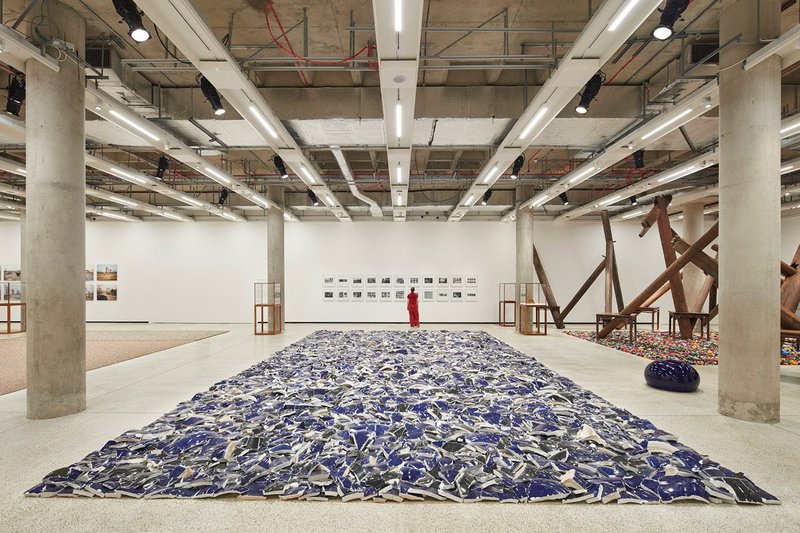 Installation view of Ai Weiwei: Making Sense at the Design Museum showing Left Right Studio Material, 2018, a field of porcelain fragments from Ai's demolished studio.

Credit: Ed Reeve
The next field is far more recent and continues this theme, comprising large pieces of broken pottery salvaged from the destruction of Ai's studio by the Chinese authorities in 2018. The final field is a mass of Lego – a medium that Ai has been working with since 2014 and is, we are told, 'a good metaphor for the speed and repetitiveness of much recent construction in China'.
This journey from hand-made antiquities to mass-manufactured components should not be seen as some sort of progress, says McGuirk. Instead Ai is, we're told, raising questions about what we've lost along the way in terms of craft, quality and character – have we lost touch with how things are made?
Small display cases at the periphery amplify these and other themes. A Han dynasty urn is emblazoned with the red Coca-Cola logo – perhaps a reference to the commodification of Chinese heritage in the rush to modernisation. In another, the form of an iPhone has been fashioned from a jade hand axe. Nearby, there are many other material transpositions – a protective hat created in glass, a marble takeaway box and cosmetics in jade. More toilet roll in glass and marble is surely a comment on changing values – we all remember how this ultra-cheap everyday product became suddenly coveted in the pandemic as we recognised its value. In Ai's youth, we learn, it was always a luxury item.
The other big set piece is rather extraordinary – Ai's take on Claude Monet's Water Lilies paintings, rendered in tiny Lego pieces in a rich array of oranges, blues and reds, incorporating a dark area alluding to the dugout where Ai's father spent many years living in exile with Ai in the 1960s. While it is an impressive, vibrant piece, the Lego pieces giving a pixelated quality, it seems rather crowded out by its neighbour, the tall timber installation of Through, to have the full impact it deserves. Built over the final field of Lego, this combines columns of a Qing dynasty temple with tables, a reference to furniture-making and architecture being known in Chinese as small carpentry and big carpentry.
There's a lot more going on in the show. Films and photos reference the fast pace of change in Beijing, with one series capturing the 'void spaces' left between demolition and redevelopment. Photos of the Bird's Nest stadium are more concerned with the construction process than the result – Ai has since distanced himself from the project.
What, from a distance, appears to be a large snake on the wall is actually made from school backpacks, a reference to the 2008 Sichuan earthquake in which many died due to poor building construction. On coffin-like plinths nearby, twisted rebar from a collapsed school is recreated in marble as commemoration. Another snake is made from lifejackets worn by asylum seekers attempting to reach Europe by boat.
Throughout, Ai gives visitors plenty to chew on, assisted by the illuminating, free exhibition guide. For while the installation of fields may confer a deceptive air of calm, this deeply impressive show is bursting with resonances and questions.
Ai Weiwei: Making Sense runs until 30 July 2023 at the Design Museum, 224-238 Kensington High Street, London W8 6AG. Adult tickets from £16.80.
---