The ingenuity in evidence at the Designs of the Year exhibition offers an intriguing glimpse of the future
Often it's the big name buildings that are the least interesting component of the Design Museum's annual Beazley Designs of the Year exhibition.
That's not to say that David Adjaye's National Museum of African American History and Culture wasn't a worthy overall winner last year, nor that there's anything amiss with this year's architecture nominations, which are the usual mix of the familiar and obscure, including LEGO House (Bjarke Ingels Group), Louvre Abu Dhabi (Jean Nouvel) and Zeitz Museum of Contemporary Art Africa (Heatherwick Studio). But what's far more engaging are the many entries – in the other five design categories as well as architecture – that aren't notable just for their appearance but because they demonstrate innovation, whether in terms of concept, materials, technologies or application. Often these chime with the overriding themes that provide both a framework for the organisation of the exhibition and a useful snapshot of the design world's engagement with key issues of the day such as resources, play, gender, community, real/fake and nation states.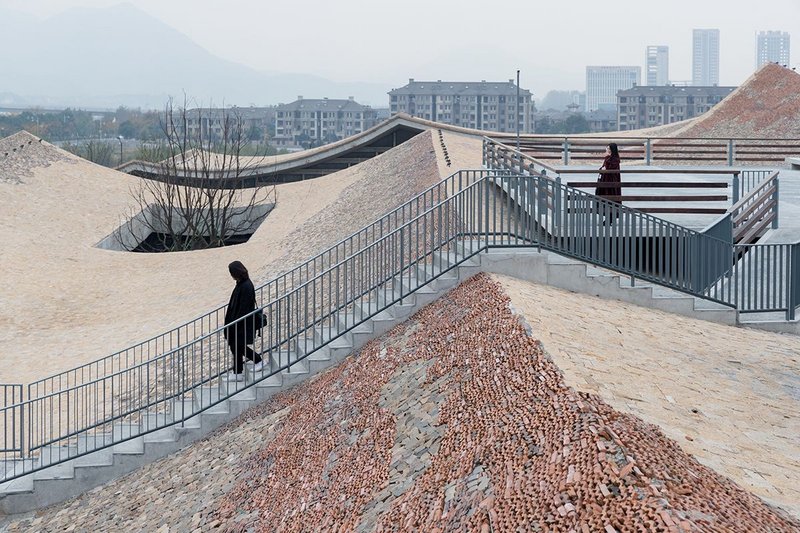 Undulating roofscape at Fuyang Cultural Complex, designed by Wang Shu of Amateur Architecture Studio.

Credit: Beazley Designs of the Year exhibition at the Design Museum.
With a Zoa 'leather' jacket made from yeast-derived collagen, glowing plants that work as nightlights, self-healing e-skin and a hyperloop transport system, as ever this exhibition is an insight into pioneering ideas that may one day become mainstream.
In Amsterdam, supermarket Ekoplaza has opened the world's first plastic-free packaging supermarket aisle. Designed by A Plastic Planet and Made Thought, the plan is to roll it out in all 74 stores by the end of this year.
Lotte de Raadt's ceramic carafe is a charming way 'to encourage people to rethink drinking from the tap by making it a more pleasurable experience'. The terracotta range is naturally self-cooling and the stopper with a tap on the lid is a nice touch – a reminder of where the water came from.
There is plenty of material innovation on show here particularly in textiles, where designs include a yarn inspired by the protein structure of ultra-strong spider silk. The potential of mycelium as a building material is currently widely being explored by material scientists (see Hack the Root by Mae-ling Lokko) but normally its potential is restricted to use as cladding or insulation. Here, mycelium's structural possibilities are demonstrated in MycoTree, a self-supporting structure of mycelium with bamboo endplates and metal dowels.
Another biomaterial project, Algae Lab, showcases research into the potential of algae-derived polymers as a replacement for non-biodegradable plastics. Designed by Studio Klarenbeek & Dros at Atelier Luma in France, the result is an algae-fed factory line for 3D printed objects.
Other projects utilise waste ingeniously. Trashpresso is a solar powered, mobile recycling plant that upcycles plastic and fabric waste into architectural tiles. Totomoxtle, a veneer created from Mexican corn husks, ticks the boxes of being both socially and resourcefully sustainable, encouraging Mexican farmers to continue growing traditional crops, by finding an attractive use for discarded waste.
Several built environment projects also engage with community and/or national identity. Stone Matters in Jericho is a project for a pavilion designed to encourage a return to traditional load-bearing use of stone for buildings. The freeform vaulted structure is realised by a combination of digital design and stereotomy stonecutting. At the Fuyang Cultural Complex near Hangzou, architect Wang Shu created a museum incorporating a rooftop landscape using vernacular materials. The project was combined, at his request, with the regeneration of a Chinese village.
Community benefits are also at the heart of projects including a community Microlibrary in Indonesia created using empty ice-cream buckets, and SESC 24 de Maio, an office building recycled into a non-profit arts and recreation centre in São Paulo, Brazil designed by Paulo Mendes da Rocha and MMBB Arquitetos. The Digua Community is an uplifting social enterprise project to repurpose abandoned bomb shelters in Beijing for community facilities.
The ingenious Small is Meaningful project of back-of-the-truck and skip playgrounds in Hong Kong is laudable, but it's depressing that there's such a lack of public space as to make the proposal necessary.
This exhibition presents designers grappling with serious themes in relation to sustainability, globalisation, authenticity and identity. But at the same time there's also plenty to delight and intrigue – not least Nigeria's joyous football strip by Nike, the Afro-Futurist costumes from Black Panther and the highly speculative Growing a MarsBoot, a concept for transforming human sweat into a boot suitable for living on Mars.
The overall winner from these 87 entries will be announced on 15 November, 2018.
---
Beazley Designs of the Year, until 6 January, Design Museum