An installation of foraged oddments speaks of the cracks in our society, and through reuse celebrates what might grow in the gaps they make. Pamela Buxton visited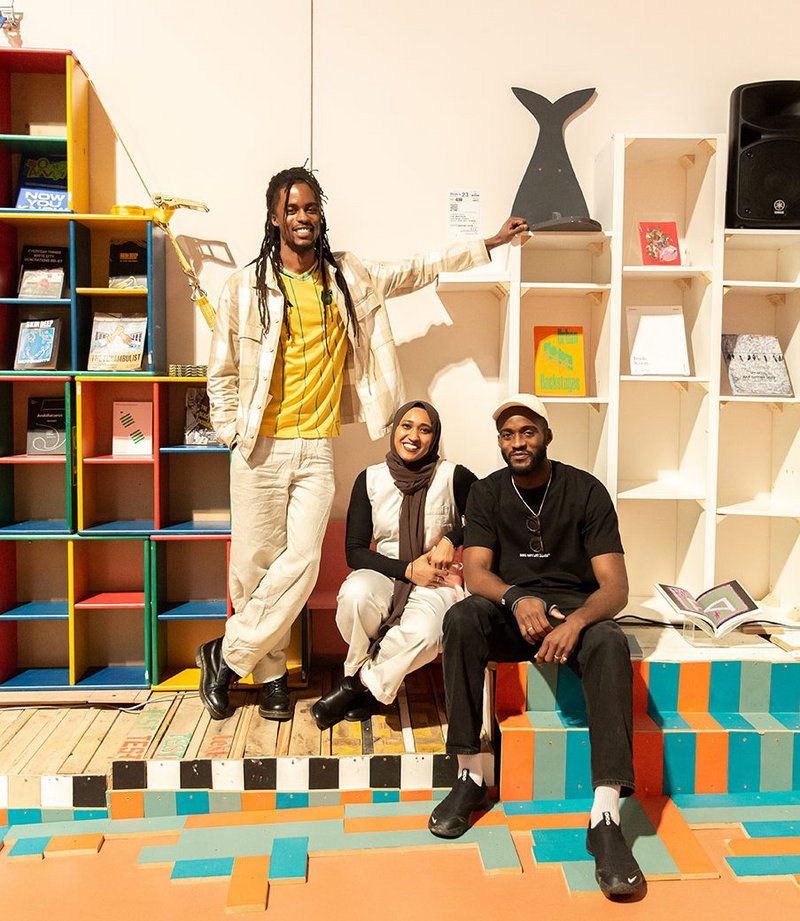 RESOLVE Collective – Akil Scafe-Smith, Melissa Haniff, Seth Scafe-Smith – at them's the breaks, an installation at The Curve at London's Barbican.

Credit: Adiam Yemane
Foraged materials have taken over The Curve gallery at the Barbican Centre as part of Them's the Breaks, an installation by inter-disciplinary design practice Resolve Collective. Disparate bits of old hoardings, reclaimed building materials, packing cases and oddments of furniture have been documented and inventively repurposed as pockets of unorthodox seating, a low stage and a library along the curved gallery wall.
This curious landscape will be the setting for a programme of discussions, happenings and events co-curated by Resolve. The plan is to explore discussions about and around society's institutions.
'We're not here to be the reformers of the institution, that's not how we see our role. Too often practitioners, and I think particularly black practitioners, expected to change these institutions because of their existence,' says Resolve co-founder Akil Scafe Smith. 'We're here to disrupt in a way that we see fit and exciting; in a way that brings together organisations that are doing the same sort of disruptive work.'
This desire to use their own design practice to platform others - especially the young and marginalised – is at the heart of Resolve's mission.
Formed in 2016, the Croydon-based collective is comfortable sitting outside conventional disciplines. Its projects range across architecture, engineering, technology and art to address social challenges. Two of the directors, brothers Akil and Seth Scafe Smith, teach a unit at the Architectural Association and have just been made RIBA Honorary Fellows. The third, architect Melissa Haniff, has also been active in the Black Females in Architecture membership network and enterprise. Together, their expertise spans architecture, urban design and regeneration, in addition to the many other skills required for successful engagement and collaboration.
Resolve's practice is founded on collaboration and the dialogues and connections made along the way, rather than necessarily a permanent physical outcome - usually the built outcome is a temporary installation. An exception is the collaboration with artist Farouk Agoro on the Brixton Bridge mural in 2018 - proclaiming 'Come in Love' and 'Stay in Peace' on different sides of the bridge, it has become a local landmark.
The collective started out with community-based installations such as Rebel Space, a pop-up forum in Brixton for talks, music, discussion and film screenings. In time, Resolve began to attract commissions from museums and galleries including the V&A and Tate Modern, all the time acting as enablers and facilitators for the voices of others. Projects outside London include the creation of a 'living archive' at Park Hill in Sheffield, an installation and events programme at Brighton's CCA gallery and an artist residency at the Yard Art House in the emerging Port Loop community in Ladywood, Birmingham.
At The Curve, the collective used ultrasound methods to explore actual cracks in the physical structure of the Barbican and used this to inform aspects of the installation as well as acting as a metaphor for its overall theme. It is interested in what they see as the cracks forming within society's structures and the possibilities for what can grow between them.
The collective was keen to disrupt traditional exhibition-making practices. As well as a circular approach to materials, this attitude extends to how visitors interact with the installation. Visitors are invited to touch, sit on, consider and even, at the end of the duration, take away anything they want. On the wall, the construction process is documented with taped up schedules, drawings to aid construction, notes, questions and observations – this is about celebrating the journey rather than just the completion.
Haniff says they took care to construct the installation so that the components could be of most use afterwards, by avoiding too much cutting.
'We made sure we got the best out of our materials,' says Haniff, who hopes everything at the end of their stint will either be given away in their 'closing down sale' or reused by others – visitors are invited to put in their requests.
Throughout its work a common theme is facilitating the production of new knowledge and ideas and providing an infrastructure for others.
'Architecture is a good place to have these conversations,' says Seth Scafe Smith.
Resolve Collective: Them's the Breaks runs until 16 July 2023 at The Curve, Barbican, Silk Street, London EC2Y 8DS
---