Exhibition reveals how political messages and militaristic or nationalistic images and patterns bring propaganda to a domestic level on clothes and fabrics
Got Brexit Done Tea Towel 2020, on loan from Amber Butchart.

Credit: © Jonathan Richards
I wonder how many Brexiteers spaffed out on a Got Brexit Done tea towel, produced as merchandise by the Conservative Party in 2020. Those who did may well have been unaware that their unlovely, BoJo-adorned dish dryer is part of a rich tradition of propaganda furnishings, explored in the exhibition The Fabric of Democracy, which opens later this month at London's Textile and Fashion Museum.
Spanning nearly 250 years from the French Revolution to today, the exhibition promises to shine a light on the use of printed textiles to convey national identity and political allegiances, and as a tool of state, particularly at times of conflict. In doing so, it reveals the impact of propaganda messaging in this traditionally female sphere, whether a Second World War scarf urging Brits to 'Salvage Your Rubber' or a kimono adorned with tanks and fighter planes.
According to the guest curator, design historian Amber Butchart, propaganda is more likely to conjure up the idea of monumental sculptures and artwork in the public realm than something within the home or on the body, as is the case with textiles. However domestic settings, she says, can be just as political as public spaces.
'Textiles have been heavily feminised in the west throughout history, as women's work – people tend to view them as somehow ephemeral and unimportant. I'd like people to reconsider that idea and think about how textiles have not only been an incredible important economic force throughout history, but as political objects in themselves,' she said.
The exhibition looks at the use of textiles to spread propaganda by corporations and all kinds of regimes, whether democratic, communist or fascist. Such messaging was made possible through advances in print technology, particular with the development of cylinder roller printing in the late 18th century, which could create images in much more detail. Subsequent innovations in the application of decoration and the introduction of screen-printing gave further scope to spread messaging in a far faster, and more accessible way than, for example, comparatively expensive woven fabric.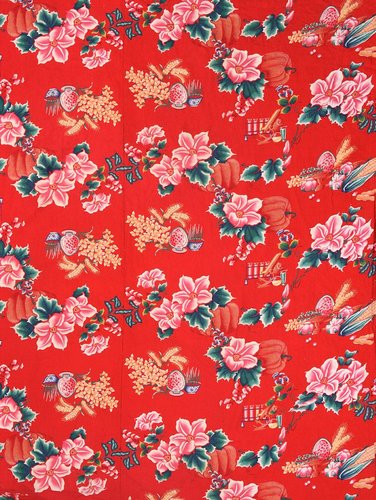 'As technologies became more and more sophisticated, the fabrics become more and more affordable,' says Butchart.
Arranged thematically, the exhibition first explores what constitutes propaganda and then considers the use of textiles for messaging in times of war and revolution. From the French Revolution, exhibits include the fabric La fete de la Federation from 1790, designed to commemorate the storming of the Bastille. In the Second World War, propaganda textiles in Britain tended to focus on positive Home Front messaging rather than the military activities of the front line, while propaganda produced under fascist regimes tended to be far more militaristic in terms of images. Austerity measures shaped thrifty attitudes to clothing in Britain, but exports to supportive countries could be more lavishly cut in the name of raising funds for the war effort, as demonstrated in a wide-skirted dress for the Australian market featured in the show.
From the Korean War, a printed handkerchief illustrates the long-running use of messaging as part of the psychological warfare carried out on both sides. Cultural Revolution era Chinese fabrics are supplemented with propaganda posters related to fashion and textiles from the 1940s to 80s, drawn from the University of Westminster's Chinese Poster Collection.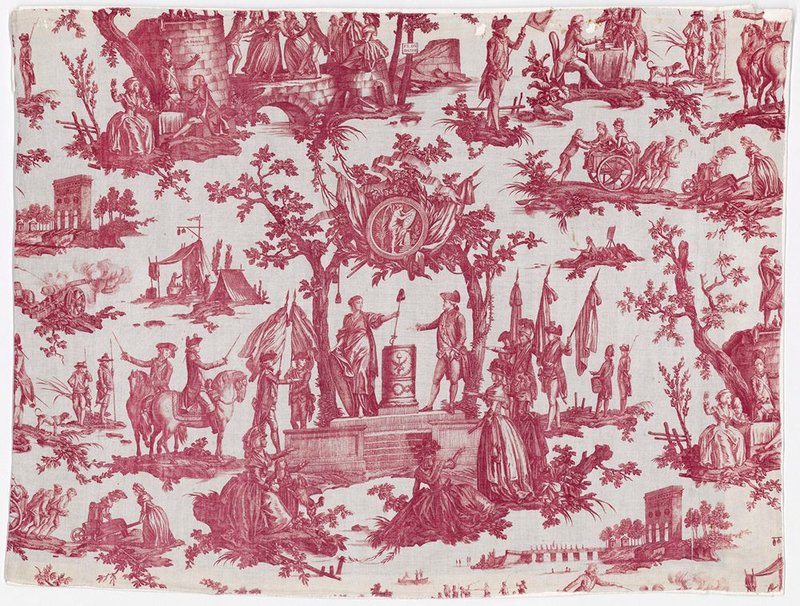 La fête de la Fédération textile 1790.

Credit: © Musee de la Toile de Jouy
A section on Creating the Nation considers how printed textiles have been used in the last few centuries to convey ideas of national identity – a wealth of memorabilia was produced celebrating Lord Nelson as a national hero following the Battle of Trafalgar. American exhibits include swatches of seed sacks produced for rural areas in the early-to-mid 20th century. As a marketing ploy, these were printed with symbols of national identity such as cowboys or Disney characters and could be turned into clothes when empty – a nice example of designing for re-purposing. More recent examples are found in the contemporary section. Here, a kanga cloth from Tanzania carries an image of Barack Obama in celebration of his heritage and presidency. This is paired with a yarmulke bearing an image of Donald Trump from Israel, presumably in response to his support of Jerusalem as Israel's capital.
Covering 150 exhibits, The Fabric of Democracy promises a delve into textile-related propaganda at its most everyday, at a time when even the mundane act of drying the dishes can be an opportunity for political messaging.
The Fabric of Democracy: Propaganda textiles from the French Revolution to Brexit, 29 September 2023 – 3 March 2024, Fashion and Textile Museum, 83 Bermondsey Street, London, SE1 3XF