The Japanese photographer explores life and death, the passing of time and the real and ephemeral in a wide ranging exhibition at London's Hayward Gallery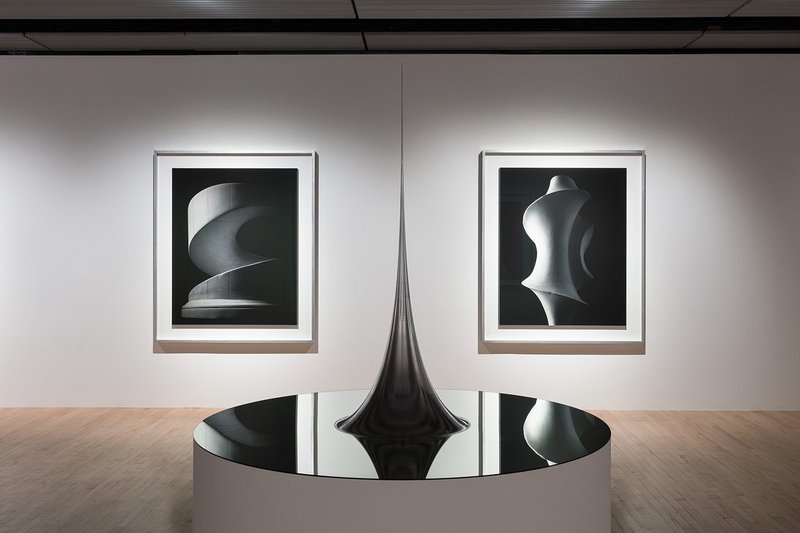 Installation view of Hiroshi Sugimoto, Conceptual Forms and Mathematical Model 006. Gelatin silver prints, aluminium and steel.

Credit: Mark Blower. Courtesy the artist and the Hayward Gallery.
Does the camera really never lie? The Hayward Gallery's new exhibition on the work of Japanese artist Hiroshi Sugimoto certainly encourages the viewer to reflect on what it calls the slippery nature of photography itself.
Sugimoto regards the camera as 'a time machine capable of representing the sense of time'. In this survey of half a century of work, the diverse subject matter ranges across natural history, mathematical models, serial killers, cinemas and seascapes, exploring notions of time, representation and reality along the way. In doing so, Sugimoto says he is expressing his inner idea of reality through his camera.
Hayward Gallery director Ralph Rugoff describes Sugimoto's work as 'pointedly and tantalisingly ambiguous' and providing 'a tonic for our perpetually distracted minds' by drawing the viewer into complicated encounters. Certainly there's a lot to puzzle over in this show. In one series, the real is rendered ephemeral, in another the long dead are seemingly imbued with new life, while another still seeks to capture the passing of time in one, very long, frame.
The exhibition kicks off with his earliest work from the 1970s. These large-format photos were prompted by a visit to the American Museum of Natural History in New York, where Sugimoto was entranced by large, colourful dioramas depicting animals against painted backdrops. Using a large format wooden camera, he discovered that by judiciously cropping the vintage dioramas, introducing new lighting and photographing them with long, 20-minute exposures in black and white, he could make the subjects appear far more realistic.
'My life as an artist began the moment I saw I had succeeded in bringing the bear back to life on film,' said Sugimoto of an early attempt. It's a pity there are no images of the dioramas to enable the viewer to fully understand how Sugimoto's photographs have transformed their source material.
Sugimoto further developed this theme years later in the Portraits series (1999 -). He borrowed and photographed waxworks from Madame Tussauds, first removing them from their setting then photographing and enlarging them by 20% in an effort to impart greater vitality. In doing so, he is clearly exploring different layers of representation, by photographing in a painterly way waxworks that were themselves inspired by paintings of the subjects. Does the result bring the viewer closer to the original subject? I'd say it's a mixed result. While his photo of Henry VIII does look quite alive compared with the waxwork, we don't actually know how he really looked. Sugimoto's photo of a dodgy waxwork of Queen Elizabeth II shows the limitations of the process – the end result may be less waxwork in character, but it's still not much of a likeness.
After these rather puzzling works, I felt on firmer ground in the galleries showing work inspired by the built environment. Sugimoto co-founded architectural practice New Material Research Laboratory in 2008, and has latterly added built work to his artistic activities. His Theaters series of photographs (1976- ) explores the architecture of US movie venues, selecting grand cinema palaces with ornate decoration from the heyday of movie going. To photograph each, he chose a film to screen and timed the exposure to match the length of the film, resulting in a glowing white screen. The effect contrasts with the relative darkness of the surrounding, empty auditorium, which we are invited to contemplate. In a series depicting drive-in cinemas – again shown empty – the long exposure captures the illuminated trail of satellites and aircraft across the sky.
The cinema theme continues with images of the ornate 19th century European opera houses, full of chandeliers and classical imagery, that inspired the 20th century design of American cinemas. Most poignantly, another series documents once-grand but now ruined and abandoned cinemas, completing his journey through the rise and decline of American cinema. Here, Sugimoto hired screens and brought in generators to power his chosen film for the long take.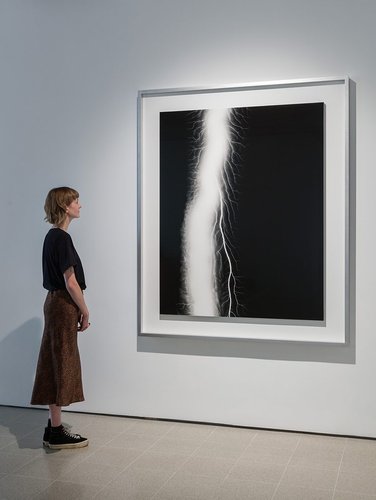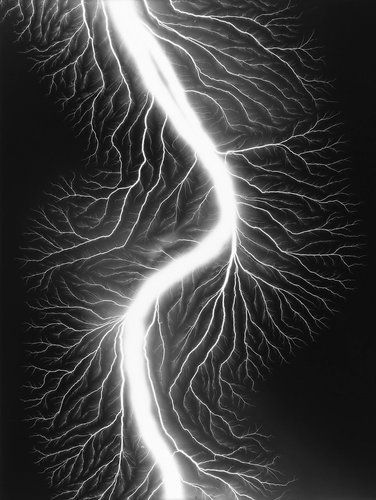 His Architecture series (1997- ) focuses on iconic 19th and 20th century architecture. Here, he aims to 'erosion-test' well-known structures such as the Eiffel Tower, the chapel at Ronchamp, the Seagram Building, Brooklyn Bridge and many more by deliberately blurring the images to see whether 'superlative architecture survives the onslaught of blurred photography', and in doing so captures something of their essence. Such strong forms largely do survive, and in the process are given an abstract and faded quality – what Sugimoto has described as 'architecture after the end of the world'. This is most poignant in the case of the World Trade Centre. Even with this treatment, the top of the Chrysler Building still manages to sparkle.
Rugoff remarked on the 'profoundly serene' nature of Sugimoto's work, and this is particularly evident in his Seascapes series (1980- ), where he photographs empty sea, horizon and sky. Sugimoto's earliest memory was of the sea, and he says he was taken with the idea that views of the sea, unlike most views of land, are unchanged between now and prehistoric times. His tranquil sea vistas explore different light conditions, but show the commonality between seas wherever they are in the world.
For his Lightning Fields series (2006- ), Sugimoto explored the instantaneous release of energy on film by exposing sensitised paper to electrical impulses. The resulting strange and dramatic images bring to mind, variously, micro-organisms and lightning strikes.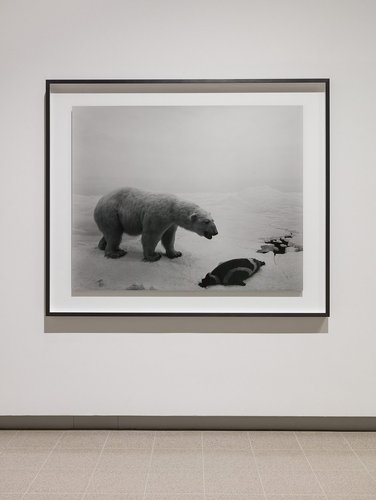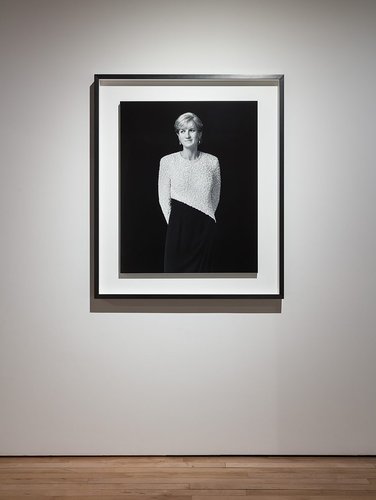 Mathematical models are another source of inspiration, given a monumental quality in Sugimoto's Conceptual Forms photographs.
In the final room, the Opticks series (2018- ) is the result of Sugimoto's efforts to document the colours of light through a prism. Starting with Polaroids, his images are enlarged and turned into chromogenic prints of colour fields – in a sharp contrast with the black and white images in the other galleries.
Sugimoto regards himself as a 'relic' for making photographs at a time when others 'create images and content'. If he is a relic, he's certainly a very inventive one. There's a great deal to get your mind around in this mixed bag of work – even if not everything appeals, it can't help but intrigue.
Hiroshi Sugimoto: Time Machine, until 7 January 2024, Hayward Gallery, Southbank Centre, London SE1 8XX