Is This Tomorrow? at Whitechapel Gallery updates its impactful predecessor with explorations and questions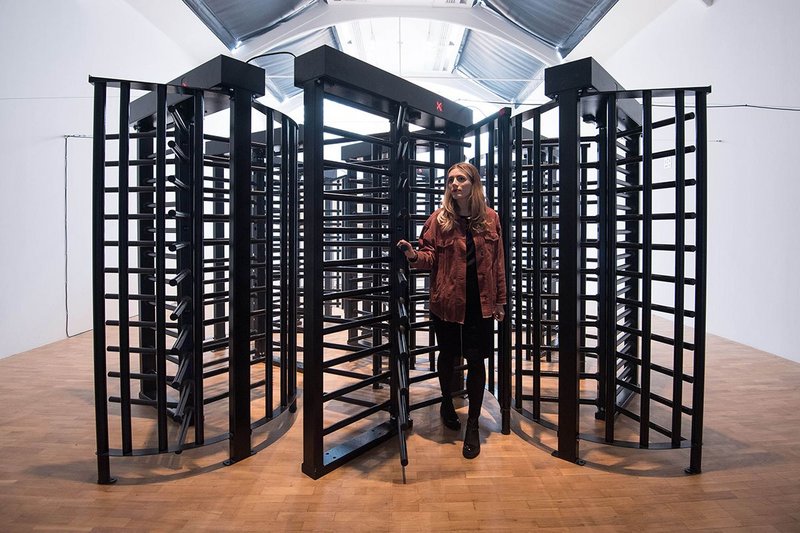 Borders Inclusivity by Farshid Moussavi Architecture and Zineb Sedira considers the issue of free movement. From the exhibition Is This Tomorrow? at the Whitechapel Gallery. Courtesy the Whitechapel Gallery
'Strange, yes, but exciting and provocative'. That was the verdict of the British Pathé news when it visited the famous 1956 exhibition This is Tomorrow at the Whitechapel Gallery, in which 12 architect-artist-designer teams created installations in response to the theme of tomorrow. Can the same be said of Is This Tomorrow?, the Whitechapel's reboot of the exhibition, in which 10 contemporary teams tackle the same theme?
It is certainly rather strange. Visitors find themselves channeled through animal control barriers, navigating a mini-maze of turnstiles, inhabiting a doll's house like museum, or simply enjoying spaces of contemplation.
At the 1956 show, there was no explanatory interpretation. Instead, the visitors had a role of 'spectatorship' to play in how they responded to the exhibits. While this show is similarly experiential, visitors at least have the assistance of the exhibition guide, which is just as well, as there is an awful lot going on here that might otherwise be missed.
So why stage this exhibition now, 63 years later? Whitechapel director Iwona Blazwick felt that the current state of uncertainty about the future made it a good time to consider the tomorrow theme again.
Unlike in the original show, when the teams were readily formed thanks to pre-existing associations such as the Independent Group, the teams in the 2019 version were match-made by chief curator Lydia Yee. And in contrast to the original show, there are far more women, and far more international participants.
And what do they make of the future theme? Do their responses reflect the very different times, when the sense of potential and opportunity of the 1950s has been replaced on the one hand with increased prosperity, but on the other is overshadowed by increasing concern over the cost to the environment?
Although hardly optimistic, it is less apocalyptic than I expected. The exhibition gets off to a relatively playful start with the installation by architect 6a and artist Amalia Pica, drawing on ideas around global ecology and our relationship to nature and animals.
In Enclosure, visitors take the animals' perspective as they make their way through a series of pens and animal runs that have been 'enriched' with entertainment for the imagined animals – whether jumps for horses, scratching posts for cats, buoys for seals, or high-level carrot feeders for horses or giraffes. There's apparently a whole world of such products out there – even a teething toy for pigs. Pica imagines the environment as populated by a hybrid creature able to enjoy all the enrichment objects.
'We have an amazing interdependent relationship with animals," says 6a's Stephanie Macdonald, adding that we're more likely to know the names of different animals than of our own neighbours. She hopes the installation, which uses architecture to explore relationships with animals, will be joyful yet also pose critical questions.
There are certainly some darker themes elsewhere. Spirits Roaming the Earth, an installation by Andrés Jaque/Office for Political Innovation and Jacolby Satterwhite is an extraordinary black mound suggestive of fossil fuels and carbon. Within it, screens consider resource extraction and fracking in combination with gentrification, wealth, queerness and designer babies.
Cao Fei and Mono Office's totem-like I want to be the future considers the relationship between people and technology. Farshid Moussavi and Zineb Sedira's cluster of security turnstiles and motion-triggered soundscape considers, says Yee, how the passage of people can be controlled but not their thoughts.
David Kohn Architects and Simon Fujiwara explore the idea of authenticity as a dwindling resource through the creation of a museum dedicated to Leonardo da Vinci's Salvator Mundi painting. This intriguing installation is for one person at a time, and is entered by ducking down and popping up in the middle into a dolls-house like environment. It was inspired by a research trip that Kohn and Fujiwara made to the Abu Dhabi Louvre in which the promised Salvator Mundi failed to materialise, and by the rise of immersive art experiences where the original artwork they are celebrating is not itself present. Instead, it has become so branded that 'almost no humanity is left'. Is this, they ask, the pinnacle of what an artist can expect to achieve? Does it matter that the art isn't even there? Will the future be 'post-art' and 'post-architecture'?
In the Whitechapel piece, the imagined Salvator Mundi Experience includes an animation of the painting, a selfie station, an auction room, and a room dedicated to donations.
Apparata's Thugz Mansion collaboration with Hardeep Pandhal is one of the more visually striking pieces – a construction site/ruin-like installation containing concrete benches where visitors can listen to Pandhal's music and contemplate societal issues. The piece considers what happens to architecture when political systems become outmoded.
'Can we construct a world more accepting of fluid identities,' asks Apparata's Nicholas Lobo Brennan.
There are some fascinating concepts. In Mind Garden, Heart Garden, Tatiana Bilbao Estudio and Mariana Castillo Deball uses time as a generator for architecture, more specifically a Mesoamerican ritual calendar which measures time in 20 months of 13 days. This generated the use of 2m long straps punctuated by 13 holes to suggest the walls and rooms of a house, the straps color-coded to refer to different types of space.
These are moments of calm – Adjaye Associates and Kapwani Kiwanga have created the Sankofa pavilion from reflective dichroic glass sheets as a place for intimate conversation. The name is a reference to an Ashanti word for reaching into the past to guide you into your future.
I found Dhaka-based architect Marina Tabassum and London-based artist Rana Begum's contemplative space appealing. The two found common ground in their shared Bangladeshi heritage, with Begum particularly taken by the manipulation of light in Tabassum's Bait-ur-Rouf mosque in Dhaka.
'From the ashes, hope will always arise,' says Tabassum, commenting on Bangladeshis' optimistic outlook even in adversity.
Their Phoenix Will Rise installation, says Begum, is a place to bring people together in contemplation that plays with light, colour and geometry. In the centre of the room is a deep circular void that brings light down into the space and is lined with a textural artwork by Begum. Created in aluminium foil, this appears as a three-dimensional landscape, its contours highlighted by vibrant spray painted colour.
Tabassum talks about the importance of a hopeful outlook rather than a dark, negative view of the future: 'Tomorrow for us is a hopeful tomorrow'.
Is This Tomorrow? could never have the same impact as the seminal 1956 exhibition. But this collection of fruitful collaborations nonetheless gives plenty of food for thought.
---
Is This Tomorrow? until 12 May 2019, Whitechapel Gallery, 77-82 Whitechapel High Street, London E1 7QX