John Outram stands out from the post modern canon. Hugh Pearman enjoys the return to popularity of his exuberant, ingenious and joyful designs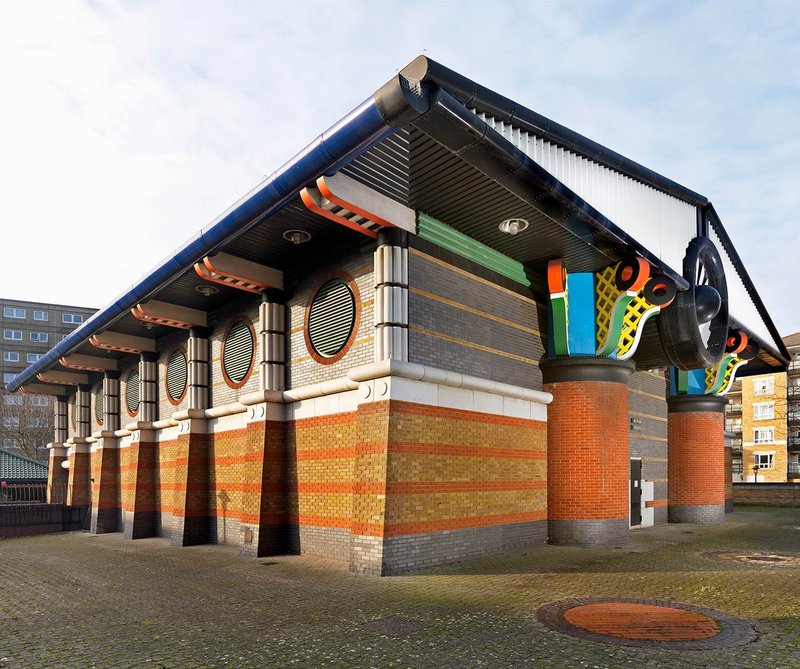 Isle of Dogs pumping station, afloat on a sea of symbolism.

Credit: Historic England Archive/James O. Davies
If there's one thing better than revisiting a building that has been off-limits to the public for more than three decades, it is doing so in the company of its architect. And so came the day in April when the gates of the grade II* listed Isle of Dogs pumping station swung open, and into the yard drove John Outram, in the same pale green Citroen DS Safari that he had when he first designed the building.
Building, car and architect have all aged well – Outram himself is nearly 88, his car is 48 years old so the building, designed and built in 1986-88, is the relative youngster here at 34. Post modernism generally is roaring back into fashion, though Outram's style was always highly individual and stood out from all the rest: he is more of an ultra-progressive freestyle classicist. None of his peers could ever match Outram's exuberance, wit, and ingenuity.
People responded to the Victorian-ness of the 'Temple of Storms', the fact that it went well beyond its ostensible function. When it opened, Franklin relates, Outram wrote to his daughter Iliona about it: 'The pumping station is setting my architectural friends a real test. It is so big, so colourful, so easy to like, so obviously beautiful, like a great flower'. The test went deeper than ornamentalism and neoclassical references, however. Outram rejected the brittle visual connectivity of the critically favoured style of the time, high-tech. 'The best buildings are soft, soft all through; soft especially in their very marrow. They are flabby and disjointed, having no physical tension whatsoever,' Outram wrote in 1988.
This brings us naturally enough to Outram's great and beguilingly simple innovation, the 'Robot Order'. Those fat brick columns, which first appeared on his Mackay Trading estate in North Kensington (1978-80) and first sprouted vividly flaming neoclassical capitals on his Harp Heating building of 1983-5 at Swanley in Kent (a recladding of an existing 1960s curtain-wall building, sadly demolished in 2016) are nothing more than oversized vertical ducts to thread services and structure through. There's a lovely Krier-ish cartoon by Outram which shows the various functions depicted as people lining up to enter a door in the column at the invitation of the architect. In a bin nearby are rolled up drawings titled 'High Tech'.
Franklin's excellent book, one in the '20th Century Architects' series, reminds us that Outram's reputation hangs on a relatively small oeuvre of about a dozen buildings in the quarter century from the mid 1970s to the early 2000s. The fact that this collection ranges from a cheap trading estate near Heathrow to the magnificence of Duncan Hall at Rice University in Houston, Texas, via the Judge Institute of Management Studies in Cambridge (the former Addenbrooke's Hospital transformed utterly), tells us plenty about Outram's range and ambition.
He even built a small retail complex in the Netherlands. Plus of course he oversaw successive phases of his unique New House at Wadhurst in Sussex for the Rausing family. It is grade I listed now, but is not the only Outram country house: Sphinx Hill, for an Egyptologist built in Oxfordshire, may be incredibly mannered but is an altogether jollier affair.
That he did not build more was not down to any lack of publicity: he produced sumptuous images (either from his own office or by architect-turned artist Carl Laubin) and the media, from the architecture and design magazines to national newspapers, all loved Outram. Much was made of his experiments with concrete – 'Blitzcrete' like a Terrazzo but with crunched-up brick in it, and 'Doodlecrete' in patterned fast-colour concrete.
We can mourn the ones which got away, for he entered many of the big competitions of the time, and was much published because of this. If his early (1971) competition entry for the Burrell Collection outside Glasgow, conceived as a linked campus of historicist forms, made little impact this cannot be said of some of his later work. He entered competitions for Pembroke and St Clare's Colleges in Oxford, Bracken House (the Financial Times building) the Peter's Hill office development in the City, Epsom racecourse stand, St George's Hall at Windsor Castle, Compton Verney Opera House (where his Mughal-influenced design came second to Henning Larsen but nothing was ever built anyway), and a private hospital in Milan.
Some projects he was commissioned for did not happen, most notably his 200 Queen Victoria Street office building in London for developer Rosehaugh Stanhope, which would have had trains running through it and which is a personal favourite of his. And had his invited proposal to re-imagine Battersea Power Station come good, what a richly pleasurable pleasure dome London would have had.
Did the sheer intensity of his work put potential clients off? But architecture does not have to be built to exist, especially not in Outram's case. This book presents the unbuilt on an equal footing with the built. Franklin is a perceptive author. 'He thought of classicism as a pluralistic, multicultural construct which drew upon the trabeated architectures of non-Western cultures – Sumer, Egypt, China, India and Maya – as well as those of Athens and Rome. It represented not so much a set of rules as a liberation, offering the possibility of an architecture that could be polychromatic, over-scaled, wildly decorated and, above all, unfamiliar,' he writes.
True enough, and how satisfying to see John, his buildings loved and listed at what is now once again a time of depressing bogged-down Trad versus Mod binarism, offer a way through the swamp.
John Outram by Geraint Franklin. Historic England/20th Century Society, 180pp, PB, full colour, £30.00