Tate Liverpool's colourful Keith Haring exhibition aligns the New York street artist's activism with his art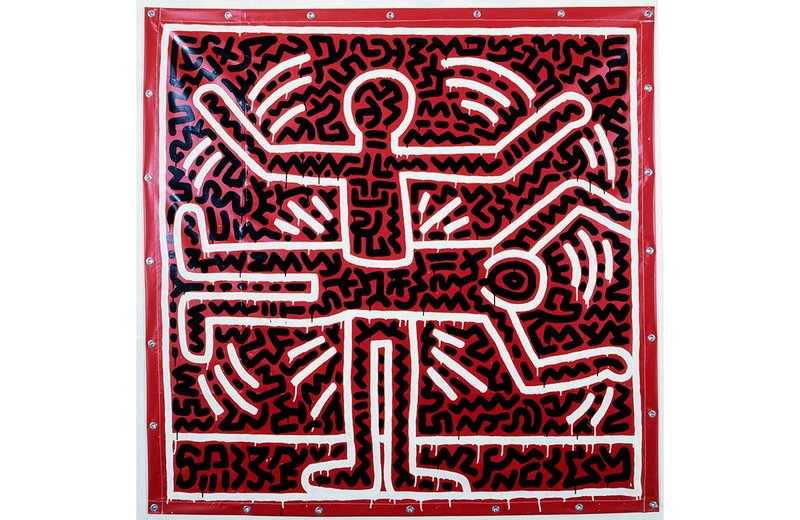 Untitled 1983 Keith Haring, 1958–1990. Courtesy Laurent Strouk © Haring Foundation
The 1980s are back: DMs, Pop-Swatches, PoMo, polarised politics and even perms. Perfect timing for the Tate Liverpool to host the first UK retrospective of Keith Haring (1958-1990) – the pop artist whose deceptively simple and distinctive street art defined the 1980s New York urban scene.
Haring's ubiquitous motifs were almost unavoidable. Crawling babies, geometric dogs, dancing stick figures and UFOs: these characters were seen daily by hundreds of people, on murals, subway walls, billboards, hoardings and tarpaulins. While their scale, context, meanings (and legality) varied, Haring's loud, linear drawings were always recognisable and easily digestible.
Tapping into the vibrancy of the man and his work, the exhibition is large, colourful and unexpected. Haring disliked the exclusivity of the art world; the Tate Liverpool honours this rejection of the formal and staid by punctuating his lively two-dimensional artworks – drawings, paintings, collages… and the bonnet of a beat-up yellow taxi – with video footage of performance art and interviews.
Archive images, such as those taken by street photographer Tseng Kwong Chi, capture the artist at work and play: Haring was a fixture of the underground nightclub scene, and he socialised and collaborated with Grace Jones, Vivienne Westwood and Andy Warhol. One room recreates Haring's 1982 immersive 'black light' installation, which presents fluorescent works under UV light accompanied by a Soul Jazz record played through a boom box.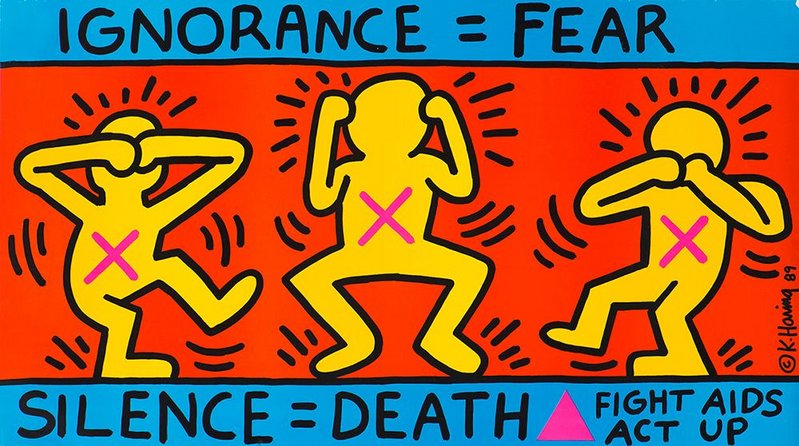 Ignorance = Fear 1989

Credit: © Haring Foundation/ Collection Noirmontartproduction, Paris
Haring's art is intrinsically connected to New York City; it was both a product of, and contributor to, the visual culture of that specific place. Bringing these images to Liverpool seems apt: the two cities share a history of transatlantic migration, and both rose from the ashes of 1980s economic boom and bust to become today's cultural capitals.
Downtown New York in that era was a gritty, edgy place – a 'rotten apple' which perversely nourished a diverse and alternative creative scene. Haring admired the impulsive talent of graffiti artists such as Jean-Michel Basquiat, who he befriended and exhibited alongside. Haring did not consider himself a graffitist. He was professionally trained at the School of Visual Arts (SVA) but actively eschewed the traditional establishment in favour of a practice which would engage directly with an audience. When he began drawing huge pieces in public, Haring 'realised how many people could enjoy art if they were given the chance'.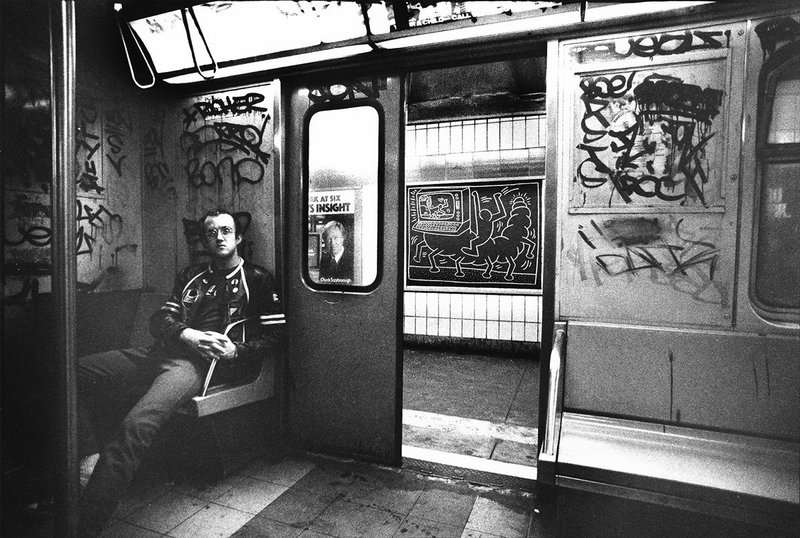 Keith Haring in subway car, (New York), circa 1983. Tseng Kwong Chi photo © Muna Tseng Dance Projects, Inc. Art © Keith Haring Foundation
Haring's first foray into street art, in 1978, involved pasting recomposed newspapers around the city, with nonsense headlines ('Reagan Accused of TV Star Sex Death: Killed and Ate Lover'). These doled out shock, confusion and droll humour in equal measure.
Another early attempt at engaging a mass audience was repeatedly to spray 'Clones go home' in his neighbourhood – a message aimed at yuppie newcomers. In Haring's own words: 'We felt that the East Village was a different type of community which we didn't want too cleaned up like the West Village.' This emotional response to gentrification speaks directly to our times.
By the end of the decade, Haring's popularity led to large scale international public art commissions, such as on the Church of Sant'Antonio, Pisa. It also brought with it a trade in counterfeit goods; Haring responded by opening two 'Pop Shops' selling official merchandise. He knew how to profit from consumerism and the media, even as he harnessed it for his art.
His was the visual language of a youthful and imaginative generation. In his paintings, people have tails, they worship dollar bills and get trapped inside analogue TVs or old-school computer games. DJing dogs, bouncing condoms and Mickey Mouse all rub along together at a bizarre but jovial party.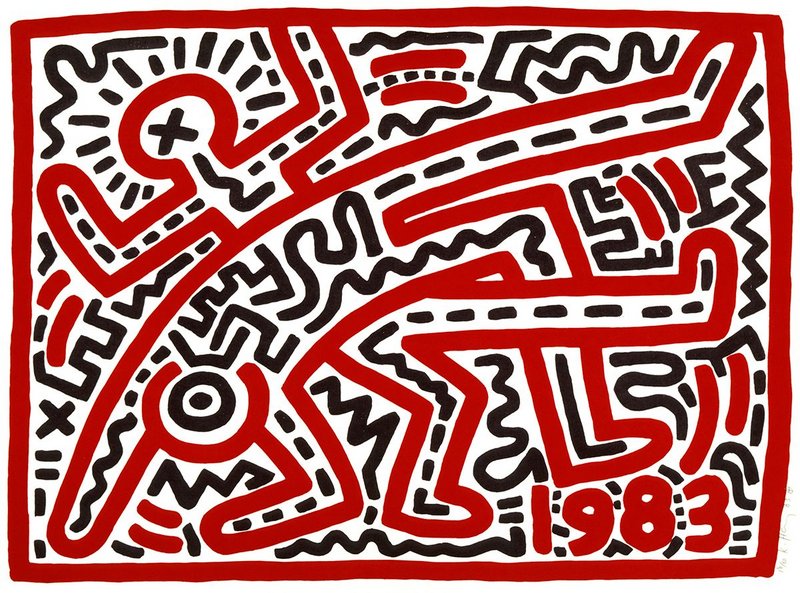 Keith Haring, 1958–1990, Untitled 1983. Collection of the Keith Haring Foundation © Haring Foundation
Thirty years before Banksy, it was Haring's works which were peeled from walls and traded by art dealers. But, unlike the wry and elusive Banksy, Haring bolstered his artistic ability with a larger-than-life persona, producing work which went beyond socio-political commentary towards direct calls to action.
Haring's activism – on issues such as AIDS awareness, apartheid, nuclear disarmament, children's education (his animations appeared on Sesame Street) and drugs (one of his Crack is Whack murals is still in situ on Second Avenue) – is a key part of his legacy. Haring himself was an openly gay man, whose life was cut short at the age of 31 as a result of AIDS.
Towards the end of the exhibition is a series of works completed after Haring received this diagnosis. These are darker, dystopian pieces, containing violent details such as torn limbs and bodies infiltrated by a pernicious ghostly entity, representing the virus. Such hopeless, angry scenes could have brought a sad conclusion to an exhibition which had otherwise celebrated Haring's cheeky subversion and zest for life. Yet even then, Haring continued his activism, through written campaigns and media appearances.
This drive to communicate positively via the medium of accessible public art defines Keith Haring's life and work. His playful but hard-hitting messages are still relevant. At a time when we find ourselves wondering if our politicians really do intend to drag us back to the 1980s, we need characters like Keith Haring who are willing to use their artistic talents to unite rather than divide.
---
Keith Haring is showing at the Tate Liverpool from 14 June – 10 November 2019. It is curated by Darren Pih and Tamar Hemmes, and is presented in conjunction with the Keith Haring Foundation, BOZAR (Brussels) and Museum Folkwang (Essen).
---
Michèle Woodger is a writer and editor