As women continue to fight against lack of creative recognition, Pamela Buxton found a recent exhibition on the art of Modern Couples still had much to say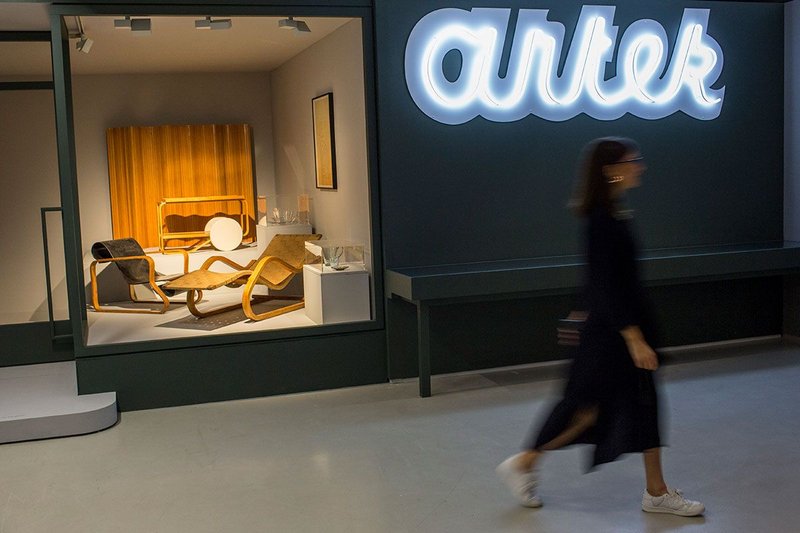 Installation view featuring Aino Aalto and Alvar Aalto from Modern Couples at the Barbican Art Gallery, © John Phillips/Getty Images
One hundred years on from many of the protagonists in the Barbican's excellent exhibition Modern Couples – Art, Intimacy and the Avant-garde, it's clear that the passive ignoring or active airbrushing out of women's creative contributions is still an issue. Only last December, Massimiliano Fuksas hit out at the omittance of architect Doriana Fuksas, his wife and business partner, from a lifetime achievement award conferred on him by Italy's national institute of architects. Denise Scott Brown's contribution to the work she collaborated on with Robert Venturi is still to be fully acknowledged – in 1991 it was Venturi alone who received the Pritzker Prize. In 2014, Patty Hopkins was literally removed from a photograph of male architects including her husband Michael Hopkins in imagery relating to the BBC's The Brits Who Built the Modern World programme. We clearly still have a long way to go.
How refreshing it was then to explore the work of many familiar figures in art history with a wider lens than usual that acknowledges the symbiotic creativity that flowed between artistic couples.
Picasso's many romantic liaisons, for example, are well known as the inspiration for some of his most notable works. Less well known is how Dora Maar, his mistress between 1936-43 and a regular subject for his paintings, was an established Surrealist photographer before their relationship. Just as she was a muse for him, he became involved in her work and was a muse for her.
The interlinked creative output of more than 40 couples was explored in Modern Couples. Perhaps this was too many given the richness of the subject matter– Mies van der Rohe and Lilly Reich's 1925-37 relationship got relatively short shrift in a tiny display in the stairwell of the show, but this was still enough space to learn of Reich's vital role in the Barcelona Pavilion routinely attributed solely to Mies. She was, after all, the official artistic director, and the exhibition describes how the richly veined marbles and sensuous velvet drapes were typical of her design approach. Mies himself was in no doubt of her influence: 'Her intellect was like a beacon which lit up my emotional chaos. She taught me to think,' he said. At least the Barcelona chair is now accepted as being jointly authored.
Modern Couples was a fascinating delve into the creative output of intimate relationships – whether heterosexual or same sex couples, or three-way relationships of various combinations. These relationships, often between people from different countries at a time of conflict and displacement, are frequently turbulent, sometimes short-lived, sometimes lifelong, but, rarely, it seems, boring. Here were stories of affairs and intense relationships that clearly fuelled the creative processes while transgressing conventional social norms.
The exhibition was an enjoyable mix of comparatively unfamiliar couples and well known pairings such as Vita Sackville-West and Virginia Woolf, and Frida Kahlo and Diego Rivera. There are so many colourful characters. Maria Martins was a Brazilian sculptor who became the lover of Marcel Duchamp from 1943-51 (despite being married to the Brazilian ambassador to the US), before leaving him and returning to Brazil. It was clearly an intense relationship – Duchamp cast erotic objects from her body while her poetry expresses the hope that he be tortured after her death by thoughts of her.
Alma Mahler was married to composer Gustav Mahler for 10 years before taking up with painter Oskar Kokoschka then marrying Walter Gropius. Poor Kokoschka took the loss of his muse badly, bizarrely commissioning 'The Doll' a full-scale stand-in for Alma as artist's model. Eventually, after some years, he felt able to destroy the doll and move on.
The section on painter Gustav Klimt and fashion designer Emilie Flöge was particularly fascinating. They must have cut quite a dash in turn of the century Vienna, with Flöge wearing her own flamboyant billowing 'reform dress' gowns and Klimt also pictured wafting around in kaftan-like robes. This was a particularly engaging part of the exhibition, with photographs, and extensive artefacts from Flöge's fashion store as well as examples of her highly graphic designs. Looking at Klimt's famous paintings of figures in flowing, exotic robes, it's easy to see the influence of her work, which he often photographed.
Not all the creative couplings were turbulent. Paris-based artist couple Sonia and Robert Delaunay's 1909-1941 relationship seems to have been conducive to a mutual flowering of both their work, derived from their interest in the abstraction and bright colours of Simultanism. Aino and Aalvo Aalto were also celebrated as 'the only fully-trained architect couple to achieve international prominence in the Modern Movement'. Both graduated in architecture from Helsinki University of Technology and the exhibition focuses in particular on design work for furniture company Artek, in which Aino was head of the interior division and administrative director. We learnt that 'their optimistic, sensuous brand of modernism is a result of their fulfilling life together'.
Eileen Gray's Villa E1027 in the south of France is well known as being named after the initials of Gray and architect and critic Jean Badovici, with whom she had an eight year romantic relationship and life-long friendship. This exhibit fleshed out their shared design ethos for the villa, which included the idea that the souls of a building's occupants were central to its architecture, and it is always a delight to see Gray's furniture designs in the flesh. When Badovici died in 1956, it was Gray who was at his side.
This was not an exhibition to see in a hurry, rather rewarding time and close attention. It certainly left me wanting to know still more about these fascinating couples.
---
Modern Couples - Art, Intimacy and the Avant-garde, ran until January 27 2019, Barbican Art Gallery, Barbican Centre, Silk Street, London