Euston Station and the Gillender building share a particular kind of history in Daniel M Abramson's take on obsolescence as architectural history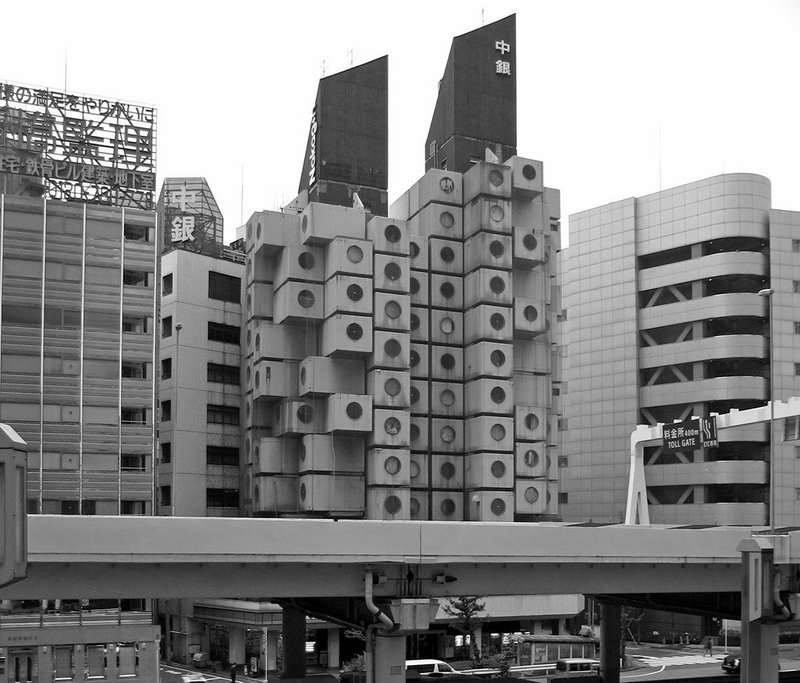 Kisho Kurokawa's Nakagin Capsule Tower, Tokyo, 2013. The 1972 building is a testing ground for demolition or rehabilitation.

Credit: Daniel M Abramson
In 1910, New York's Gillender Building - once one of the loftiest office blocks in the world - was razed to the ground; it was barely 13 years old. In 1962, Philip Hardwick's 1838 London Euston station and its celebrated Doric arch were similarly erased. Separated by time and the Atlantic Ocean, these two events are united as totems in the architectural history of obsolescence, as described in this compact, yet ambitious book.
While an extreme example, Gillender's destruction was emblematic of an emerging reading of obsolescence that valued newness over renewal and change over stasis. Codified into the commercial fabric of America through generous tax allowances for depreciation and anomalously short building life expectancy data (this being based on the experience of that most overwritten of cities, Chicago), obsolescence was considered an economic good; an accessory to, even necessity for, the ceaseless cycle of capitalist consumption. For some, it was even considered a social good - transience and expendability offering the promise of human choice and liberation.
If Gillender marked the symbolic beginning of this reading of obsolescence, Euston's demise some 50 years later marked the beginning of its end. Inviting protest against its demolition from luminaries such as John Betjeman and Nikolaus Pevsner, Euston marked a shift away from seemingly wanton destruction and abandonment towards an appreciation of durability and the comforts of the past. It was a shift that embraced preservationism and adaptive reuse; a shift that accelerated, after the 1973 oil crisis, into the latest architectural obsession - sustainability.
Charting architectural responses to the exigencies of obsolescence, this scholarly yet engaging book covers key movers and shakers, key buildings, and key interventions. A largely transatlantic and 20th century tale, here we have Buckminster Fuller's 1928 imagined '4D Tower', featuring a rooftop crane continually hoisting in and out ever more advanced modular units; here Ludwig Mies van der Rohe's internally flexible 1968 Berlin National Gallery; here Richard Llewelyn Davies and John Weeks' 1970 'aformal' Northwick Park Hospital, which allowed for controlled contraction and expansion in its overall form. At the city scale, we have Boston's West End, designated an 'obsolete neighborhood' in 1951, and torn down in the name of improved health for its inhabitants (in this case, the authorities hoped, new, wealthier inhabitants who would be less of a drain on the city's resources).
There are fewer such tangible examples as the book moves into the 1970s and 1980s and the era of sustainability; an era that supercharged the idea that expendability equalled waste and heroically recognised that the world's resources needed conservation. Here the book's argument becomes less concrete, less full of conviction - which speaks to a central premise: that things are not clear cut. Obsolescence and sustainability are not necessarily direct substitutes for one another, but coexist (indeed, are codependent) within a capitalist construct that is flexible enough both to accommodate contradictory impulses for constancy and change and allow for different interpretations of value. As I write in 2018, London's 1960s Euston Station is destined for demolition; its 19th-century Arch for possible restoration - it is a premise that seems far from redundant.
Obsolescence: An architectural history, by Daniel M Abramson, University of Chicago Press, 2016