VR specialist Space Popular's study of fictional portals – transporting people through space, time or both – is the subject of an exhibition at Sir John Soane's Museum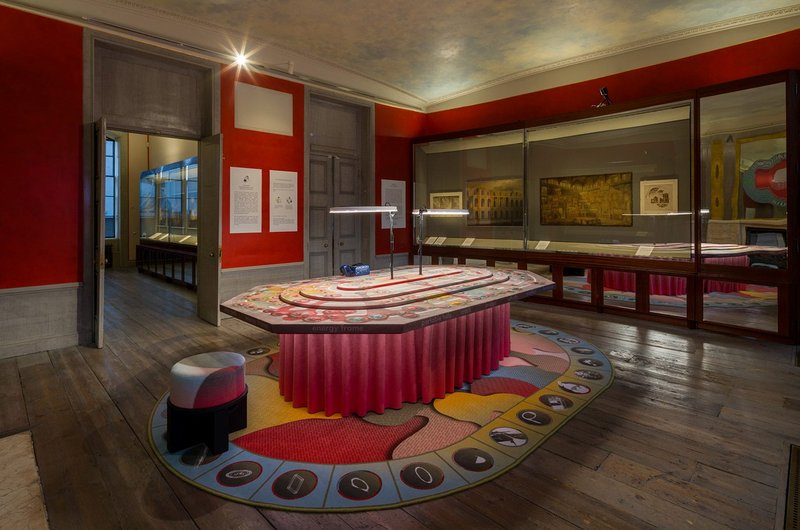 Space Popular: The Portal Galleries showcases the latest mind-bending installation by the practice best known for its spatial adventures in the immersive internet, this time at London's Sir John Soane's Museum.
This heady combination is clearly a fruitful match, with the museum proving an inherently appropriate setting and active contributor to Space Popular's explorations of fictional gateways – whether physical or virtual – for travelling in time and space.
Not only does the building embody something of a time capsule into the world of John Soane, the museum's collections also provide a portal into the ancient world. Furthermore, the museum itself offers a virtual experience of extending space and bending expectations of space through the use of mirrors, folding planes, and thresholds rich with artefacts. In this way, points out assistant curator Erin McKellar, the Soane could be seen as a precursor of digital virtual spaces.
Space Popular's subject is portals, with the practice presenting four years of ongoing research by means of 900 fictional examples from the last 150 years. These include the rabbit hole from Alice's Adventures in Wonderland, the wardrobe from The Lion, the Witch and the Wardrobe and Platform 9¾ from the Harry Potter books. The exhibition includes new VR and 2D work, some made in reference to relevant works selected from the museum's own collections.
As ever with Space Popular's installations, there is a lot going on. The first VR spatial film, on the ground floor, introduces the viewer to the experience of going through portals, and explores the many different morphology archetypes, whether doors, holes, bridges, mirrors, cracks or vehicles.
Upstairs in the exhibition galleries, another VR film provides a visual map of the portals database in decades from 1950 to present day. Interestingly, the prevalence of portals in fiction only really gathered speed after the Second World War. Using a central portal table and carpet as the backdrop, this identifies the different ways of classifying the examples, including by medium and by distinctions such as those that travel through time, space or both, and whether access is via magical, technological or natural means. The table is tactile, tying in with Space Popular's belief that 'the future of virtual experiences will be about touch' as we use hands rather than keyboards to navigate virtual space.
This is all fascinating, if not quite so spectacular a VR experience as Space Popular's previous UK installations such as Freestyle- Architecture Adventures in Mass Media at the RIBA and Glass Chain at Sto Werkstatt. But the VR is only one aspect, albeit still highly engaging, of the broader project, which really gets the mind thinking about the nature of portals. Space Popular's intricate research digs deep into analysing the different characteristics and protocols and classifying them accordingly. Does each portal always lead to the same place? Who has permission to use it? Is a key or any special training required? Does access lead to control and power? In doing so, it began to look less fondly on some former favourites, which now seemed more exclusive than inclusive. As practice co-founder Lara Lesmes says: 'You can't separate these portals from the narratives that they support.'
Co-founder Fredrik Hellberg adds: 'Portals in the last 20 or 30 years very much reflect, I guess, trends in society more generally. We see a lot that are about creating clear separations between people, often between class or status in other ways, or even ethnical divides.'
The interaction with John Soane's Museum is particularly rich. Delving deep into the archive, Space Popular has come up with a selection of pertinent exhibits with portal-like moments and ideas of extended and amplified space through the work of Soane and others. Drawings by Soane's brilliant go-to illustrator Joseph Michael Gandy are particularly evocative. If he was around today, comments Hellberg, he'd definitely be designing virtual spaces and would 'probably be putting us all to shame'.
Looking at a virtuoso Gandy composition from 1824, it's clear to see what he means. It's an extraordinary imagining of the tiny picture gallery expanded to reveal a multiplicity of Soane's drawings, each offering portals into the worlds of the various buildings. Another arresting archive exhibit is Robert Adam's trompe l'oeil from 1757 of five overlaid sketches of ancient ruins, casually arranged like a pile of postcards or polaroids.
Space Popular has then created several new portal images – with illustrator Rachel Swetnam – that use the museum and its archive as a springboard. This is where it starts to get really quite complex, in particular a vision of the view from the inside of the ceiling lantern in the Breakfast Room and another of the Picture Room as imagined from one of the worlds inside the paintings on the folding walls.
The content also relates to the practice's belief in the growing role that portals may play as part of navigating metaverse infrastructure as the use of virtual space increases over time. It seems inevitable, says Lesmes, that the appearance of these will reference aspects of familiar portal examples from the physical world.
This exhibition offers lots of fun plus deeper food for thought that cleverly weaves in both the spatial games of Soane and his contemporaries and today's immersive internet. Space Popular hopes to continue the research project with an installation at the MAXXI in Rome later this year and maybe in the future, a book.
Space Popular: The Portal Galleries, until 25 September 2022, Sir John Soane's Museum, 13 Lincoln's Inn Fields, London WC2A 3BP