Dramatic fall in clubs and centres prompts a celebration of their role in their communities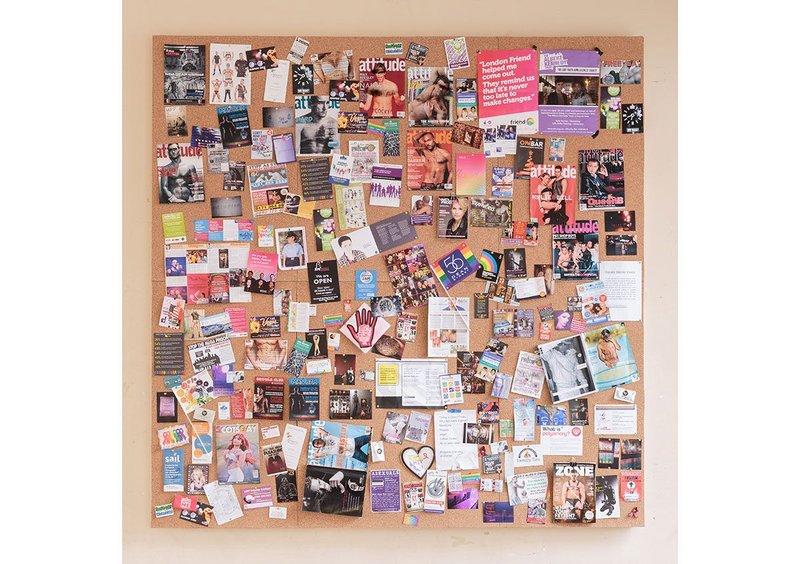 Hannah Quinlan & Rosie Hastings, The Scarcity Of Liberty #2, 2016.

Credit: Courtesy the artists and Arcadia Missa. From Queer Spaces: London, 1980s – Today, 2019, at the Whitechapel Gallery.
The figures are stark. Between 2006 and 2016 more than half of the venues for the LGBTQ+ community in London closed, falling from 125 to 53. Their fate is part of a broader picture of redevelopment-led decline in the numbers of night-time venues, which are so often the losers in any 'regeneration' project. While there are other factors, most notably the effect of social media on the need for a fixed physical space to meet like-minded people, the link with regeneration is strong.
When developers move in, such spaces are more likely to give way to profit-making venues, according to Nayia Yiakoumaki, curator of Queer Spaces: London, 1980s-Today, a new exhibition at the Whitechapel Gallery. This aims to explore whether queer identity has been able to develop freely within spaces in the city.
Drawing on the ongoing research of University College London's Urban Laboratory, the exhibition documents and celebrates the role of these venues within their communities, with oral reminiscences from grassroots regulars as well as artwork by artists whose work explores this theme. These include Ralph Dunn, who created a series of photographs of now-demolished public toilets Lewisham as a homage to gay cruising grounds. Prem Sahib embellished a kitsch relief of the sort that once hung in the jacuzzi of the now-closed Shoreditch sauna Chariots, with piercings that are both decorative and hostile in their sharpness.
Entering the exhibition, the eye is drawn to Hannah Quinlan & Rosie Hasting's The Scarcity of Liberty #2, an overscaled pre-social media noteboard populated with flyers and stereotypical images of gym-honed young gay men. Gathered by the artists, who visited 170 gay venues around the country in their research, this illustrates the community-aspect of gay venues – amid the flyers for events are others on asylum seeking, cervical cancer screening and help for victims of domestic and sexual violence.
This aspect also informed the choice of venues featured in the show, which were selected as case studies in Urban Laboratory's research, led by Professor Ben Campkin with researcher Lo Marshall. These spaces have particularly served their communities and have become platforms for self-organising and protests, often in the name of saving the venue of closure. Central Station, which opened in 1992, funded a number of funerals of regulars.
Case studies range from those that are now gone (including The Joiners Arms; the London Lesbian & Gay Centre, set up in 1983 with the support of the GLC; First Out; and Chariots) to the still going strong (the Royal Vauxhall Tavern and the quieter City of Quebec). The latter opened in 1946 at Marble Arch, when homosexuality was still illegal. More recently, efforts to open up the pub's frontage were successfully opposed by its clientele, who preferred to remain less visible to passers-by. Women's clubs such as the splendidly named WANC (Women's Anarchist Nuisance Café) tended to be more mobile, but there were exceptions such as the tiny Glass Bar, based in the west lodge at Euston Station (1995 – 2008) and the Black Cap in Camden (1965-2015).
First Out, the daytime café that operated between 1986-2011 before falling victim to the redevelopment of St Giles Circus, was particularly fondly remembered – this was somewhere that you could take your Mum to.
'So many people felt safe and at home in First Out. It was a place that was very different to a clubbing venue,' says Yiakoumaki.
An interactive map shows the location and closure of venues over the last four decades – perhaps unsurprisingly most are clustered in Soho. Recently, however, nightclub numbers have stabilized after years of decline. This trend is being helped by not only community activism to fight closures, but by proactive planning policies.
Plans were recently amended for a redevelopment on Oxford Street so that it would include the reinstatement of the Scandal nightclub. This was to have been lost in initial plans but the scheme was changed after mayor Sadiq Khan said that this loss was unacceptable. This follows the introduction of measures in the draft London Plan to protect creative workspaces and cultural venues. These include requiring developers of residential properties to provide sufficient soundproofing to avoid nearby venues having to close because of noise impact.
This exhibition is a small but nonetheless heartfelt tribute to gay venues both still present and also those in the past, that nonetheless live on in the collective cultural memory of their communities.
---
Queer Spaces: London, 1980s - Today, until 25 August 2019, Whitechapel Gallery, 77-82 Whitechapel High Street, Shadwell, London E1 7QX