Everything about this exhibition of Sam Jacob's drawings is deliberately left open to interpretation – including the title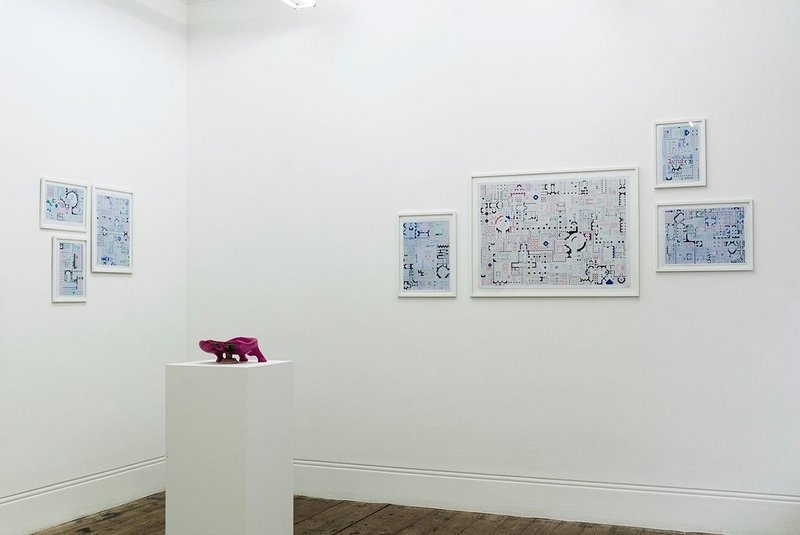 Sam Jacob Empire of Ice Cream exhibition view. Courtesy Betts Project
Armed with felt pens and graph paper, Sam Jacob has created an intriguing series of drawings filled with fragments from architectural plans. Drawn between 2011 and 2019, these form the bulk of the architect's new exhibition Empire of Ice Cream, which runs until March 9 at the Betts Project gallery in London.
Dense and multi-coloured, each drawing is packed with fragments of both real and imagined plans including the Pantheon, the National Gallery, the Houses of Parliament and Mies van der Rohe's Lake Shore Drive in Chicago as well as more banal elements such as sports pitches, trees, stairs, double-loaded corridors and lines of columns. Sharp-eyed Buzzcocks fans might recognize the nine cubicle plans that graced the cover of the Love You More single from 1978.
This architectural stream of consciousness is all a little bewildering. In the catalogue, Jacob talks about the drawings as '…unified yet sprawling worlds where everything is exactly the same but always different'.
'They might be maps of fragmented empires, half remembered buildings, parts and fragments dissolving into one another, forming conglomerations and aggregations that breed but never settle,' he says.
His starting point for these imaginary realms was a drawing he made in 2011 for San Rocco magazine in response to the theme The Even Covering of the Field. In this, he began exploring a sprawling, continuous landscape of plan fragments that together form a city in a constant state of construction and destruction. He cites two main reference points – Archizoom's No-Stop City and Piranesi's Campo Marzio, both of which he says elucidate architectural ideas as much as they do real places.
There is no beginning or end, everything flows into each other whether big or small, historic or contemporary, grand or banal. There is no consistent scale – everything is cheek by jowl in a maze of juxtaposition that asks to be navigated by the eye, with the grid of the graph paper providing an underlying stability. Focal points are created with the thickness of walls and the use of colour.
Some elements are repeated between different drawings, others morph playfully from drawing to drawing, such as the creation of the Villa Rotunda out of sports pitches. Jacob talks of ambiguity and hybrids, with plans infecting and borrowing from each other, and of not being able to tell what's inside or out, of nothing being complete. It is deliberately unresolved.
Covering paper sized from A4 up to A1, these felt pen drawings have been painstaking and hand-aching work. Jacob has so far completed 13, nine of which are in the exhibition, with the prospect of a formidable A0 sized drawing next. He finds their creation both soothing and stressful. The compositions are not planned in advance, but instead evolve graphically across the page without the aid of an undo button. The idea of using the everyday materials of felt pens and graph paper appealed to him as combining a playful and childlike feel with a bureaucratic, wall-chart-like quality.
Don't look for firm meanings or conclusions – these drawings are deliberately open to interpretation, as is the exhibition title, a reference to a 1922 poem by the American poet Wallace Stevens. This tiny exhibition also includes three sculptures but it's the mesmerising drawings that are the main event.
---
Sam Jacob Empire of Ice Cream, until 9 March, Betts Project, London