A musical scored by Richard Hawley is the unlikely vehicle to tell the story of the fall and rise of the Sheffield estate through the eyes of three sets of occupants. Laura Mark booked a seat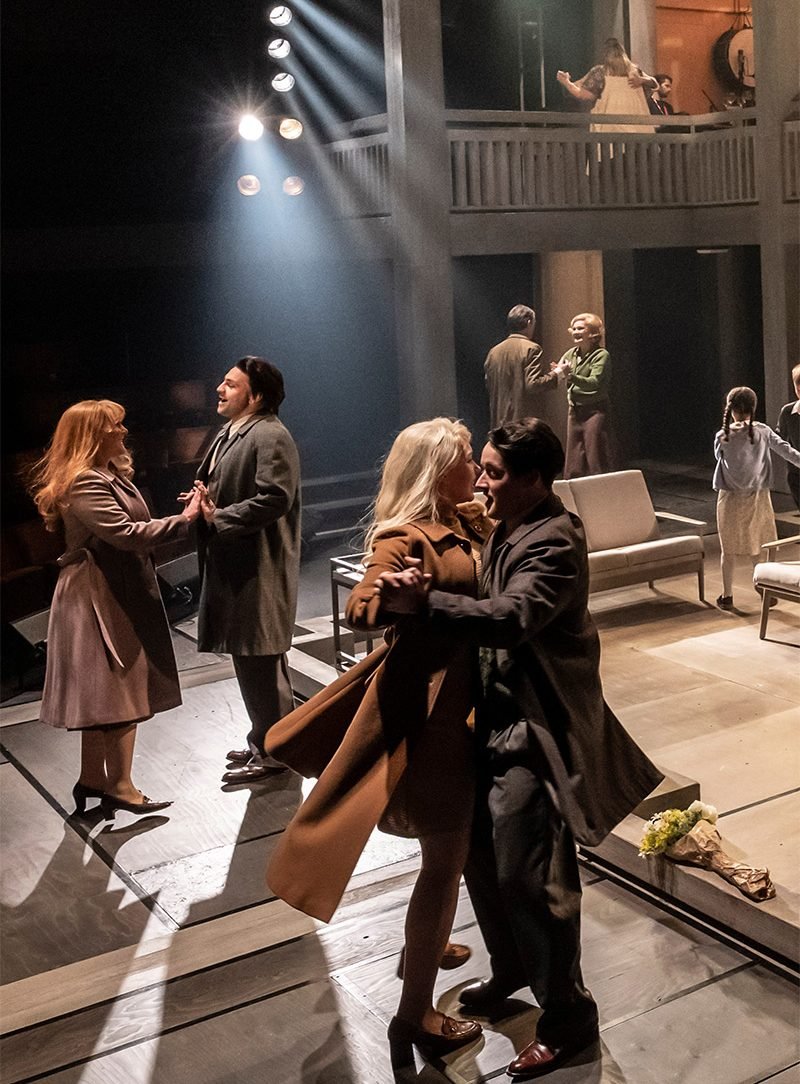 Jake Small (as Man 2) and the Company in Standing at the Sky's Edge.

Credit: Johan Persson
As Park Hill's newest residents settle into Mikhail Riches' latest revamp of one of the UK's best-known ex-council estates, a musical charts three generations of residents and their lives.
Written by Sheffield-born Chris Bush and featuring new and back catalogue songs by Sheffield legend Richard Hawley, Standing at the Sky's Edge weaves together three separate but interconnecting stories of people who had lived in the same flat. Though not told chronologically, the stories are overlaid and woven together, painting a complicated picture of a changing estate which mirrors the state of UK housing.
Young newly-weds Rose and Harry move in as the building completes in 1961. Their story begins as one of optimism. Park Hill flats were a vision of the future, replacing the slum terrace housing which had sat on the same ground which the estate went on to occupy. Residents were excited to move into these 'streets in the sky' with all the mod cons. Like many working in the city at that time, Harry is a steelworker, and we witness his life beginning to fall apart as Margaret Thatcher's policies decimate the industry.
Next, we see the occupants of 1980s Park Hill. The flat is now home to Joy and her cousins Grace and George – Liberian refugees who have been housed on the estate, which is becoming ever more run down. These are Park Hill's dark days – there's crime, racism and the city of Sheffield itself is suffering widespread unemployment. A combination of poor maintenance and societal and political issues is reflected in the disrepair of Park Hill and its subsequent reputation. The estate becomes a no-go area and Joy becomes a prisoner in her own home. It is a hard watch.
A love song for the city and the estate that towers above it. It is moving; even this steely northern lass shed a tear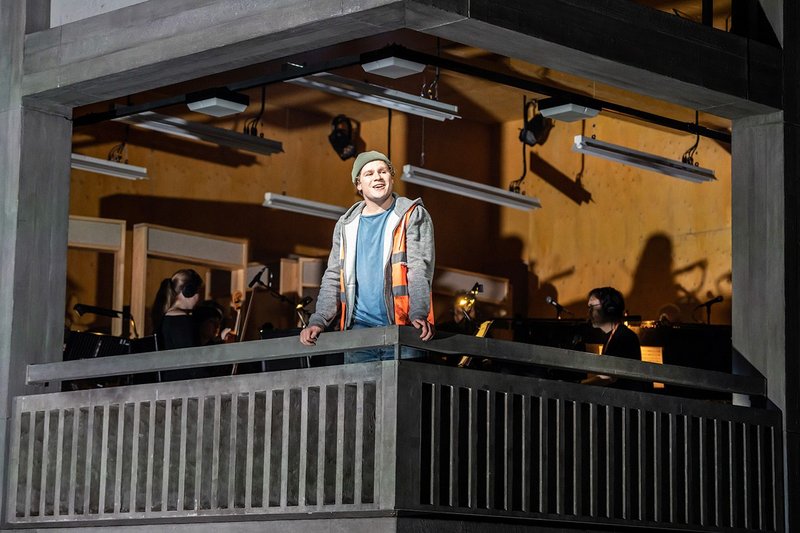 Darragh Cowley (as Workman 1) in Standing at the Sky's Edge.

Credit: Johan Persson
Eventually all the council tenants were moved out of Park Hill, and the estate – which was then grade II-listed – was sold by the council to developer Urban Splash for almost nothing. A Stirling Prize-shortlisted redevelopment by Hawkins\Brown signified a new era, and it is here, in the newly renovated flat, that our next character Poppy appears. She is a middle-class Londoner who arrives in Sheffield rejoicing of its sense of community, laid back lifestyle and proximity to the Peak District. It's almost tongue in cheek, but the sad reality is that this is the truth of Park Hill now. It is no longer home to the council tenants it once housed. With the exception of a few affordable-rent tenants in the first phase, all have been replaced by second home-owners, university lecturers, and the millennial equivalent of middle-class yuppies yearning for a place to put their mid-century modern furniture.
Mark Henderson's lighting design for the show picks out the estate's now infamous graffiti scrawl of 'I love you, will u marry me'. Once a sign of Park Hill's abandonment, the words can now be seen on mugs, tea towels, Arctic Monkeys t-shirts, beer bottles, estate marketing, and cushion covers. Clare Middleton, the local woman for whom the message was intended, died of cancer at just 30 years old. Her troubled life is edited out in the commodification of those words. The graffiti hangs over the stage, where the kitchen and open-plan living space of one of the flats has been recreated. It is here that much of the musical's action plays out. Above, set designer Ben Stones has recreated Park Hill's iconic access decks, and the eight-piece band sits behind in what could be imagined as another flat. This walkway is a key location in the drama, just as it is on the estate.
Park Hill has become a symbol of Sheffield – both loved and hated for many of the reasons brought up during the performance. The musical was put on at the Crucible in Sheffield before its transfer to London's National Theatre in February. For a local audience the stories are easy to relate to. There's even a moment in the first act which centres around a bottle of Henderson's Relish – a condiment unique to the city – as it is passed around the three different households.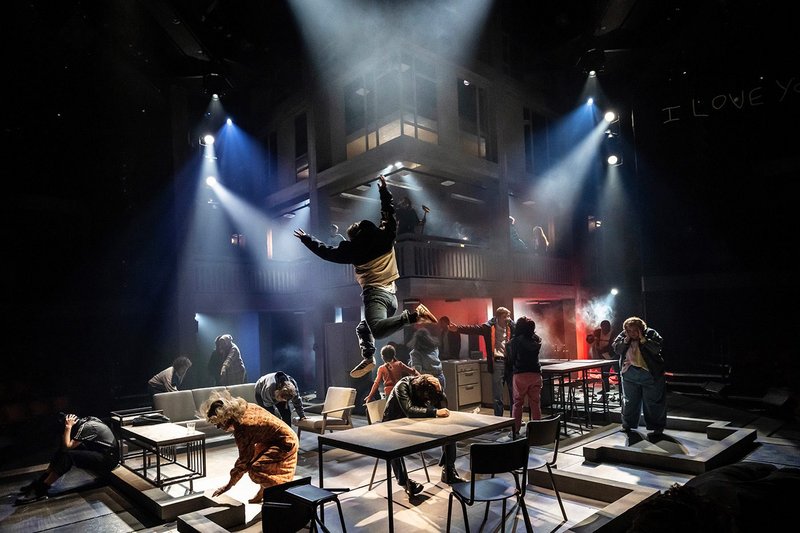 The Company of Standing at the Sky's Edge.

Credit: Johan Persson
References are made to both Sheffield Wednesday and Sheffield United football teams. That audience laughed along knowingly.
The musical is a tale of Sheffield, written by a local playwright, featuring the wistful soundtrack of Hawley, with in-jokes and local references. It is a love song for the city and for the estate that towers above it. It is moving; even this steely northern lass shed a tear – although perhaps with a knowing thought that now I am priced out of Park Hill – a development my own grandfather worked on as a freshly qualified member of Sheffield's city architect's department.
But this is not just a tale for Sheffield; London audiences will have plenty to enjoy and to reflect on. The tales told in Standing at the Sky's Edge have happened in estates and cities across the UK. Although they are sometimes a little glossed over, it asks uncomfortable questions about gentrification. It is about the memories which we all have tied up in our homes, nostalgia for a building, and what it represents for our society.
Standing at the Sky's Edge, National Theatre, London, 9 February-25 March 2023, £20-£86
Laura Mark is an architect, teacher, critic and keeper of Walmer Yard