Vietnamese and Cambodian folklore illuminates modernist architecture in Thao Nguyen Phan's presentation of multiple ways of seeing to explore water, land, border and territory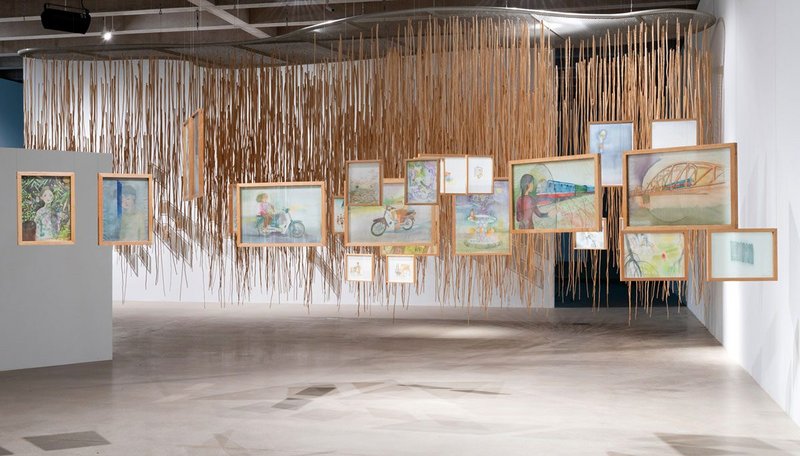 Thao Nguyen Phan, installation view at Tate St Ives, 2022.

Credit: Photo © Tate/Sam Day
Cambodian modernist architecture of the 1950s and 60s is one of the inspirations in the recent work of Vietnamese multi-media artist Thao Nguyen Phan, whose eponymous exhibition has opened at Tate St Ives.
In this, images of architecture are entwined with stories from Vietnamese folklore and historical resonances as part of an exploration of what Phan calls 'an alternative way of understanding water, land, border and territory'. Central to this is the role of the Mekong river that runs from China to its delta in Vietnam, and the impact of urbanisation and climate change on the river and the wider environment.
Based in Ho Chi Minh City, Phan is particularly interested in the work of female modernist artists and designers including Indian modernist Nasreen Mohamedi and Eileen Gray (with whom she shares a background in lacquer). She trained as a painter and works in multiple disciplines including film. In a response to her own education, Phan aims to present work that can be accessed and interpreted in different ways.
'I want to offer the audience multiple ways of seeing and multiple entries to the subject matter as a way to go against my education, which was very narrow-minded,' she says.
She hopes that the work 'can speak to visitors through its own beauty' with scope for those who are interested to dive deeper into the considerable complexities of the research-driven subject matter. The St Ives installation is designed 'to create atmospheres and experiences' incorporating curtains of jute that visitors can walk among and paintings displayed in unconventional manners.
'I like to challenge the definition of what's painting, of what's sculpture, and of what's video,' she says.
The exhibition includes silk and lacquer paintings and found objects as well as multi-channel films. These include the dreamy and atmospheric First Rain, Brise Soleil, which mixes fictional narratives with contemporary built and natural environments. In the film, Phan creates a character who travelled to Phnom Penh to help build the Preah Suramarit National Theatre, which later suffered a catastrophic fire. The theatre was designed by Vann Molyvann, one of the leading figures in what later became known as New Khmer Architecture movement. Created at a time of great economic development, these buildings exemplified a form of modernism that also referenced the local vernacular. Phan combines her interest in the modernism of this era with that of folklore, creating a parallel narrative about a story from Vietnamese folklore about the spread of durian fruit in the region. This is also, she says, a reference to the movement of people throughout the region. The film is accompanied by paintings of the perforated concrete brise soleils that typified modernist buildings of this time, some of which are now at risk.
Throughout, Phan makes references, sometimes subtle, sometimes more direct, to major events in the region such conflicts and natural disasters. In Voyages de Rhodes, she paints everyday scenes over pages of a book by a 17th century missionary involved in Romanising the Vietnamese language.
Food insecurity in the form of the 1945-6 famine in Vietnam is explored in the three channel video Mute Grain. This is accompanied by silk paintings of folk tales that resonate with this theme. A curtain of jute stalks references the high value but inedible crop that farmers were urged to grow during the time of Japanese occupation to replace rice, precipitating the famine.
Her film Becoming Alluvium focuses on the Mekong as a source of 'destruction, reincarnation and renewal' with film again combined with Khmer folklore to consider the environmental impact of urbanisation.
Drawing attention to the impact of the dredging of the Mekong for sand required for construction, Phan is concerned at how past prioritisation of economic development has left a 'heavy debt' for younger generations to shoulder.
Her hope is for a 'softer, gentler kind of modernity' informed by 'the poetry of indigenous knowledge and respect for our ecosystem'.
For Thao Nguyen Phan, creating the show at Tate St Ives has been a welcome chance to travel again after two years of pandemic. Visitors to her exhibition will themselves have the chance to be transported far away to a very different world, but with shared concerns that cut across the cultures and continents.
---