Five modern responses to the brutalist arts centre remind us it still has much to tell
It often seems no corner of popular culture has been left untouched by the concrete lick of Barbican graphics. From Dua Lipa bouncing across Frobisher Crescent in her video Blow Your Mind (Mwah) to a range of creepy Penguin Classics adorned with cartoon covers of the estate, Barbican fever has had us in its unrelenting thrall for years. Have we reached saturation point yet?
The Hull of a Large Ship (a title referencing the architects' own comparison) does a very good job of reminding us that Chamberlin, Powell & Bon's legacy is more than just tea towels and trinkets. Over the past few years the Barbican Centre has commendably made space for small, quiet exhibits in its foyer. Until now they have documented the history of the estate, but this one invites five contemporary practices to respond to the architecture with their own drawings and models.
The contributions come from 6a, Casper Mueller Kneer, Carmody Groarke, OFFICE Kersten Geers David Van Severen and Witherford Watson Mann. Four of these practices have designed exhibitions for the Barbican before, and so, already well-versed in the history of the estate's design, they are ideal guides to identify and expand upon their favourite quirks of the famous brutalist architecture.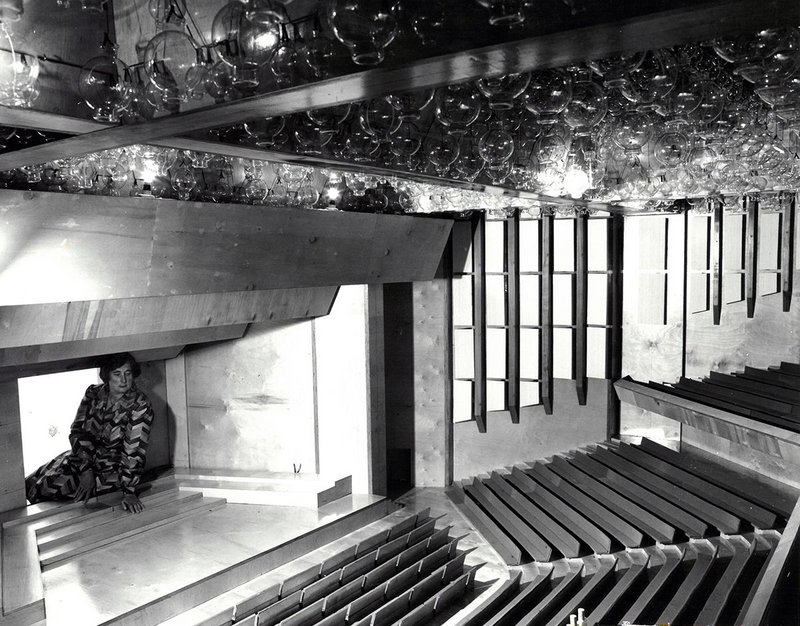 Model made for acoustic testing, by the British Research Station, to a scale 1 to 8 full size. View from the back corner of the hall showing the orchestra platform.

Credit: John Maltby, 1976, commissioned by Chamberlin, Powell & Bon
OFFICE Kersten Geers David Van reimagine the semi-circle of the concert hall as a mystical ruin that doesn't seem entirely sure whether it wants to be funny or austere. Stephanie MacDonald of 6a contributes a hand sketch of the packed theatre during a recent conference on architecture. But the real discoveries come when a bit of research unearths alternative histories.
At first Carmody Groarke's off-kilter sectional model seems a bit of a gimmick. It is anything but. As with much of the rest of the arts centre, the cinema was an afterthought, and one mooted solution to squeezing in the late addition was to project the screen onto the ceiling. Rather than look straight ahead, cinema-goers would lie back in loungers, tossing popcorn into their mouths in a perfect arc, and look up at the icon of Sylvester Stallone's rubbery face beaming down. The firm's model skews the building to the axis of the cinema screen, reminding us of the weirdness of it all.
Caspar Mueller Kneer's model is simple and effective, reminding us that staircases were originally intended to link the gallery space to the rest of the estate. One cannot help but then consider the parallels between the Barbican and Lina Bo Bardi's celebrated Sao Paolo Museum of Modern Art.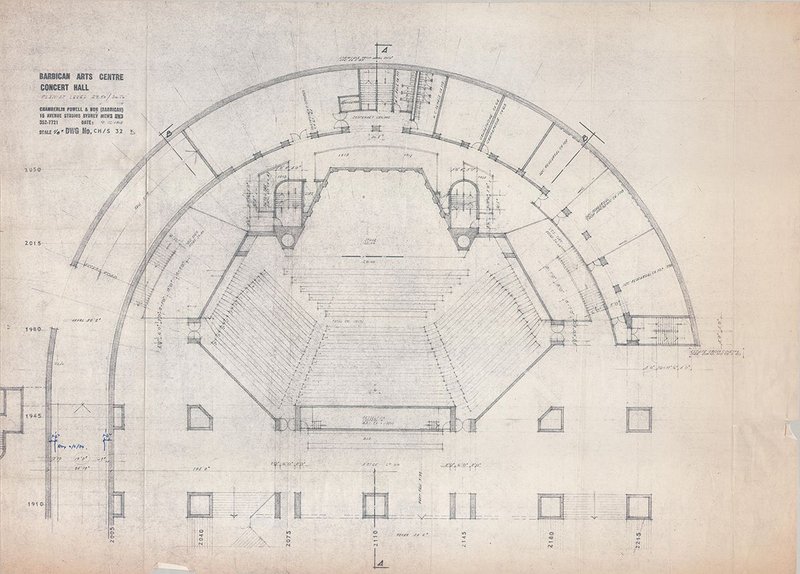 One of Chamberlin, Powell & Bonn's Barbican Arts Centre drawings, 1968.

Credit: Barbican Centre
However, the most evident labour of love is a model and a drawing by Witherford Watson Mann. By removing all the concert halls, cinemas and theatres from their model, they concentrate on the so-called 'fifth venue': the Barbican's warren of herringbone foyers and brass-polished lobbies that always teem with people. Their observation is in a sense the truest. The 'fifth venue' is an entirely serendipitous piece of architecture, born from an enormously protracted layering of briefs. Over time cafés, restaurants and a gift shop have been built into these spaces to cash in on the estate's cultural cachet. Yet come exam season the same succession of schoolchildren will decamp here to profit from the procrastination that free wifi affords. These fantastic public spaces of jumbling depth are lovingly captured in a hand-drawn one-point perspective section.
As the grandson of CP&B's Geoffry Powell, I have been acutely aware of the Barbican's seesawing popularity my whole life. People will, even now, more regularly point to its ugliness than its grandeur. So while connoisseurs may start to grow scornful of its iconic pervasiveness, this exhibition helpfully reminds us that, all things considered, it is still just a bloody good building and has a lot of lessons left to give.