Trevor Dannatt recalls the 'total artwork' of his 1958 exhibition with an archive display at the Whitechapel Gallery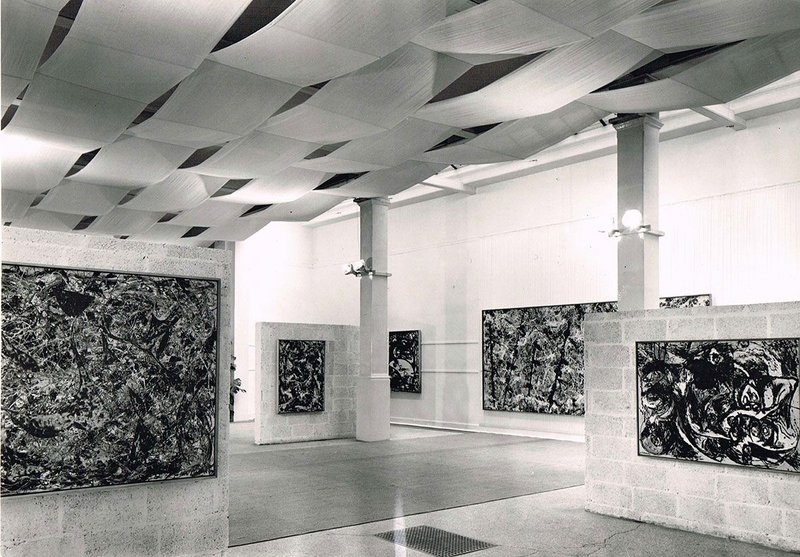 Installation view of Jackson Pollock exhibition 1958, designed by Trevor Dannatt at the Whitechapel Gallery. © Whitechapel Gallery. The installation featured an assemblage of breezeblock walls, fabric canopy and carpet to create a space within a space.
Considering it was 60 years ago, Trevor Dannatt is doing a pretty good job of remembering the ins and outs of his exhibition design for the Whitechapel Gallery's ground-breaking show of the work of Jackson Pollock.
Now a chipper 98, the modernist architect was recently back at the Whitechapel for the launch of an archive display to mark the 60th anniversary of the seminal exhibition, which introduced Pollock to UK audiences and was also significant for Dannatt's innovative design. Lauded by current Whitechapel director Iwona Blazwick as 'audacious' and the very first time that painting was experienced in such an environment, the constructivist installation utilised raw breezeblock walls and an undulating fabric canopy to create a 'total' immersive environment for Pollock's work.
'I was very pleased with it as a show, but never felt it would become art history,' says Dannatt, reflecting on the 1958 exhibition staged two years after the death of the influential abstract expressionist painter.
Dannatt had worked with Maxwell Fry and Jane Drew before joining the London County Council Architects department under Peter Moro in 1948 and setting up in private practice in 1952. He fondly remembers the collaboration with the then Whitechapel Gallery director Bryan Robertson, who he describes as 'a constant flow of amusement'. Realising that the exhibition needed a presentation that was as modern as the art it would be showing, Robertson gave Dannatt, who was not particularly familiar with Pollock's work, carte blanche to do what he wanted.
The project started off with a trip to Berlin to see an earlier installation of the Pollock touring show. This originated from the New York Museum of Modern Art's exhibition and intriguingly was rumoured to be sponsored by the CIA as an expression of American culture.
'I measured every picture in the show and made notes about them and than I got down to it. It seemed to come together almost automatically in reflection. We needed more wall space so I introduced new walls, building up an abstract composition,' says Dannatt, adding that breezeblock seemed a natural material to use for this as well as being cheap.
This was, he says 'a space within a space' with an underlying axis emphasized by the use of carpet on the floor and drapes above. This spatial context of overlapping planes was influenced by the work of Mies van der Rohe and painter Ben Nicholson, he says, as well as Dutch artists Theo van Doesburg and Piet Mondrian. Meanwhile the paintings themselves were hung against a variety of backgrounds – sometimes on black or wood panels, sometimes straight on the breezeblock according to Dannatt's intuition of what would work best with each one.
'If you pardon the phrase, it was a total artwork. Jackson Pollock's work was fabulously presented,' he says.
The new commemorative display is something of a capsule collection of the original. Taking centre stage is the 5m wide drip painting Summertime 9A, one of 58 paintings in the 1958 show and clearly visible in a photo of the original installation shown at large scale on the adjacent wall. Above, a ceiling raft emulates the original design while opposite are cabinets of material documenting the original show including paperwork, exhibition invitations including handwritten notes and letters relating to the design process. There's also an audio of an interview with Dannatt about his design.
The paperwork is an insight into the more straightforward way of working of the time. There are no spreadsheets, just a handwritten list of a few figures for the costs. The Arts Council contributed £250 for the show and Dannatt himself was paid the princely fee of £105 for its design.
'We just did it. There were no committees to please or finance officers,' he says.
At the time, he didn't appreciate quite how radical the design had been.
'It was only on reflection that I realised that it was probably a unique installation in Britain then,' he says. 'I did it and walked away.'
While fondly remembering the Pollock exhibition as a 'great experience', Dannatt is clearly not someone who lives in the past despite his great age. Although now retired from his practice, he explains that he has always been someone for whom architecture has been a way, rather than a means of life. He once again exhibited in the Royal Academy Summer Show this year – and sold all his prints – and still gets out and about to all the exhibitions he wants to see: 'I've got my finger on the pulse, I suppose,' he says.
---
Staging Jackson Pollock, until 24 March 2019, Whitechapel Gallery, 77-82 Whitechapel High Street, London E1 7QZ