Pamela Buxton discovers the enjoyable meaning of ASMR at the Design Museum's Weird Sensation Feels Good exhibition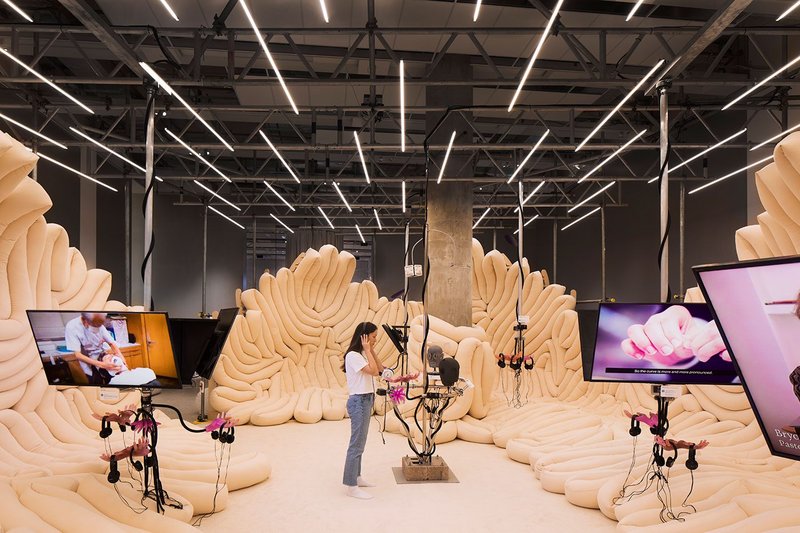 ASMR Arena at Weird Sensations Feels Good: The World of ASMR, an exhibition at the Design Museum.

Credit: Ed Reeve for the Design Museum.
Lolling around in a landscape of continuous pillows resembling squishy giant intestines, visitors to the exhibition Weird Sensation Feels Good: The World of ASMR are engrossed in an online world of whispers, soothing words and all manner of sounds and tactility, all designed to trigger the 'tingle' of a physical sensation of euphoria or the tranquillity of deep calm.
Held at London's Design Museum, the exhibition is the first in the UK to explore the online interest in ASMR (Autonomous Sensory Meridian Response) which for those not in the know has in recent years become, according to the museum, 'one of the internet's largest cultural movements'.
The show explores and celebrates those creating content designed to induce a sensation of wellbeing in their viewers. This agenda goes hand-in-hand with an increased awareness of mental health and the potential for using ASMR to cope with stress and anxiety, albeit with what may sometimes seem the most unlikely of content. Who knew that an ASMR guide to IKEA storage, complete with its fulsome appreciation of mundane plastic hanging shelves and the gentle chinking of hangers, could be so mesmeric?
It's certainly unlike any show I've been to at the Design Museum, or indeed anywhere else. I'm aware that I'm rather older than the show's naturally youthful demographic, who seem completely at home with both the content and delivery of the exhibition in the viewing 'arena', where we watch screens and listen with headphones (if you've got dodgy knees, the reclining viewing style may not be for you). But this is also a very good place for digital non-natives to find out what all the recent ASMR noise has been about.
The show includes 40 works spanning both intentional and non-intentional ASMR. The intentional is the realm of ASMRtists building their online profile through their ASMR content. Each has their own vocal style and personality, using a binaural recording technique to create a more all-round sensation of sound. Many have a calming, whispered delivery in common, with pleasing, clear diction, and in conjunction with all manner of props. There's a lot of tapping, touching and stroking to accentuate sensory qualities, whether aural or visual. It is often about slowness, and as the museum puts it 'softness, kindness, and empathy'.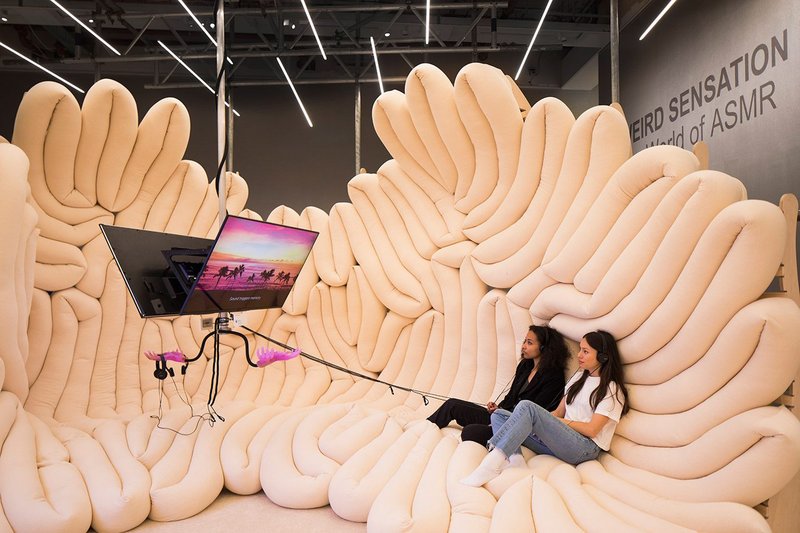 Pillowy seating at ASMR Arena, the centrepiece of Weird Sensations Feels Good: The World of ASMR, an exhibition at the Design Museum. Photo:

Credit: Ed Reeve for the Design Museum.
I'm particularly drawn to the therapeutic Lonely At The Top (featuring Claire Tolan) by Holly Herndon, a supportive monologue delivered to an imagined spa client. It's full of understanding and affirming content: ' You're a great person', 'Not everyone has your charisma', 'You work so hard' and is strangely soothing.
Among the Visual ASMR exhibits is SHU AND TREE's feel-good content of an especially cute dog having its fur cut in a Korean dog-grooming salon, which seems popular with visitors. Content of a patisserie making process – sieving, mixing, piping, decorating - is another long-watch.
The calming pleasure of observing a meticulous, highly-crafted process is a particular feature of some of the non-intentional exhibits, that weren't produced with ASMR in mind but nonetheless chime with it. This includes the London Review of Books' Lost Art of Paste-Up, which recreates the painstaking process of text paste-up in the pre-digital publishing age. It's very much about the lingering visuals and calm voiceover, not just the satisfying sound of the scalpel as it cuts through the paper.
In a similar vein is a V&A film about the repair of a beaded dress worn by Sandie Shaw for the 1967 Eurovision Song Contest, produced as a demonstration of conservation skills using ASMR techniques. Here, viewers are invited to appreciate the steady expertise of repairing a snagged loop of tiny beads, with each swish of the fabric and chink of the beads captured.
So much of the appeal is in the voice – not just those that are whispering. The BBC's Shipping Forecast, long appreciated by radio listeners for its comforting qualities, makes an appearance as well as 1988 footage of a young Björk talking about the insides of the back of a television in a lilting, engaging voice.
The aforementioned 'Oddly IKEA' content comes in the advertising category, where brands use ASMR knowingly for promotion. Its extended descriptions of furniture and furnishings are a masterclass in engaging and soothing narrative. Virgin Atlantic's much shorter ASMR offers sensory highlights of international travel including the click of the overhead locker, the opening of a champagne bottle, the gentle fizz as its content is poured, even the opening of a mini jar of jam.
Outside the arena, there a few particularly weird installations – a salivating tongue by artist Tobias Bradford and a repellent looking but squidgy artificial skin prototype for a mobile device created by Marc Teyssier as well as content by further ASMRtists. The show concludes with a studio, where visitors can create their own content with the help of binaural sound and an array of brushes to use on the microphones, as well as other experiments with sound and texture.
Quirky and fun, this makes for a lively visit. I wasn't sure how it would relate to design at first, but by the end I was persuaded. While the ASMR movement is clearly very much of its time, the exhibition content shows that it is also rooted in universal aspects of design – a celebration of aesthetics, tactility, and an appreciation of good craftsmanship.
The exhibition is part of the London Design Festival, which this year celebrates its 20th anniversary.
---
Weird Sensation Feels Good: The World of ASMR, until 10 April 2023, Design Museum, 224-238 Kensington High Street, London, W8 6AG