The ideas of renowned critic and theorist Reyner Banham belong to a different age, but he remains an iconic figure. A new biography asks how to make sense of him now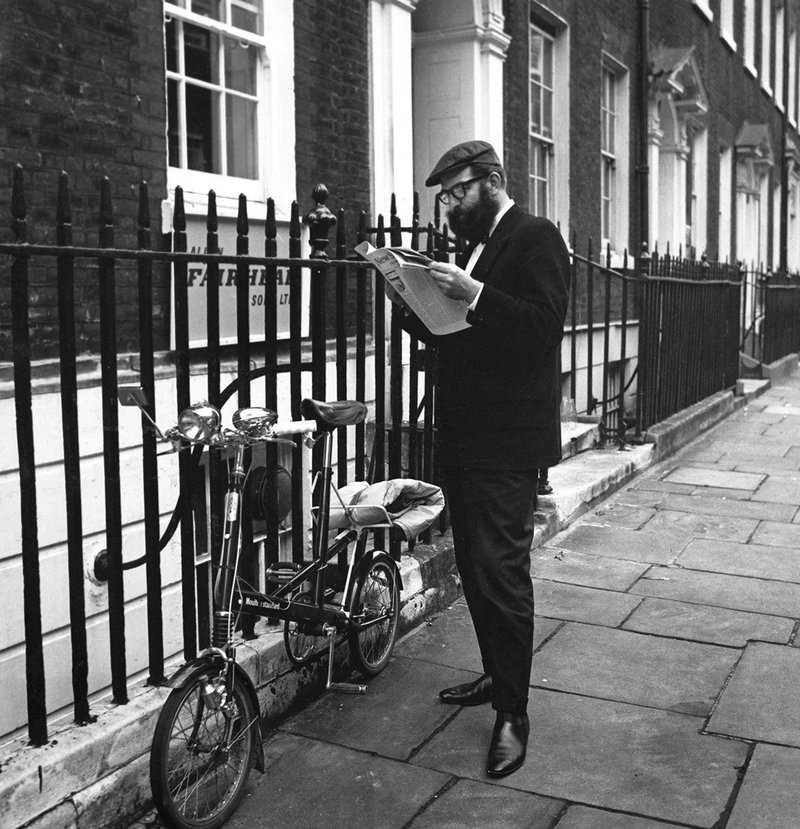 Reyner Banham with a Moulton bicycle in London, 1963.

Credit: Photo: Reginald Hugo de Burgh Galwey, Architectural Press Archive / RIBA Collections.
The British architecture and design historian Peter Reyner Banham recalled the 1970 International Design Conference in Aspen as the most bruising experience of his life. His discomfort began when on the last day of the conference French delegates – led by Jean Baudrillard – complained that in espousing naïve faith in the ability of technology to construct a better tomorrow, he, personally, had 'clearly shown the moral and technical limits and the illusions of design and environment practice'. Attending students then issued an 11-point resolution challenging design's complicity in social injustice and extractive practices that were destroying the planet in the name of profit. A bruised Banham wrote to his wife later that evening, 'I shall not soon forget the hostility vibes that were coming up from the floor'. Recounting this episode in his fascinating new study of Banham's life, Richard Williams presents it as a turning point – a kind of mid-life crisis. 'Having been accustomed for nearly 20 years to being the provocateur', Williams writes, 'here he was cast as the voice of the establishment'.
The conference and Banham's part in it clearly resonates with the crises that – incredibly – we are still living with half a century later. As William notes, Banham's oeuvre is colossal – 'anywhere between 750 and 1000 articles, depending on whose account you read, and up to 16 books', each one adding to the myth that 'there were always technological fixes… the "boffins" always had a solution, the humans would always come out on top'. There is no doubt Banham was a complicated and contradictory character. An intelligent, erudite, straightforward communicator and cultural interpreter, he was the Marlboro man of architectural criticism. However, his unshakable belief in technology and the Enlightenment ideals of progress and scientific rationality underpinned his world view and writings. The quintessential voice of 20th century ideas, he was one of the primary problems younger generations must now deal with. This is how his early works should be taught today.
The self-proclaimed aim of Williams' book is to 'make sense of Banham now' – a difficult job considering his prolificity and the fact that there is little in the archive at the Getty Center that isn't already in the public domain. (Having no sense of his own legacy, as his daughter explained, 'he burned everything'). But hang, on, didn't Nigel Whiteley do this almost 20 years ago in his bigger, deeper critical investigation, Historian of the Immediate Future? Or Todd Gannon, more recently, in his majestic Reyner Banham and the Paradoxes of High Tech? They are similar, but whereas Whiteley's is closer to an intellectual biography, and Gannon's focuses on Banham's later works and relationship with buildings approaching High Tech, Williams' is more a re-evaluation of the man and his position in architectural historiography today. It is a book-length expansion of a chapter on Banham in his and Mark Crinson's 2019 The Architecture of Art History, itself an overdue evaluation of the overlooked and awkward relationship between art and architectural history.
Banham is still a popular, even iconic figure in architecture. We all have our own image of him, each one easy to turn into a cliché, whether the futurist in Theory and Design in the First Machine Age, the New Brutalist or Megastructuralist, or – translated trans-Atlantic – the tourist in Los Angeles, the services engineer in a Well-Tempered Environment, the 'desert freak' in Scenes in America Deserta, or the connoisseur of concrete in Buffalo. What Reyner Banham Revisited does best is to explain, almost psychologically, each of these personalities in the context of his life and career, getting behind the bombastic bamboozlement, sassy straight-talking, 'fashionable sonofabitch', and erudite masculinist public performer, and leaving the reader with a rich sense of a man with ideas and what they mean today.
Perhaps the least explained of Banham's major books in this volume is Megastructure: Urban Futures of the Recent Past, a facsimile of which has just been published with a new introduction by Gannon. It's a very crisp and faithful reproduction, and the orgy of black and white photos pops brightly from the page. Like The New Brutalism, it starts with a definition: a megastructure is a massive, long-life extendable ('plug-in' or 'clip-on') structural framework that houses individual prefabricated units constituting all the functions of a city.
The book then documents a collection of candidates for canonisation. The evidence is almost entirely collected from architectural magazines and rumour and hearsay – Banham's opinions are naturalised through lots of 'it is suggested that' and 'there seems to be' – and boundaries are delineated between generations and nations. The case studies – most of which remained on the drawing board – go from precedents such as Sant'Elia's Milan Central Station project, through the Metabolists, Archigram, Moshe Safdie's Habitat at Expo '67, Paolo Soleri's Arcosanti, and the plethora of large-scale buildings constructed for the boom in higher education in the 1960s. Each one is a town considered as a building: one thing that seems to unite them all is the idea that they could almost be considered self-contained – self-sufficient spaceships that could land on any planet and spawn a new colony powered by a techno-utopian belief in human ingenuity and charisma.
The most interesting chapter is the epilogue, where Banham ponders the 'meaning of megastructure' as it was about to be delivered in the Centre Pompidou, and declares the movement over (as he did in The New Bru) – closing the debate down rather than seeing it as the opening gambit for others to respond to. 'The concept was faulted right through by an inner contradiction that could not be resolved', he concludes, in typically contrarian fashion. Williams remarks that this conclusion 'was a melancholy but apt metaphor for the state of the modern movement, as well as perhaps for Banham himself'.
So what might we learn from Banham today? Perhaps I appear too harsh in my judgments, based on the early material that I am most familiar with. Williams' book helped me to appreciate the post-midlife crisis Banham, the more reflective, grown-up thinker, coming to terms with being considered the establishment to be rebelled against, while still doing his own thing, still desperately seeking the next disappointment. Banham never lost his enthusiasm for experiencing buildings, but by the end of his life had come to terms with an expanded field of architecture; that architectural history was 'not just a "set of actual monuments",' as Williams notes, but 'also a "set of actual books" and "a set of actual historians".' Who knows what he would have made of the crises that face us today, but I like to think this softer Banham would revisit his earlier high-modernist works, conclude that it was over as a movement, and cheer on the ideas proposed by those critics from the 1970 IDCA who advocated a different kind of architecture autre.
---
Stephen Parnell is an architect and historian of post-war architecture
Reyner Banham Revisited by Richard J Williams. Reaktion Books, 2021, Hardback, 296 pages
Megastructure: Urban Futures of the Recent Past by Reyner Banham. The Monacelli Press, 2020, Hardback, 232 pages