Exhaustive sourcing and reference to originals is rerooting Villa Cavrois in its modernist beginnings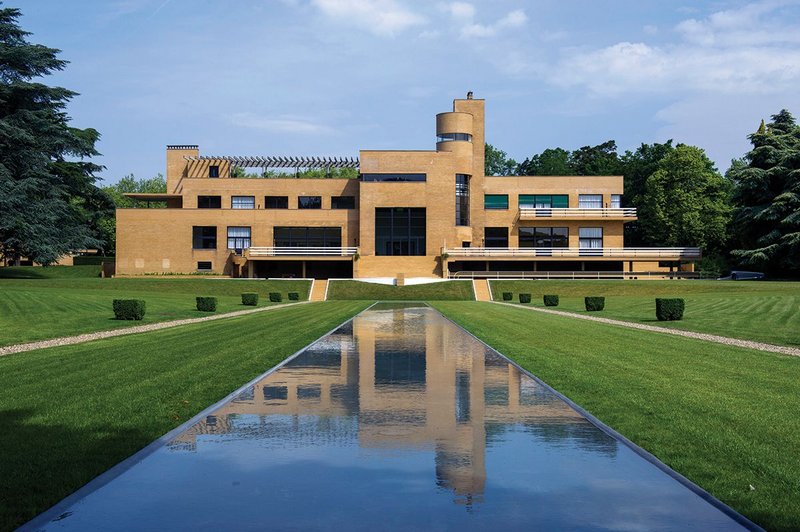 Robert Mallet-Stevens' masterpiece Villa Cavrois has been fully restored from a ruin and is now open to the public.

Credit: Didier Plowy / Centre des monuments nationaux
Contemplating modernist villas in France, you think of Paris, the Côte d'Azur, perhaps a scattering of others in locations you don't remember, but the Nord département does not spring to mind. The place is generally characterised by architecture born of its 19th century coal and textile industries – big bourgeois houses built along boulevards by factories in city centres. But this reputation is changing with the opening of the Villa Cavrois – the former home of Paul Cavrois and his family in Croix, a suburb of Roubaix near Lille – as a major historical attraction after a 15-year, €23m restoration by Centre des monuments nationaux. Apparently there's a 1960s Richard Neutra house up the road too. It's a good time to go as Villa Cavrois is re-acquiring original furniture that was sold off in the 1980s.
Designed by one of France's earliest modernists, Robert Mallet-Stevens (1886-1945), Villa Cavrois is as controversial today as it was when it was completed in 1932. Curiously, it is located in a super-rich ghetto, home to the great fortunes of France, where grand estates and gated communities hide behind avenues of trees along a tiny cluster of streets. This municipality pays the second highest levels of tax on wealth in the country. When Villa Cavrois was built, the 3,800m2 modernist castle was derided as an out of place 'yellow peril' for its straight lines and ocean-liner aesthetic in an area used to faux regionalist stately home styles; today it is unwelcome for having been saved from ruin after decades of neglect and squatting, restored and opened as an internationally significant museum in an area that would rather remain private and undisturbed.
Yet arguably Villa Cavrois is Mallet-Stevens' most complete individual work. At Villa Noialles (1928) in the south of France, he was restricted by a more controlling client and difficult terrain, while at the Rue Mallet-Stevens (1927) in Paris, where he built five houses, he had the complications of designing, more or less, a whole street.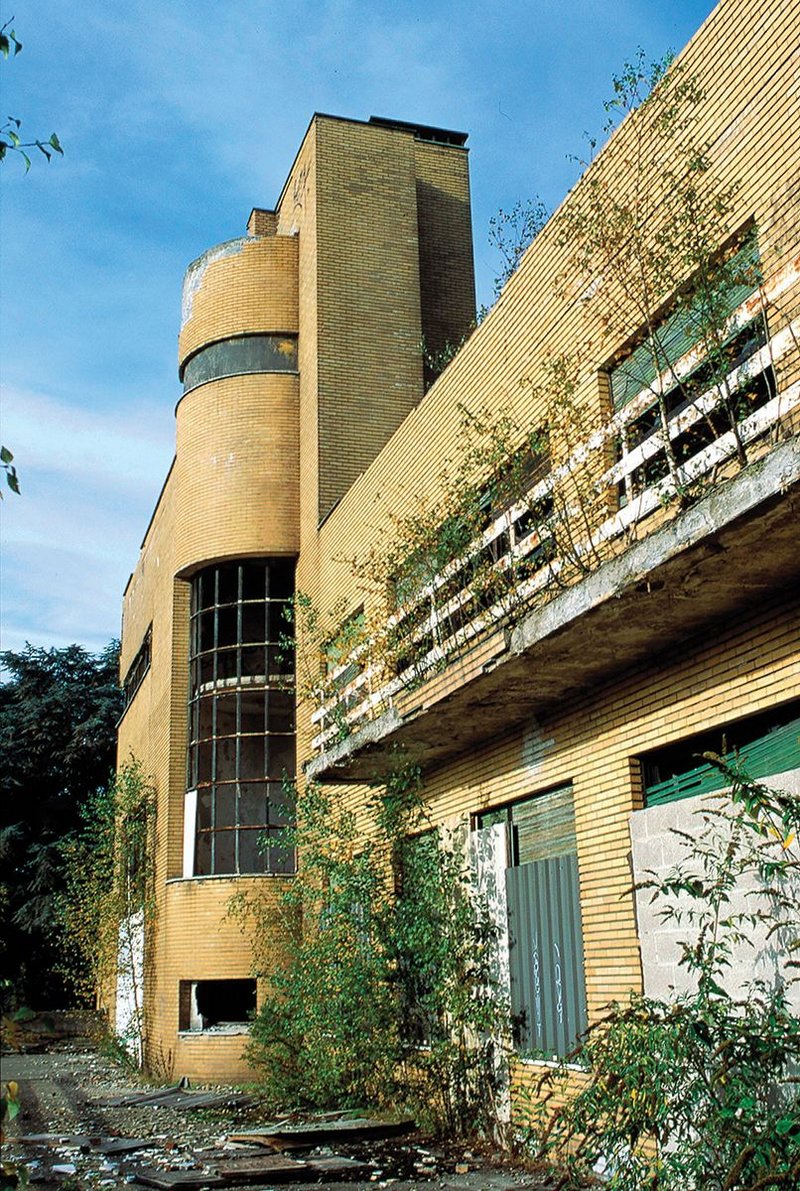 The villa was neglected from 1988 until 2001 by its then owner, who wanted to demolish it.

Credit: DRAC Nord-Pas-de-Calais
Villa Cavrois was designed in 1929 as a modern day chateau for wealthy industrialist Paul Cavrois, who was looking to move away from the inferno of Roubaix with its 1,000 chimneys into the countryside. He bought a 5ha plot of land and commissioned a neo-Normandy style house by architect Jacques Greder before Mallet-Stevens persuaded him of the benefits of a modernist style.
Inspired by Brussels' Stoclet Palace by Josef Hoffmann and Willem Marinus Dudok's Dutch Hilversum Town Hall, Villa Cavrois is designed on the principles of air, light, work, sports, hygiene, comfort, and efficiency. Mallet-Stevens drew up a programme for a house, gardens, furniture, and decoration that included clocks, telephones and wirelesses all built into the walls. A kind of transitional work between the 19th century country house and the modernism of the period, Villa Cavrois' proportions are imposing – 60m long with 1,800m² of living space and 830m² of terraces laid out very formally and almost symmetrically around an off-centre tower, and based on the dimensions of the externally-used yellow brick.
The villa brought together all of the most advanced technologies of the time, and came as something of an aesthetic shock
An entirely reinforced concrete structure, it has large windows, indirect lighting, car garages, central heating and a lift from the basement. The grounds are also set in a closely controlled layout displaying meticulous attention to proportions, including a water mirror and turning circle for vehicles at the entrance.
Inside, Mallet-Stevens paid great attention to the interior decoration and materials. Metal is found everywhere; in light fittings, radiator screens and shelving. Wood and marble from all over the world are incorporated into different decorative schemes in each room, with green Swedish marble and furniture made from varnished pearwood veneer in the parents' dining room, and Sienna marble and walnut veneer furniture in the main drawing room. There are bathrooms and sanitary ware everywhere too. All the bedrooms have a basin and many have a bidet, while the main family bathroom is a spectacular triple aspect room in white marble, chrome and black.
Like the exterior, though, the villa is laid out in both a traditional and progressive way. The hallway gives onto a vast drawing room, whose large window opens to the garden and water mirror so when visitors enter the villa, they pass through a series of sequences designed to result in their enchantment. On either side of this axis, apartments for the parents, children, and servants are laid out based on function – sports and relaxation areas throughout the villa include a swimming pool. An immense basement houses the wine cellar, laundry, drying room and a boiler room that would not be out of place in a ship.
The family lived in the house until the Second World War when it was occupied by Germans and used as barracks. They returned from Normandy in 1947 and began a major remodelling by Pierre Barbe to split the property into three flats – one for Paul and his wife, and one each for his two grown up sons and their families. Paul died in 1965, but his wife remained there until her death in 1985.
At this point begins the story of neglect and decline. The contents, including all the original furniture, were auctioned off in 1987 and the house sold to a developer in 1988 that planned to demolish it and split the valuable 5ha property into separate plots. A pressure group was set up to oppose this plan and, against the wishes of the owner, the villa was rapidly listed as a historic monument in 1990. Yet the house was still not secure. Despite various legal actions, the developer allowed it to fall into neglect for over a decade.
After lying vandalised and in a state of virtual ruin, the villa was finally bought by the state in 2001 for the nominal sum of €1 along with part of the grounds – the developer retaining much of the grounds to build houses on. Since then, a major restoration programme has restored the house to its original 1932 form, not only making it secure, but reversing the 1940s remodelling.
The restoration is a remarkable feat. With 85% of the decoration lost, extensive research was needed to check and discover the techniques used – complicated by the fact that Mallet-Stevens had ordered the destruction of his entire archive upon his death in 1945. The research drew on photographs, plans and surveys, plus remains found on site.
The restoration work aimed to retain as much original material as possible, only replacing elements which had disappeared or were too badly damaged. Despite rust, two thirds of the metallic door and window frames were restored, as were about 70% of the bricks. Only the glazing was completely replaced. Nearly 90% of the original mosaic parquet was reused. Research into the polychrome interior surface claddings made it possible to identify the bright colours originally used in some rooms in accordance with De Stijl precepts, as well as green hues permeating the ground-floor reception rooms, to echo the colours of the grounds. Integrated furniture was reproduced using photo­grammetric methods and by comparisons with furniture held in private collections and various public depositories; then full-scale prototypes were made to check certain hypotheses. The only original pieces of integrated furniture that could be reinstalled were in the pantry – they were donated by a private owner on hearing that the property was being restored.
And while you are there, visit the other local-built marvel with its incredible sunburst window, now La Piscine Museum, too.
---
Villa Cavrois, 60 Avenue du Président John Fitzgerald Kennedy, 59170 Croix, France.
Open every day except Tuesday, €8