Dissertation Commendation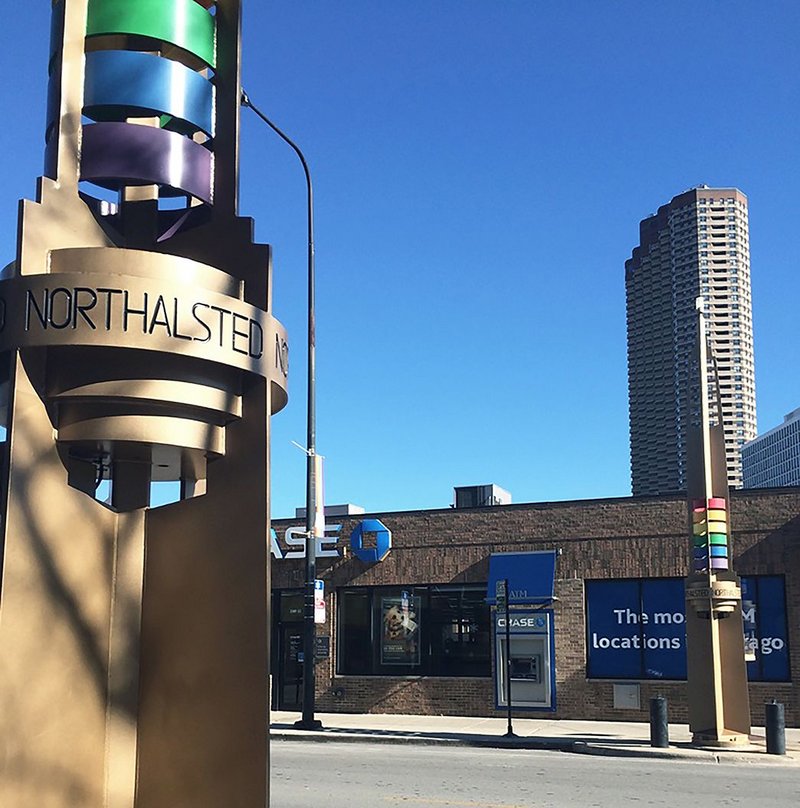 One of 11 sets of golden pylons, installed in 1997 as markers along the Northalsted Corridor
A Flâneur's Guide to Boystown: Performativity, Pride and Place
Bartlett School of Architecture, UCL
Tutor: Brent Carnell
Located in Chicago, Boystown is the most visible LGBTQ neighbourhood in the city and the oldest neighbourhood of its type to be municipally recognised in the United States.
Robin Farmer's dissertation A Flâneur's Guide to Boystown: Performativity, Pride and Place considers the role that architecture and place-making plays in the performativity of gay identity from the 1970s onwards. Along the way it explores themes of closetedness, celebration, protest, loss and memorialisation.
The dissertation follows Farmer's previous studies on health and ageing in the LGBTQ community, and builds on his interest in how people shape and appropriate their environments. Presented in the form of a journey along the main Boystown street of Halsted, the dissertation begins with the significance of the pairs of golden pylons erected in 1997 to mark and celebrate the territory. It goes on to explore the change from insular gay establishments to more visible ones and traces the impact of the AIDS crisis and the aesthetic of loss.
'In the conversations I had with local people, I was moved by the ways in which they discussed the act of restoration and makeshift memorialisation as an act of care, especially in relation to the AIDS crisis,' he says.
Farmer considers whether Boystown is in danger of focusing its identity too much on the period of intense debate and repression of the 1970s, and thereby risking mummification.
Also problematic is the recent Legacy Walk project, which appropriated the pylons as an open-air museum with plaques telling a generalised gay history rather than one specific to Boystown.
'I hope that places like Boystown will continue to celebrate their plural identities, and that they can provide a "safe-space" - for as long as they are needed,' says Farmer.
---