Come on classicists – venture outside your Palladian comfort zone and take a few more risks with materials and manners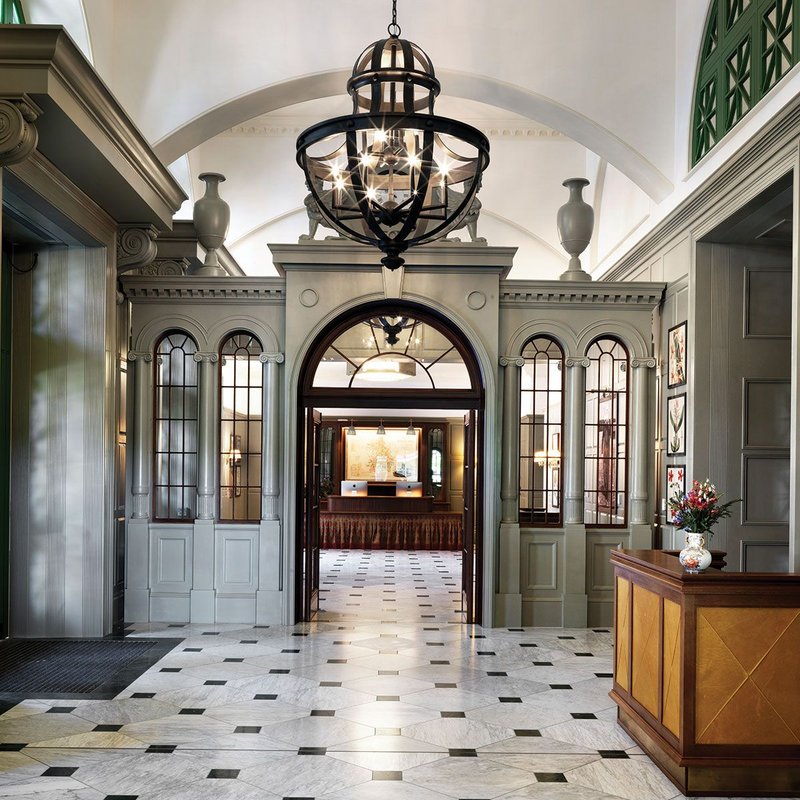 A classical 'rood' screen in the entrance lobby of The University Arms, Cambridge, designed by John Simpson Architects.
Classical revival is in the air; the Traditional Architecture Group (TAG) is an increasingly voluble presence in the RIBA and Hugh Pearman has called in these pages for the British Pavilion at the next Venice Architecture Biennale to be given over to them. Young practice Smith and Taylor teach an unashamedly classical design studio at Kingston School of Architecture and motifs such as colonnades and arches have become almost ubiquitous in current student work.
Nevertheless, old battles rage on. When I told an architect friend who lives in Cambridge that I was coming to visit The University Arms, the city's recently reopened hotel designed by John Simpson Architects, she snorted with derision. If a nuclear bomb landed on Cambridge, she said, the only thing left standing would be the porte-cochère that adorns the front of the new building.
The University Arms, dating from the early 19th century, was the first hotel in Cambridge. It faced onto Regent Street, sandwiched between Park Street and Parker's Piece, a large area of open common. It was enlarged by the architect G J Skipper, first in 1903 and again in the late 1920s. His work, distinguished by large bay windows and copper domed towers, was described, somewhat sniffily, by Pevsner as 'more like Bournemouth than Cambridge'.
The Georgian frontage was first replaced in 1965 by respected modernist practice Feilden + Mawson and John Simpson updates this in a style that mixes neoclassical monumentality with polite neo-Georgian. The differences between the two reflect changing architectural attitudes over the intervening 50 years. If, in the early 1960s, classical architecture was a marginal activity, today it feels like the architecture of a new establishment, increasingly deployed by upmarket institutions and high-end developers.
Feilden + Mawson's soft-brutalist contribution was an expressed concrete frame in-filled with brown brick. A saw-tooth profile allowed rooms on the Regent Street elevation a side-glance towards Parker's Piece. The most obvious feature, though, was the ground level car park, separated from pedestrians by a raised podium entrance. The rest of the hotel frontage hovered over this space, with inevitable noise problems. It epitomised a mid-century modernist acceptance of the car as a generator of urban form and subordination of the pedestrian experience to it.
Simpson's replacement sets out to restore the street frontage while acknowledging that most guests still arrive by car. The monumental porte-cochère provides a theatrical point for a taxi drop-off, and the hotel brochure depicts this space occupied by a Bentley Continental with uniformed staff standing by. The intersection of classical architecture with a certain kind of luxury branding is thus made explicit.
This gesture means the hotel front proper is pulled back from the building line, creating a visual connection and pedestrian route to Parker's Piece. The slightly ambiguous result – part parking space, part colonnade – works quite well as a generous widening of the street experience though, inevitably, the hotel realm takes precedence.
Behind this triumphal entrance is a new hotel building that sits stylistically somewhere between Skipper's 'Seaside Victorian' and the 1930s neo-Georgian of Park Street opposite. Simpson's classically proportioned facades faced in pale brick create a reasonably polite piece of urban infill, albeit an unashamedly large one. New work includes the addition of an extra storey to parts of the hotel, increasing its bulk along the narrowest section of Park Street. Simpson's architecture has undoubtedly been employed to smooth this process, creating a hotel with 192 rooms without scaring the conservationist horses.
The interior spaces are mostly the work of Swedish designer Martin Brudnizki, executed in a theatrical combination of neo-deco meets senior common room. Only the front reception space is Simpson's and this is neo­classical via Soane. The entrance volume is divided in two, with reception and restaurant lobbies separated by a big, classically detailed timber screen. Large semi-circular clerestory windows with pea-green frames light the space from above. The decision to split it is questionable but the screen works well in navigating this compromise and the space as a whole has both heft and punch.
The central question posed by Simpson's new building, though, is this: to what extent should we welcome the return of classical architecture as a mainstream style? I believe it depends on the kind of classicism on offer. Raymond Erith, one of the very few traditional architects working during the 20th century, coined the term progressive classicism to describe the work of his hero Sir John Soane. For Erith, Soane's inventiveness pointed the way to a form of classical archi­tecture that could evolve to answer contemporary building needs. His own designs combined elegant simplicity with mannerist touches. They tended to be hybrid rather than pure and had a lightness of touch that kept them clear of staidness or pomposity.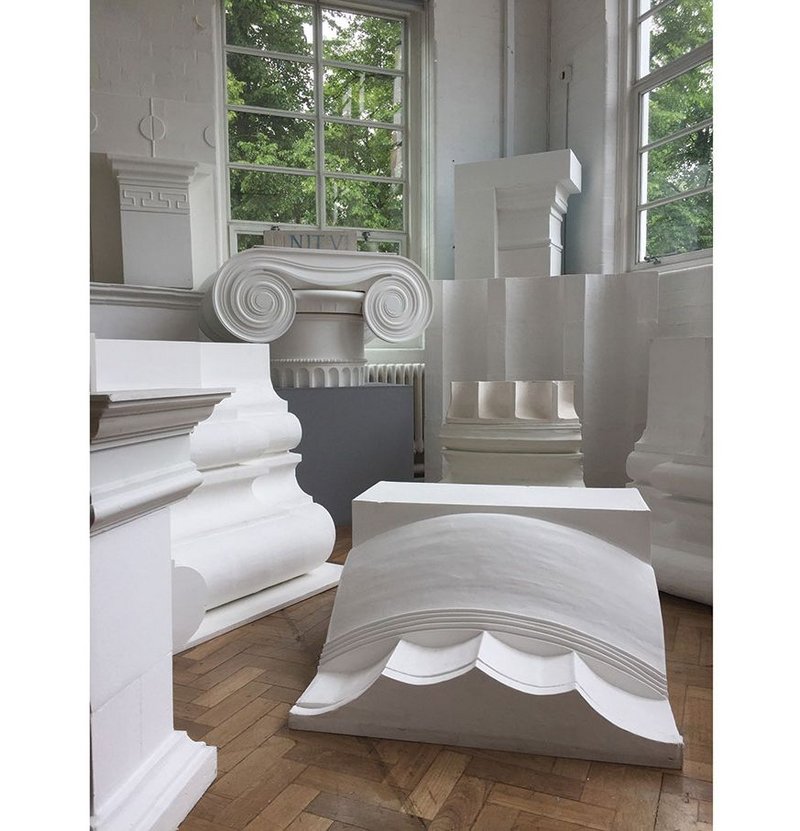 Fragments of classical architecture as made by Timothy Smith & Jonathan Taylor's design studio at Kingston University.
By contrast today's classical revival buildings often feel weighed down by a desire for correctness and propriety above all else. If classicism can be seen as a form of period drama or re-enactment – and let's be honest, much modern architecture is too – then why is it always the same period? A worthy 18th century English Palladianism dominates. Virtually no one mines the fruitier end of Victorian architecture, or the kind of baroque mannerism practised by Hawksmoor or Vanbrugh. Today's classicism doesn't take enough risks, with materials or manners.
Ultimately, the classicism of The University Arms is too conformist for my taste, too willing to play a game of appearing civilised while maxing out its net to gross ratio. If we are to have a classical revival, it needs to be more inventive, less respectful and more inclined to take risks. I have little time for the kind of technological determinism that would hold, say, parametricism a more appropriate style of architecture for today than classicism. Architectural development is not a straightforwardly linear process, whatever the modernists decreed, and history is as valid a source of inspiration as any other. But to move on, to generate new things rather than make replicas of old ones, classicism needs to break with its establishment values and address other programmes, other tastes and other challenges. Smith and Taylor's studio experiments, Adam Nathaniel Furman's delirious classical mash-ups or even the inventive but highly satirical work of artist Pablo Bronstein point the way.