Medieval sewers, al-fresco debates and a Neopolitan marchioness – Adam Nathaniel Furman's scholarship in Rome has got off to an exciting start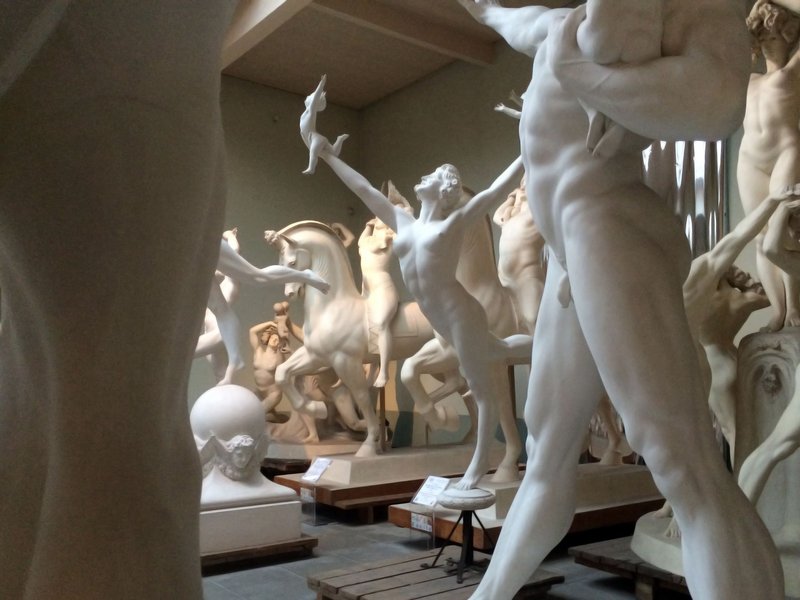 'Brilliantly terrible Norwegian sculpture' at the Hendrik Christian Andersen Museum
After walking through a kilometre-long Roman tunnel made from an endless march of massive masonry arches, and slowly winding our way up a steep hillside out of which sprouted the thin wiggly stalks of impossibly tall pine trees, protecting us from the unseasonably blue sky and strong sun, I found myself having a suitably gargantuan lunch next to A Neapolitan Marchioness.
As we ate, she regaled me with stories of how difficult it had been to live in the nearby city during the war, locals having had to eat squirrels to supplement their diet and other such assorted deprivations. The gardens of her bougainvillea-draped, terrace-wrapped 1950s villa, in which we were eating, contained the ruins of an Augustan villa, two Roman amphitheatres in a promontory over the sea, and an armchair-filled pergola for drinking G&T in the afternoons – as the Marquess put it – nestled at the top of a 250m-high cliff overlooking a private bay of cascading vegetation, and massive sandstone striations that plunged out and into the sea from under the land.
Another moment: a historian and I were standing in bemusement outside a block of flats on a large, innocuous Roman ring road, having been surrounded by a group of locals animatedly speaking over each other, initially directing questions at us as we tried to film the building's facade. This then turned into a debate of sorts about what was apparently their building, and about which they clearly each had very distinct opinions.
It was the culmination of a three-week hunt that began with an intriguing photograph; a bizarre apartment complex facing a square of which we could find no trace, designed as a huge version of the broken Baroque facade of San Carlo al Corso. There was no trace anywhere, until after we had almost given up, my co-investigator texted in a fluster that he'd been going through some photos, and spotted an oddly thin elevation squeezed between two behemoth blocks, with some strange Neo-Baroque ornament, on a major road, hidden behind some trees. The 'square' from our photograph had been filled in, but our building was there, rammed up against its neighbours but perfectly intact, and its occupants were busily attempting to fill us in regarding the trials and tribulations of its 87 years.
Living in Rome has been an unexpected mix of high society, ancient culture, hard-core academia, contemporary Italian madness, and random tangential research and discovery
These are just two of the kind of cinematic situations I have regularly found myself in since coming to Rome as recipient of this year's UK Rome Prize for Architecture at the British School in Rome. Living in the school has turned out to be a completely unexpected mix of high society, ancient culture, hard-core academia, contemporary Italian madness, and random tangential research and discovery.
I have been trapped for hours by an overexcited guide for whom I was probably the only willing visitor of the day, in the monstrously vast personal museum of an brilliantly terrible Norwegian sculptor whose giant statues looked like Tom of Finland before Tom of Finland. I've been walked through medieval sewers between the Imperial Forum excavation sites. I've descended into the burial chapel for the leader of Mussolini's youth-venerating Arditi, in the vault of a Roman exedra under a medieval tower built by the Knights of Malta. I've been stuck in the carnival-like national-strike protest of the country's two biggest unions, and spent a whole night from six to six in a vast communally-run complex filled variously with dance floors, bars, spaces for art, cinema rooms and chill-out spaces, all housed in a set of enormous, crumbling vaulted interiors in the middle of the Jewish Ghetto.
It is in the very nature of metropolitan life that one has unexpected encounters and strange experiences. But for someone like myself, who is enraptured with situations in which the most ancient of traditions smash straight into the most flamboyant of contemporary innovations, Rome is a permanent delight of chronological dissolution – from the selfie-taking Pope photo-bombed by Michelangelo's dome, to the huge annual outdoor Gay Village nightclub in the middle of Mussolini's austere Fascist utopia at EUR.
Aside from giving me a studio and the first opportunity in years to focus entirely on non-commercial work, the British School at Rome, full of events and residents with their own obscure fascinations relating to the city, acts as an amplifier for instances of Roman singularity, keeping myself and the others here as permanently dazzled as children for whom Christmas and its gifts keep returning again and again, day after day, week after week.
Adam Nathaniel Furman's Rome Prize project, The Roman Singularity, can be followed on his blog.
---