Central St Martin's plays host to a 'gathering machine' – a modern 'Black Maria'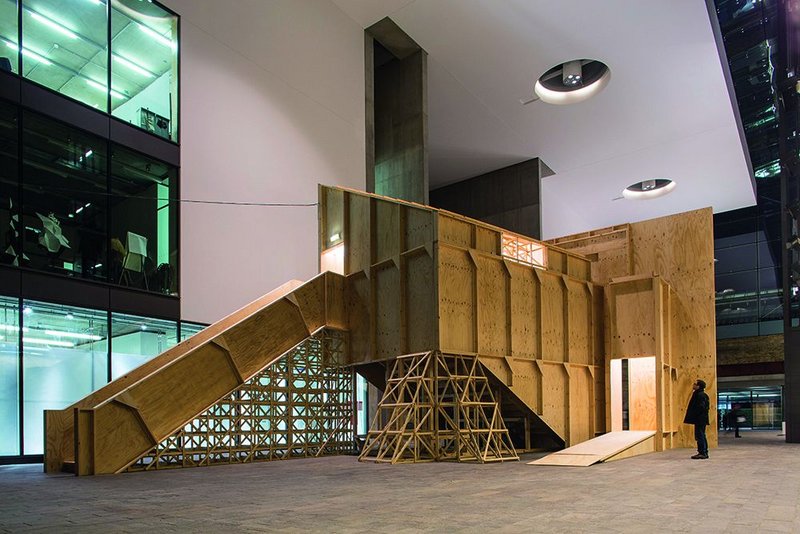 'Black maria' might seem an odd name for a temporary timber structure that does not look like a police van and is not black. But it's named after the other Black Maria – the 1893 adaptable wooden shed in New Jersey which Thomas Edison used as his Kinetoscope film studio for a decade.
Designed by artist Richard Wentworth with emerging Zurich practice GRUPPE, it was recently assembled in the west transept of the huge atrium of Stanton Williams' Central St Martin's art and design school in London's King's Cross for a month. It had a use besides being an enigmatic object of the kind Wentworth (a resident of the area) celebrates in his 'Making Do and Getting By' photographic series. By day it was a kind of public retreat from the agora of the atrium; in the evenings it became a mini-auditorium for discussions and screenings.
'It's about economy of means, economy of time, the frankness of material and the dumbness of stuff,' said Wentworth, who praised the collaborative way his architect friends work. 'It's a gathering machine. People could meet here, perhaps fall in love here. What I really wanted was that the act of building would be its own provocation – part of the energy pouring into King's Cross.'
An augury, perhaps, for September, when the same cavernous space will play host to the 2013 Stirling Prize evening. The Central St Martin's building was designed, of course, by last year's winner.