BCKJ Architects' Dong Mei talks about the practice's approach to cultural heritage, history, nature and social engagement, and winning the Dorfman Prize
This year's Royal Academy Dorfman Award for Architecture has been won by BCKJ Architects, a practice in Beijing, China, set up by Dong Mei and Liu Xiaochuan. The £10,000 prize is given for exceptional emerging international talent. BCKJ was praised for its approach to cultural heritage, history, nature and social engagement.
Below, we ask Dong Mei about what drives BCKJ's work.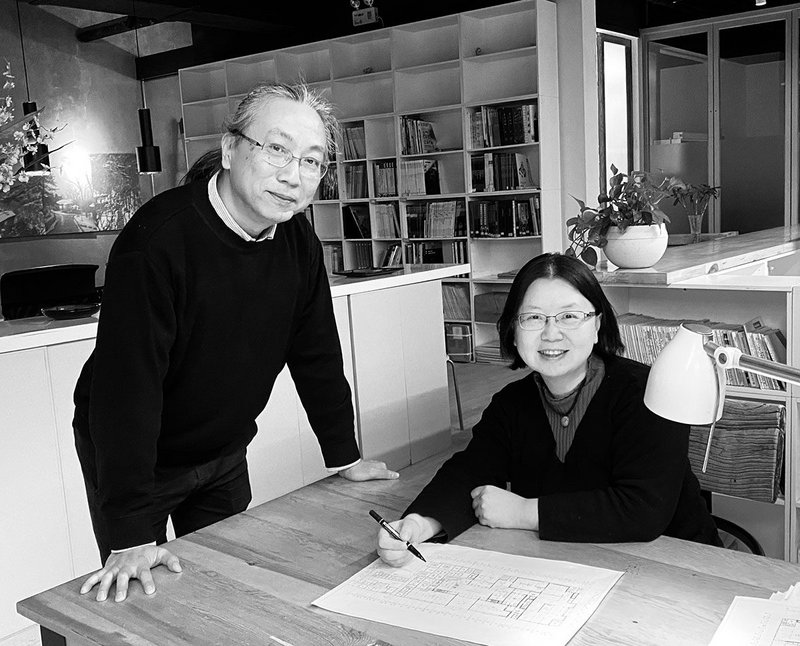 Dong Mei & Liu Xiaochuan, founders of BCKJ Architects, winners of the 2020 Royal Academy Dorfman Award for Architecture. © Courtesy of BCKJ Architects
Pamela Buxton: Can you paint a picture for us of your practice and the work you do?
Dong Mei: We have been working as a team of architects with less than 10 people for 16 years. The projects we have done are distributed in different regions of China, and have involved urban planning, architecture, interior architecture, landscape architecture, sustainable technology integration, and cultural planning. The types of projects include residences, offices, villas, schools, hotels, museums, stadiums, commercial complexes, parks, campsites, churches and other building types. Some are still waiting to be built, and some will not have the chance to be built at all.
PB: BCKJ is not part of the mainstream of architecture in China. How would you sum up your overall practice ethos?
DM The difference between our work and mainstream large-scale real estate projects is that we have broken away from the assembly line and carried out more in-depth practice in the way of research. We deal with each project separately, looking at the style and characteristics of the project itself to solve each problem. By prioritising problem solving, our work pays more attention to inner emotions than current fashion.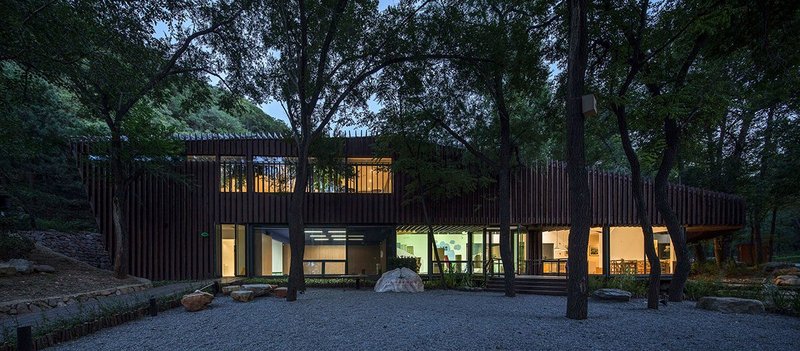 Badaling Forest Experience Center, Beijing. Great care was taken to design around the trees on the site rather than remove them. Photo: Zhangyong. © Courtesy of BCKJ Architects
PB: Whose work do you draw inspiration from (either past or present)?
DM: I read about the works and thoughts of Luis Barragan more than 20 years ago. He said that his work had nothing to do with fashion, but only focused on tranquility, beauty and emotion. I was deeply moved, even though I haven't been able to experience his work on the spot. Other architects who have profoundly influenced me are Sverre Fehn, Renzo Piano, Peter Zumthor, and Geoffrey Bawa.
PB: You spend a lot of time travelling around China. How has this informed your work?
DM: Travelling has given me a broader understanding and compassion. China is rich in diversity. On the road I was touched by nature that has not been disturbed by humans, and by the people who live there and their various traditions. They are simple, warm and friendly. It is very different from the city where I live and work. This is the starting point for us to value nature and culture in design. In order to protect the existence of this diversity, we have established a different design approach when working in these areas.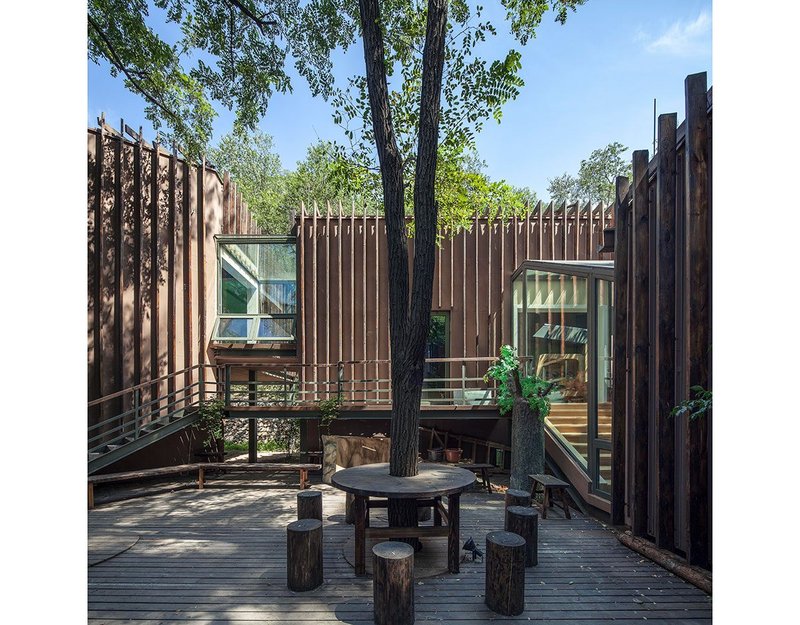 Badaling Forest Experience Center, Beijing. Colours were chosen that were similar to the trees and soil to help the building blend into its setting. Photo: Zhangyong. © Courtesy of BCKJ Architects
PB: Projects such as Badaling Forest Experience Center show a great respect for the natural environment. Can you elaborate on your practice's approach to this?
DM: In Eastern philosophy, man is a part of nature, and cannot compete with it. The main design methods we used for this project were:
1. 'Hidden' – a scattered layout in the gap between the woods and valleys. This reduces and disperses the building volume, controlling the height of the building and extending into the woods. We avoided reflective glare in order to prevent bird strikes and chose colours similar to the soil and tree trunks. In this way, it can be integrated into the environment in different seasons.
2. 'Light' – the construction uses light, recyclable steel and wood materials to avoid mountain damage caused by construction and motor vehicles for transportation.
3. 'Overhead' – the bottom of the building is elevated to allow for flood discharge channels, and also leaves space for vegetation growth and small animal activities.
4. 'Water storage' – collecting rainwater from the valley, together with purified domestic water, as water stored in the landscape and irrigating the plantation.
5. 'Green' – the building's good thermal insulation and air tightness reduce building energy consumption. Other sustainable technologies include biomass energy, solar energy, natural ventilation, and sewage treatment in constructed wetlands.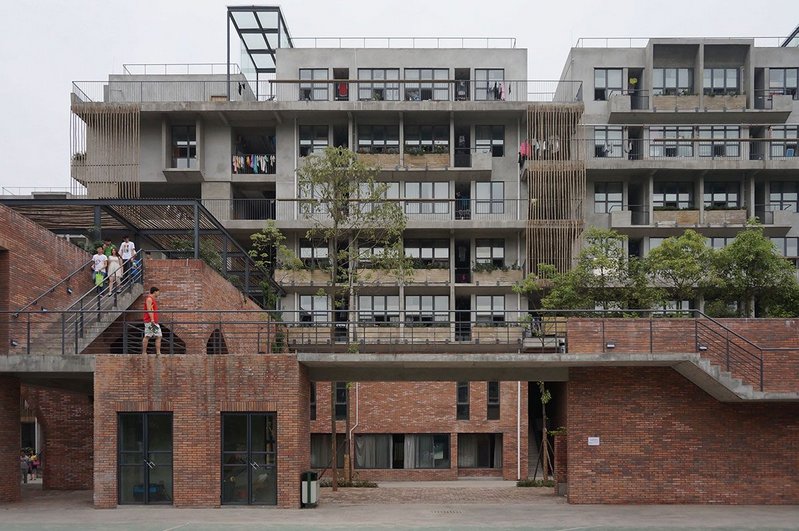 Polus International College Students Apartment, Chengdu, 2014. Photo by Dong Mei. © Courtesy of BCKJ Architects
PB: How unusual is it in China for architects to work in this way? Is awareness growing in China for the need to design more sustainably?
DM: Industrialisation brought changes in the production methods of construction materials. Convenient transportation and information also made production of commodity materials cheaper. As a result, Chinese architects paid more attention to using these industrialised products in the rapid urbanisation of construction. Due to economy and speed, fewer practices adapted to local conditions when they designed.
In recent years, there have been great improvements in building standards, and sustainable technologies in various industries have also been developed quickly. Sustainability is no longer an unfamiliar concept. But the circular thinking that really suits local conditions needs to be improved.
PB: In your work, you've talked about retaining natural beauty in tandem with modernisation. How hard is it to design sustainably when there is such pressure for growth and urbanisation?
DM: In China's rapid urbanisation process, more and more sustainable technologies have been applied through vigorous promotion by the government in recent years. But I understand that sustainability is not just the application of technology and methods. It is more necessary to establish an overall cycle including both economic and cultural continuity. There is still a long way to go to establish circular thinking at different levels.
PB: You've described the importance of designing spaces for the spirit. Can you elaborate on this?
DM: In my opinion, the rationality and sustainable performance of architecture is the need to physically protect people's bodies. But in the course of rapid development, the human spirit also needs comfort and sustenance. Spiritual space may bring comfort and strength to people who are struggling inside.
PB: What gives you most satisfaction in your work as an architect?
DM: It is a sense of accomplishment to see that my own ideas can promote real changes through design and construction. The work of architects is extremely difficult. I think it is the feedback of this sense of accomplishment that drives the love and hard work of architects. The same applies to me too.
PB: What do you find most challenging?
DM: Every project that architects have not done before is a challenge. But the most challenging thing is that the times we live in are changing too fast, and we need to keep learning.
PB: Tell us about a couple of projects that you are working on at the moment, and your aspirations for these.
DM: In the past few years, several projects have stopped at different stages of design and are waiting for restart and improvement. I look forward to the construction of Wuhan Shuiguang Church, which will bring spiritual comfort to people there after the coronavirus. The construction of Gongliu Butterfly Museum in Ili, Xinjiang, will bring opportunities for local tourism development. We are currently working on a renovation project of Feiqi Airport in Hefei, where the 2022 China Horticultural Expo will be held. It is expected that through the renewal of this expo, public space will be activated and bring vitality to the city.
PB: What ambitions do you have for your practice in the future – would you like to work internationally?
DM: Yes, the RA Dorfman Prize opens up a window to the world for us and has given us the opportunity to learn from architects from different cultural backgrounds. I also hope that I can go abroad and get involved in projects from different cultural backgrounds.
PB: What would be your dream project?
DM: I have dreamed of designing a Vipassana meditation centre that shelters the soul in a beautiful natural environment.