With its timely focus on climate and geography, David Adjaye's delayed show for the Royal Academy Summer Exhibition 2021 was worth the wait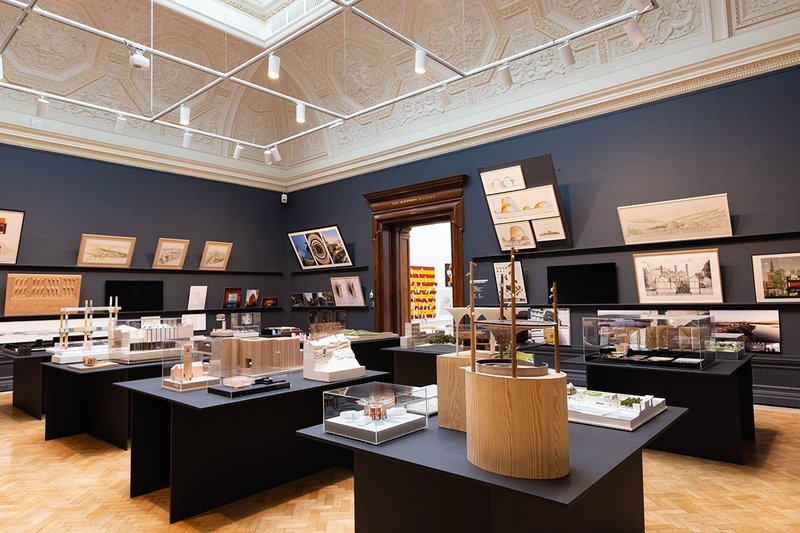 Installation view of the architecture room at the Summer Exhibition 2021, Royal Academy of Arts, London, 22 September 2021 – 2 January 2022. The room was curated by David Adjaye. Photo: © Royal Academy of Arts, London / David Parry
David Adjaye's first attempt at curating the architecture room at the Royal Academy Summer Exhibition last year was derailed by Covid-disrupted timings. This year, however, he has seen it through, creating a calm and harmoniously arranged display of more than 100 exhibits.
The architecture show is back in its traditional backwater slot of the Weston Room after a brief appearance in the enfilade of the main exhibition route – a pity, since there is much here that would engage the general visitor as well as the architect, in particular the models.
It's an enjoyable but not particularly showy display – one of the first things that strikes the visitor on entering is the soothing atmosphere, achieved with the help of a lilting soundscape by Peter Adjaye, sound artist and brother of David.
There are, however, some subtle disruptions to this sense of wellbeing – most notably the prominence of an Architects Declare placard by dRMM, reminding of the climate and biodiversity emergency, while an article by David Chipperfield, first published in Domus, discusses how the pandemic has laid bare the failures of architecture and the planning system.
'Our situation is precarious. The fibres that seemed to hold the fabric of society together are not as strong as we imagined,' he said, exhorting a rethink in how we live our lives and treat the environment, and how architects focus their professional efforts.
Adjaye aimed to consider architecture through the expression of 'Climate and Geography (or vice versa)', focusing on context in the broadest sense, from the site to community and culture. Certainly a number of the exhibits suggest a sensitive engagement with the environmental and cultural context, whether a plan for urban developments in the wetlands of Kampala, Uganda, by Doreen Adengo, or Groupwork's intriguing proposal for a cliffside sustainable development at La Herradura, Spain.
Many more demonstrate a close engagement with material. Simplest of all the exhibits was a single clay and typha fibrous block used for roof insulation, submitted by Worofila. At the other end of the sophistication scale was Foster & Partners' mixed media, card and 3D-printed study model for a bamboo ceiling for an airport in Cambodia, which included a variety of different options for woven ceiling infills. Niall McLaughlin's drawing of a chimney stack for Magdalene College Library in Cambridge is fascinating for its demonstration of the 30-plus different sizes, shapes and types of brick that are used. In dRMM's nicely titled Treeptych: Working with woodland, trees and timber, the urban forest, the practice depicts three scenes from the process of growing, harvesting, manufacturing and using wood for construction. These are set in a bespoke timber frame by furniture design Sebastian Cox, with each panel utilising a different underused native UK timber species.
Some of the exhibits show a pleasing lightness of touch – Francis Kéré's joyful diagram, annotated as a 'positive confrontation' between climate and geography, depicts building design that harmoniously harnesses sun and rain. Others are poignant, including Farid Karim's Furnished Memories – Remembering Our Home in Aleppo, Syria, based on a conversation with his grandma.
As ever, there are many virtuoso images to enjoy, including a pencil and ink overhead courtyard perspective by Rory Chisholm, winner of RIBA Journal's Eyeline competition. John Cook's A Section Through the Indian Subcontinent is extraordinary in its ambition for capturing gradient, moisture, precipitation and temperature across such a large area. Simpler exhibits also stand out, including Norman Foster's colour pencil concept sketches for Vineyard Farms Winery in Kent.
Also, as usual, so many of the exhibits, shorn of explanatory text, are enigmatic but can still be enjoyed as evocative objects – such as Feilden Clegg Bradley Studios' clay study model of the Aga Khan Academy, which completes next year in Dhaka, and, in particular, Dominic Walker's Chapel of the Wind, created in walnut, cotton and pigmented plaster. Morris + Co's Segal House, a concept to extend the self-built home of Walter Segal, and Niall McLaughlin's Rooftop study also catch the eye, along with Rogers Stirk Harbour & Partners' radial electric vehicle charging station, created in Perspex.
The late Academician Trevor Dannatt has been well remembered here with the inclusion of a number of exhibits. Indeed RA architects seemed even more prominent than usual, although Adjaye allowed himself just one exhibit, a digital print of The Africa Institute in Sharjah, UAE.
---
RA Summer Exhibition 2021, 22 September 2021 – 2 January 2022, Royal Academy of Arts, Piccadilly, London