We know Rubens' legacy is immense, but there's nothing new in the Royal Academy's disappointingly obvious exhibition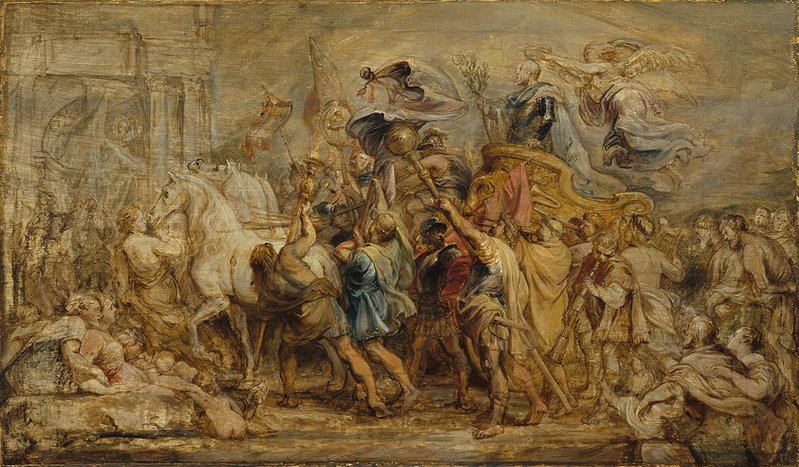 Peter Paul Rubens, The Triumph of Henri IV, 1630.

Credit: The Metropolitan Museum of Art
'Artist influences other artists' shock.
It's remarkably trite in this regard, the RA's latest blockbuster. Lots of artists admired, copied and interpreted Pieter Paul Rubens' way with oils. So this show brings a lot of them together, which is interesting but which also rather highlights how relatively few works there are here by the man himself. Visitors may be a little puzzled, for instance, to find that the first big painting you encounter is a large Constable, a full-size sketch in oils of that chocolate-box favourite The Hay Wain. As for Antony van Dyck, who also features prominently here – well, he was a pupil of Rubens and presumably contributed to his production line. In his case the legacy is not so much a matter of influence as of direct indoctrination.
At times the links with modern artists get very strained. Bacon, certainly, but fried eggs, as purveyed by Sarah Lucas in one of her characteristic food-based female tableaux (eggs for breasts, and a doner kebab serving to portray the pudenda)? Rubens may have liked his pounds of flesh but apart from depicting the human form there's no connection between him and Lucas. Lucien Freud and Jenny Saville (who curated the modern-artists room) are far closer to the mark when it comes to direct, painterly responses to Rubens. They are both to be found here, along with Picasso. So too is Willem de Kooning who wisely observed, 'Flesh was the reason oil paint was invented'.
You know curators are getting a bit desperate when they say things like: 'Much like a contemporary filmmaker today, Rubens was a master of special effects.' Or: 'The Flemish master even stands comparison with Andy Warhol: both were preoccupied with spectacle, celebrity, sex and death.' Well, yes, but that's the human condition, it's not a line of artistic development. The Warhol evidenced here, derived from a photo of Jackie Kennedy in mourning, is indeed like a modern Pieta, but that doesn't necessarily connect it with Rubens. 'Rubensesque' is not about subject matter, it's about style and technique.
One thing this exhibition at least serves to do is show that Rubens was about so much more than buxom ladies being pursued by satyrs – or their religious equivalents. Landscapes, for instance (hence the Constables and Turners , formal portraiture (Gainsborough), action-movie paintings of battles and hunts (everyone, but especially Delacroix) , and political propaganda in the form of his Stuart-boosting ceiling paintings for the Banqueting House in Whitehall. Or its French equivalent, for Marie de Medicis at the Palais de Luxembourg. A room, with film, is devoted to these two architecturally-related projects.
It's an oddly-designed exhibition in places, at one point driving a kind of connecting tunnel right through one gallery. One wall of said tunnel – making it feel very subway-like – is covered with giant blow-ups of Rubens putti, like a graffiti-discouraging mural. Er…why?
There are some splendid things here of course, even though one of the prize exhibits, Rubens' enormous 'Tiger, Lion and Leopard Hunt' of 1616, looks horribly over-cleaned. Certainly worth going to as an exercise in tracing how an artist of genius impacts other artists down the centuries. But then – we knew that already, didn't we? Rubens was influenced by the Italian masters among others, and influenced others in turn. There's no real intellectual underpinning here. You leave feeling slightly cheated.
---
'Rubens and his Legacy: Van Dyck to Cézanne'. Until 10 April at the Royal Academy, Piccadilly London