Top Trumps makes a fun addition to this review of Soviet mass housing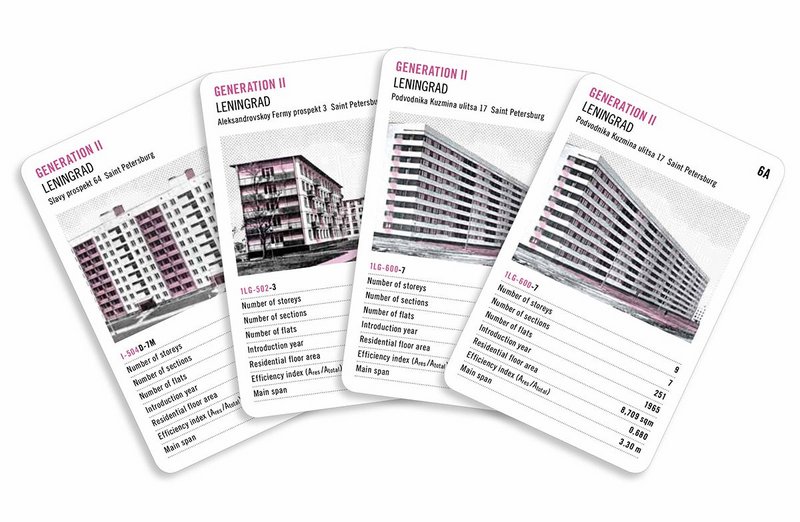 Four of the Generation II cards from the Soviet Mass Housing set. Categories include numbers of systems, storeys and flats.
Anyone for Soviet Mass Housing Top Trumps? As many a primary school parent knows, Top Trumps – the card game where you win your opponent's card by outscoring a particular statistic on their card – is a fantastic virtual babysitter, keeping kids busy for ages. But I'm not sure how well my latest, decidedly niche Top Trump cards would compete against the normal Disney, television show, film and football-themed sets.
Fortunately it doesn't have to – the cards actually form part of a beautifully-presented box set of the new book 'Towards a Typology of Soviet Mass Housing – Prefabrication in the USSR 1955-1991'. You even get a lovely 1:500 plaster model of the most widely produced design.
Published by DOM publishers, this strangely fascinating book explores the massive post-Stalinist era construction programme of prefabricated housing that provided apartments for millions of Soviet citizens. It's a story of state design institutes and builders, technological development, and considerable variety between the design of the many different standardised systems, of which 25 are examined in detail. Interestingly, space standards became considerably more generous over the period of mass housing developments, with 1- and 4-room apartments rising from 16m2 to 36m2 and 40m2 to 77m2 respectively between 1958 and 1986.
And if you want to learn the salient features of the building type, Top Trumps actually isn't a bad way to do it, with statistical categories including the number of storeys, sections, flats, and residential floor area. After persuading my son out of a lengthy Top Trumps retirement for a couple of games (peak-Top Trumps is generally ages 6-8), we've both soon picked up the gist.
Don't try to compete on the number of units if you've got the positively diminutive Aleksandrovskoy Fermy Prospect 3 in St Petersburg, which has just 45 flats per block. But if you're holding the card of Generation II housing of Piskaryovsky Prospect 40 in St Petersburg, you can be confident that its whopping 426 units will beat any of your opponent's cards.
Main span? Anything over 6m is good and you can't do better than 6.4m of the Generation 1 system at Zarya ulitsa 4 Rastunovo (Moscow region). As for building height, designs were generally between 4 and 16 storeys with the exception of a couple of Generation III Moscow developments of 22 storeys.
Top Trumps is all about big numbers, and in the case of building-themed cards, the huge scale of Soviet era mass housing types works pretty well. Similarly, my previous foray into architecture-related Top Trumps with a pack of tall buildings cards was an effective crash course in towers across the world, with poor old Leaning Tower of Pisa soon identified as the dud card that no-one could ever win with, closely followed by Big Ben. While the Soviet cards are not lookers with the exception of the decorative detail jokers, you have to admire the commitment of the publishers in realising this bright idea for an accompaniment to the book so nicely.
Back to the game. My opponent thrashes me twice, confidently outplaying me as he quotes efficiency index and residential floor areas with ease. With such poor competition, he's soon had enough but I find myself strangely hooked, and eager to absorb more building unit stats in my quest for revenge. I think there's surely a gap in the market for more niche architecture Top Trumps sets – how about an energy efficient buildings pack with U-values (lowest wins) and air-tightness? Hours of fun…
---
'Towards a Typology of Soviet Mass Housing – Prefabrication in the USSR 1955-1991', Philipp Meuser/Dimitrij Zadorin/Katia Sheina, translated into English by Clarice Knowles, DOM publishers, 456pp HB, EUR 68
---