Edwin Smith's photograph of a dramatic cascade at Schloss Linderhof in Bavaria recalls the fantastical schemes and dreams of 19th century king Ludwig II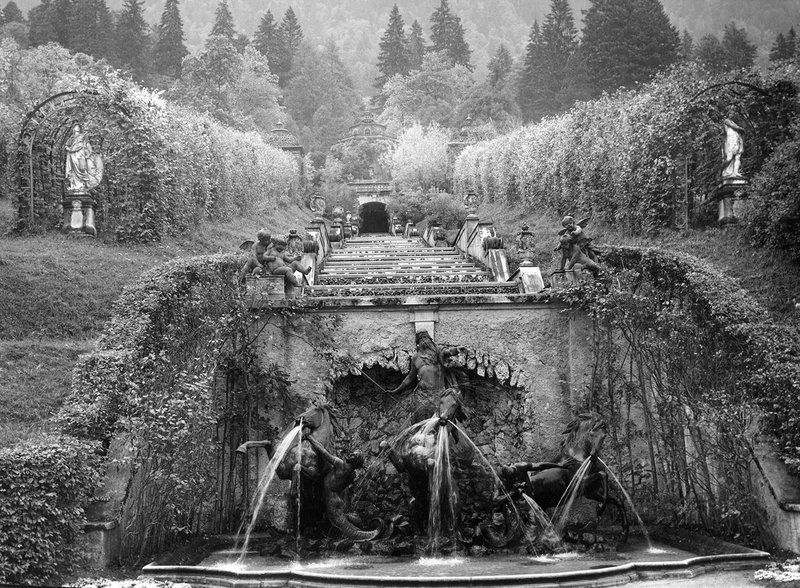 Credit: Edwin Smith/RIBA Collections
Ludwig II became King of Bavaria in 1864 at the age of 18. Shortly afterwards, Bavaria became part of a new unified German Empire with Ludwig's cousin Wilhelm I as the Kaiser, and Ludwig's role became more symbolic than powerful. After this, he increasingly withdrew from every day affairs and became fixated with the idea of divine rule and obsessed with the French King Louis XIV. He commissioned the construction of three extravagant palaces – performative spaces in which he could act out his fantasies of sovereignty.
The only one of these palaces to be completed was Schloss Linderhof, a miniature Rococo fairy tale. Its grounds were filled with theatrical backdrops to the king's whimsies, including a Venus Grotto, lit by electricity, in which Ludwig was rowed in a shell-shaped boat while listening to Wagner. This dramatic cascade, photographed here by Edwin Smith in 1966, descends from the Music Pavilion to the Neptune Fountain.
Ludwig spent vast amounts of money on these fantastical projects, leading to accusations of insanity and ultimately his deposition from the throne in 1886. He was found drowned only days later.